Kids Clothes Week Day 4…
Just for fun, we used up the rest of the jersey knit scraps from the pajamas to make some braided jersey knit bracelets. Super easy, practically free, and they make great gifts for friends!
I'm not sewing from scratch today, but I spent a few minutes working on this skirt refashion.
I bought this brown corduroy skirt from a thrift store a few years ago. It's a nice quality J.Crew skirt, but I only wore it a couple of times. Instead of passing it on, I decided to take in the sides and shorten it to fit my daughter.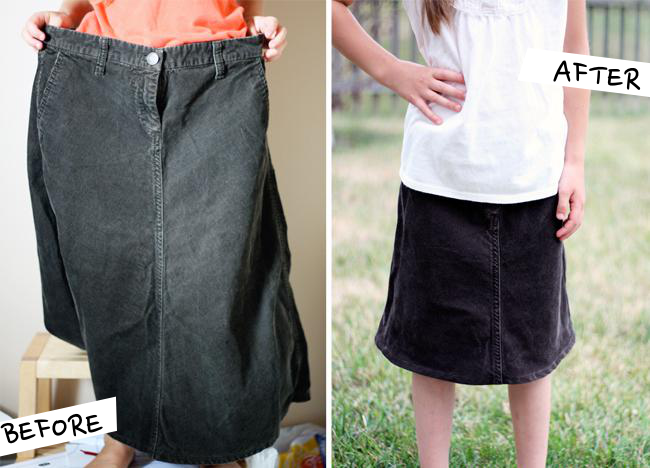 I pinned it on her and made a few markings so I knew where to take it in. I cut about 10 in. off the bottom and took out about 4 in. of waistband at each side seam. To avoid bulky seams in the waistband, I unpicked the waistband stitching a couple of inches and unfolded it. I stitched up the side seams, including the unfolded waistband edge, and then folded it back down.
When I tried it on her, the waist was still a bit loose. I decided to tuck some elastic up in the waistband. (I used about 4 in.) I pushed it as far as I could one way, stitched it in place, then stretched it the other way.
Then I just hand stitched the inside waistband back in place. You can see the stitching line from the elastic, but when she's wearing the skirt it's not noticeable and all. I think this would be a quick and easy fix for loose pants that don't have those handy button elastic adjusters.
I think this will be a great basic skirt that will work with most of her clothes though the fall and winter. And it cost about $3 and 20 min. to make!
Do you shop at the thrift store for clothes that can be repurposed?