Day 2 of Kids Clothes week, and I'm sticking to quick and easy projects that use up some of my little fabric stash. I made ruffle popover top pj's for one of my girls.
I bought this floral jersey knit from Girl Charlee a few months ago. I had intended to make a top for one of the girls, but it the fabric felt too thin. Every time I touched it I thought it would be much better for pajamas. Caroline managed to make a cute t-shirt with the same fabric, but even after I saw hers I couldn't get the pajamas out of my head.
I had less than a yard to work with, but with some creative piecing I managed to make a little tank top and capri length pants. For the top I used the free Popover Sundress pattern from Oliver + S. I just shortened the length to make a loose fitting top. I had to add a 4 in. panel down the middle of the top, and then I used some scraps to add ruffles to the front.
I think it would be fun to make the dress again with woven fabric and add a few ruffles down the front in a contrasting fabric.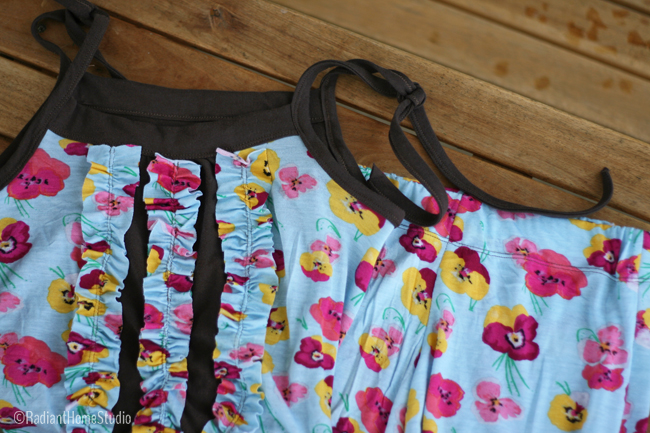 I stitched the whole thing using a twin needle. (I have two whole posts about twin needles if you want to know more.) I have a serger, but the serged edge can be rough. I wanted the inside of pajamas to be as comfortable as possible. I actually managed some tiny french seams with the twin needle.
I did not use a pattern for the pants. I traced a pair of shorts for the basic shape , added seam allowances, and made them the appropriate length. For the bottom of the pants, I used elastic thread in the bobbin with the twin needle. I folded the raw edge up and stitched along the seam lines about 6 in.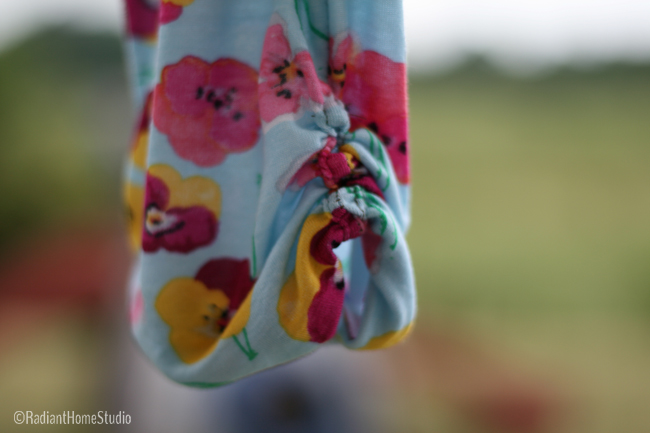 Here's a close up of the straps and other details.
Just FYI…the popover sundress works well with knit fabrics. Just choose a thicker, more stable knit for the top and straps to give it some structure!