I have a few favorite sewing patterns, but this Divided Basket from Anna at Noodlehead is by far my most used pattern. Divided Baskets are my go-to baby shower gift. I think I have made at least 10, with more to come.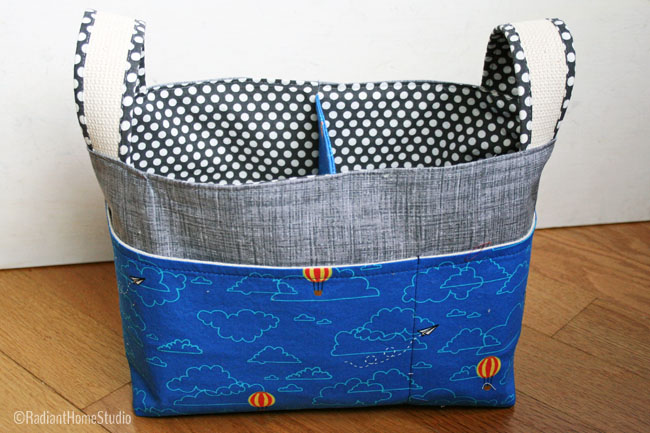 The pattern is a downloadable, printable pattern. The pattern pieces match up with clearly labeled arrows and you tape them together. When I'm not using the pattern pieces, they fit neatly in a file folder for storage. Anna's pattern instructions are filled with step-by-step photos and clear instructions. Her method for constructing the divider is clever and simple.
The most difficult part of the basket is the top edge. I have found that topstiching around the basket edge requires careful pinning and slow sewing. I also found that my exterior pattern pieces were a little bit too big compared to the lining. The pattern pieces are the correct size, but it seems I was placing the piece a little bit away from the folded edge, which add about 1/2 inch. This time, after adding the interfacing to the exterior piece, I double checked the measurements with the piece unfolded and trimmed off the excess. And of course, the pieces lined up perfectly this time.
I really love the handles on this basket. The pattern comes with two options—handles made entirely from fabric or webbing handles with fabric wrapped around. It never would have occurred to me to wrap fabric around the strap, but I can see lots of applications for this fun little technique.
For the pocket I used a Lisette cotton poplin from Jo-Ann Fabrics. Poplin is a little bit lighter weight than quilting cotton, so I used canvas as a pocket lining to add some stability. It has a fun, but modern "little boy" look without being too babyish. I chose the neutral gray linen-look fabric (Modkid Studio) and the dots (Fabric Traditions) to compliment to Lisette fabric. I wanted them to blend in and allow the blue sky fabric to be the main feature.
I'd really like to try some of these in linen and home decor fabric for storage around the house. I've mostly used the pattern for storing children's items, but I think that I could find many uses for some of these baskets in the studio as well. It's just the right size to store pattern envelopes and other notions.
Have you made any Divided Baskets or found any other helpful uses for something like this?