My big girl is quickly growing out of her clothes. Her wardrobe is a mishmash of clothes that don't really match, so she really needs some basics to fill in the gaps. I bought some lightweight denim fabric this week to make her a skirt, but didn't have a pattern in mind.
Then I remembered a tutorial for a cute, but basic skirt called "The Paris Skirt" on this blog. It was almost exactly what I was looking for. I rarely sew without changing something, and so I decided to add some pockets—little girls with lots of brothers need pockets. (So do moms, incidentally…)
This little denim Paris Skirt should be a very versatile addition to her wardrobe. It will work with a long sleeved shirt and cardigan or with a sleeveless top and flip-flops.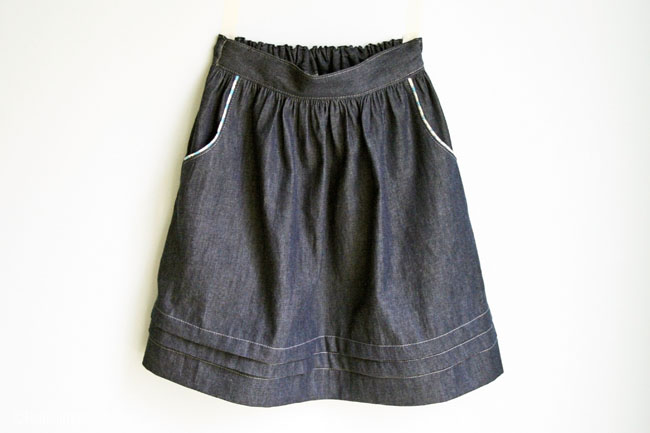 The Paris Skirt tutorial was very clear and easy to follow, and all of the measurements worked out correctly. Using a lightweight denim also worked well for this pattern.
I added some basic pockets with a little piping detail along the pocket edge. And I used a contrasting thread color so that the topstitching would show.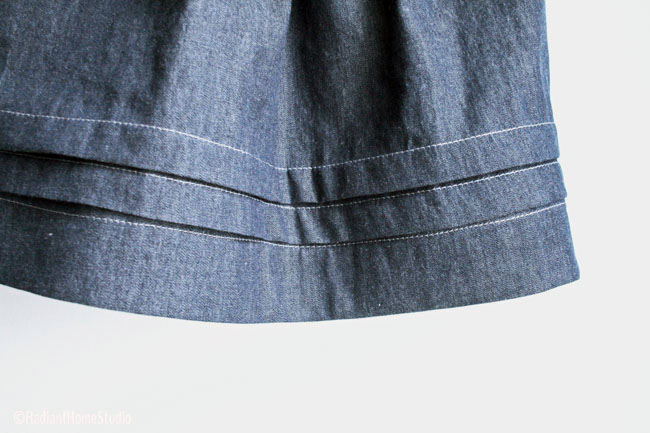 I took photos of the pocket construction and hope to write up a tutorial on adding pockets to a basic skirt pattern soon. And I may even try making one for myself!
Update: Check out my skirt pocket tutorial with free printable pattern pieces!