These fabric scrap bowls were a quick project I made to use up some of my fabric scraps and some cording rope I was given. I really enjoyed choosing the coordinating fabric strips, and I found the repetitive wrapping and sewing motion a relaxing afternoon project.
There are scrappy fabric bowl tutorials all over the internet, so I won't go into great detail about how to make them. You can see from the photos in the process that the basic idea is to wrap fabric strips around a cord or clothesline and use a wide zigzag stitch to hold the rows together as you coil the rope around to form a bowl. The best way to learn is to experiment.
I have compiled a list of the most helpful and inspiring fabric bowl tutorials I have found while searching for tips and ideas.


A few of my favorite Fabric Scrap Bowl Tutorials:
I've been seeing examples for years, but my most recent inspiration was a post by Cynthia Frenette (a fabric designer and artist) filled with beautiful baskets and a few helpful sewing tips. Cynthia's finished basket pile motivated me to pull out my scraps and start cutting! (Update: It looks like Cynthia has updated her post! I also spotted some lovely baskets in her Instagram feed, and I discovered that #ropebasket brings up even more amazing inspiration!)
I used the technique described at the Pretty Prudent blog at first, but I couldn't keep the rows tight enough. They recommend wrapping fabric around two or three rows every few inches to hold the coils together (instead of sewing). For those that don't sew, it might be a good option to try if you have more patience than me!
For a step-by-step tutorial, CraftyStylish has a nice post that includes instructions for making handles on your fabric baskets.
Donna, at This Year's Dozen, suggests using binder clips to hold the coiled fabric in place around the rope, shares frugal alternatives to clothesline and ideas for hiding the rope end, and shows off a beautifully finished basket with wooden handles.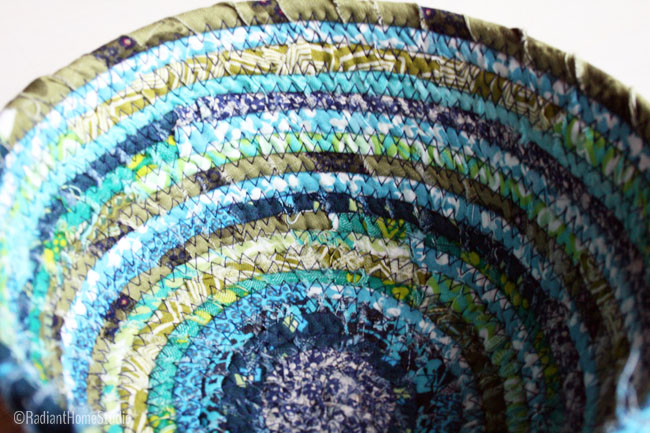 I just made a couple of small baskets, but it is quite addicting. I would love to try some bigger baskets with more natural colors when I can get some more rope!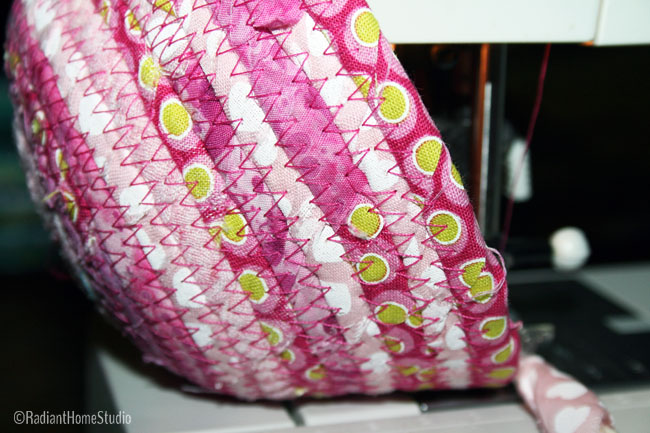 Have you made any coiled rope baskets like these?