Well, this blanket only took me a year…but it is finished before his 1st birthday!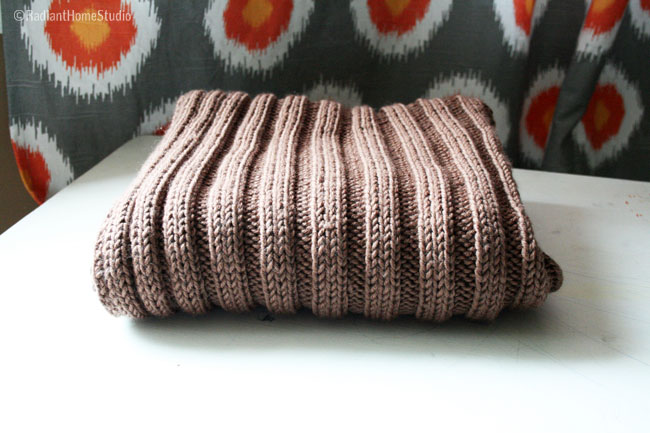 I started knitting this baby blanket about a 6 weeks before I was due last year. I was too tired to crawl around on the floor cutting fabric and too tired to run back and forth from the sewing table to the ironing board. Knitting on the couch with some tea on a cold January day seemed like a better option.
I knitted about 3/4 of the blanket, made a mistake, and then set it aside until I could find a crochet hook. Then the weather got warm and sunny, and then I had my hands full of a chubby little baby.
Fast forward a few months—cold weather made me think about knitting again. A couple of minutes fixing the mistakes, and I got back to work finishing the last skein of yarn. I finished it this week…just in time for a 1st birthday gift.
I can't share a baby blanket picture without the baby!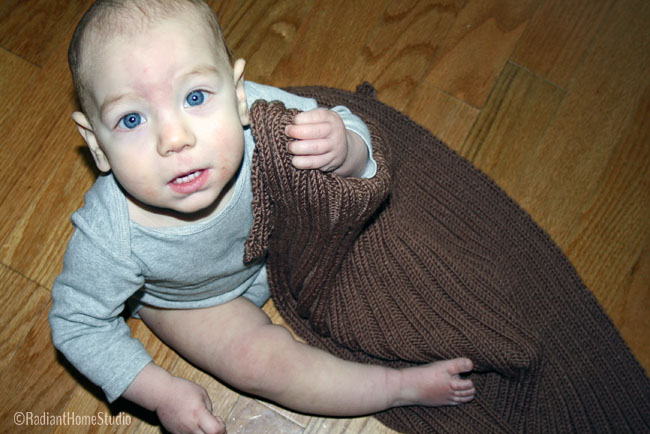 How to make your own Rib Knit Baby Blanket:
details for my knitting friends…
I used 4 skeins of worsted weight yarn and size 9 needles. The yarn is a bamboo/wool mix that is very soft. I knit for 8 rows on each end and did a simple 3×3 rib knit for the body. Knit 3, purl 3—over and over. I cast on 123 stitches to start, but the ribbing tends to bunch together and in hindsight a few more stitches would have been nice. I had 41 rib stripes.
A baby blanket is very forgiving. It doesn't have to fit exactly, so you can experiment with the yarn and needles you have available. To make it wider, choose an odd number of stripes (say 51) and multiply by 3 (153 stitches). Alternatively, try using heavier yarn and larger needles.
Happy knitting! (Quick! While it's still cold outside…)