If you have been following me on Instagram, you've seen a couple of posts about my participation in the Liesl & Co Gallery Tunic sew-along. I'm one of the 5 panelists judging the sew-along entries and helping to choose a winner! You can find the intro post and my plans for the pattern over at the Oliver & S blog.
Here's my finished Floral Gallery Tunic with some hand stitched details and lace embellishment…
The pattern includes a ton of options. You can choose tunic or dress length, traditional collar or band collar, and several sleeve options. I decided to make a tunic (more practical than a dress for me) with the traditional collar, and 3/4 length sleeves with a simple rolled cuff. I used a a lightweight voile, which has the perfect drape for a blouse like this.
The fabric (designed by Maureen Cracknell for Art Gallery Fabrics) has a little bit of a bohemian feel, so I had planned to incorporate some small embellishments to complement the style. I pulled out some lace and embroidery floss that worked with the fabric and kept them them nearby for inspiration. Small embellishments are like these are what take a garment to the next level.
Think about Anthropologie… What makes them so popular? I think the artistic and feminine details on their clothes are what make them unique. I browsed through their blouses a few times while I was sewing my tunic, scouting for little details and gathering inspiration. While I didn't copy any particular blouse, I kept the details in mind. In the end, I have a blouse I love that looks as if it came from a boutique store.
Sometimes with the details, less is more. This fabric is already pretty busy, so I didn't want to compete with the florals. I added a few rows of running stitches on the top placket. I tried a couple of the brighter colors, but they were too much. The earthy olive green color worked better—just enough to draw the eye, but not so much that it took the attention off the beautiful print. All of the stitching is tucked neatly between the placket and the placket facing.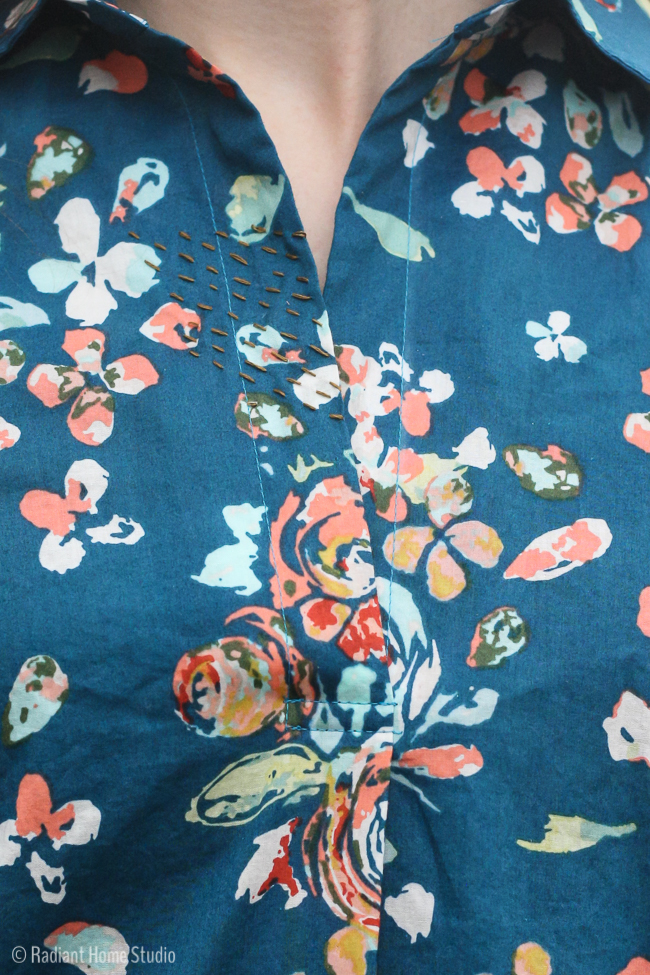 On the sleeve cuffs I added a small scrap of lace. I considered making a little fabric strap decorating with the lace that wrapped around the cuff and buttoned above it, but this looked just as nice and didn't take as much time and planning. I used some of the same olive embroidery floss to stitch it down on one side. Again, tiny details are enough. If I had put lace around the whole cuff, I think it would have been way too much.
Let's talk about the fit. My bust measured between a 2 and 4 and my hips between a 4 and a 6. Because this is a loose fitting garment, and I generally have to narrow the shoulders, I ended up cutting a 2 in the top and sleeves, grading out to a 4 in the hips. I think this worked perfectly. I wouldn't make any other size or fit adjustments next time. I don't feel like I'm drowning in fabric (which sometimes happens with loose tops) and I can still move my arms freely.
One other detail that I should mention…floral patterns like this require careful placement of the front pattern piece. I took extra care to make sure that there were no flowers directly on the apex of the bust. You definitely don't want to inadvertently draw attention there!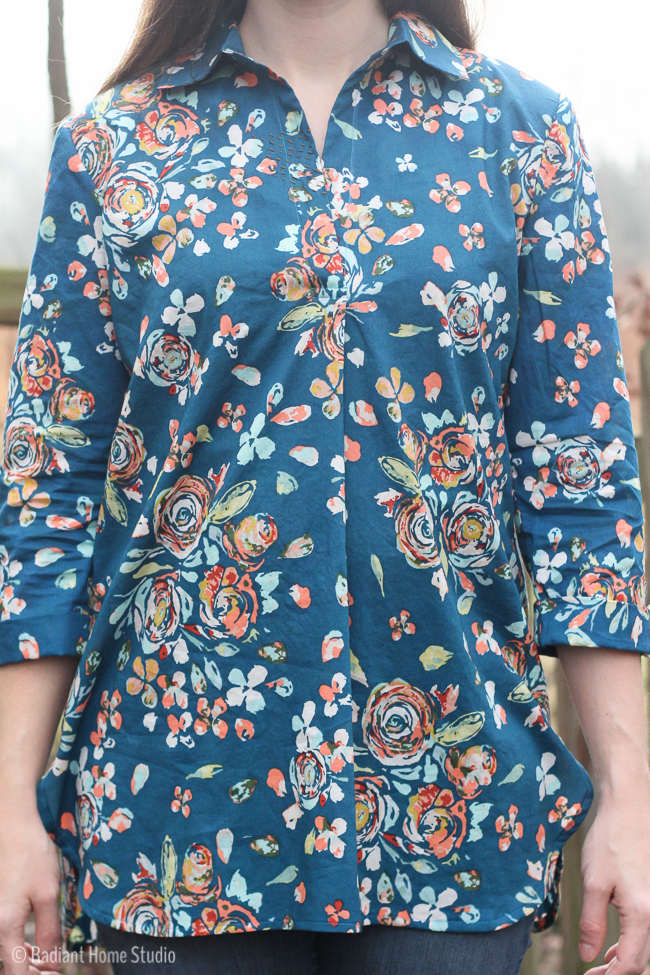 Overall, the pattern was pretty straightforward. The placket might be a bit confusing if it's the first time you've sewn a placket, but if you do each step line-by-line it's pretty clear and simple. If the illustrations seem unclear, you can also check out the step-by-step photos in the sew-along. The collar was much less complicated than I expected because it's all one piece. I also love Liesl's tips for sewing a nice even hem.
The Gallery Tunic is such a versatile pattern that I had a hard time narrowing down my ideas. I'd love to make a plain lightweight linen version. It would be a great basic addition to my wardrobe.
There's still time to enter your finished Galley Tunics in the sew-along contest at the Oliver + S blog. I'll be helping to choose a winner. I'm looking forward to seeing the creative variations everyone sews up!