A few months ago, I sewed up this Seneca Creek Bag pattern by Betz White. It's a small purse with an envelope pocket detail, perfect for carrying your essentials. Betz is hosting a Seneca Creek Bag sew-along this month, so I thought it would be a good time to share my bag here with a more detailed review.
I mentioned in my first post that I usually carry around a big tote bag filled with all of my "mom gear". Now that my kids are getting older and my husband is working regular hours again, I've had more opportunities to go out by myself. The big tote bags are excessive when I just need my wallet and a couple of other essentials. The Seneca Creek Bag is just the right size for those kid-free outings.
I have been able to use this bag several times and just as I suspected, it's exactly the right bag for going out by myself or on a date. I love the fabric I chose. Blue is neutral in my wardrobe, so it works well with most of my clothes and looks great with jeans. (Fabric is from the Indigo Collection by Michael Miller.)
The strap is adjustable so that the bag can be worn as a cross-body purse, carried as a shoulder bag, and even threaded through your belt loops and carried as a waist pouch. I can't see myself using the waist pouch option, but it might be a nice feature if you travel.
The pattern was pretty simple. If you have successfully made some zipper pouches, then this is a good next step. The pocket looks intimidating, but it's constructed by making a simple pleat. If you can fold and draw a straight line, then the pocket is no problem. To make the leather buckle, I eliminated the seam allowances from the pattern pieces and left the edges raw. I layered two pieces of leather and stitched the edges together. Depending on the weight of your leather, one layer may be enough. The snap is attached at the underside of the flap and not on the buckle strap, so you don't need to worry about attaching the snap to the leather.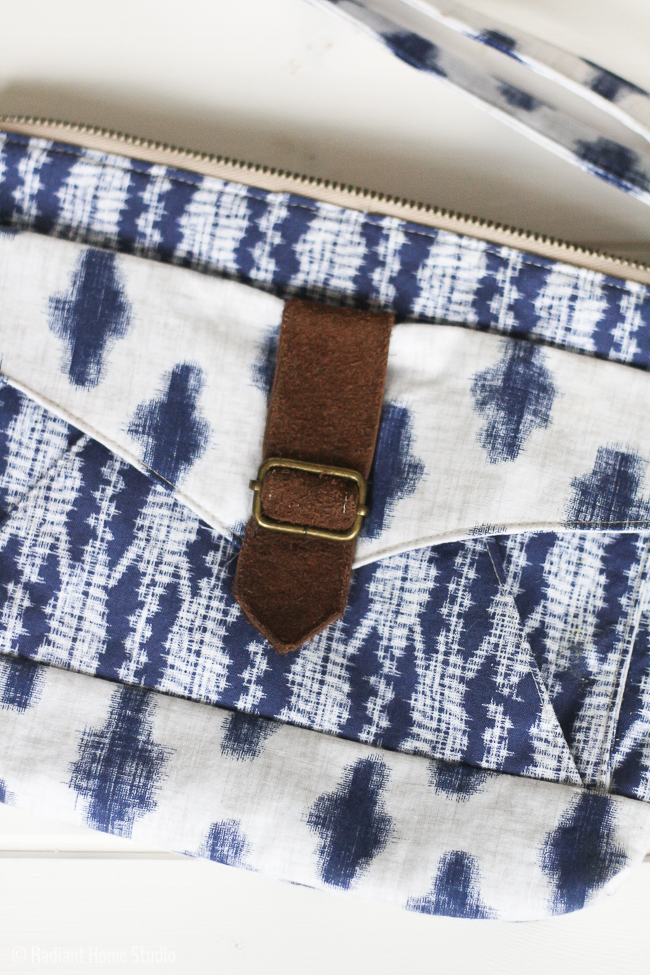 Here's a closer look at the envelope pocket pleat on the Senaca Creek Bag pattern.
I love the way metal zippers make a handmade bag look more expensive. Even more so if you add a leather zipper pull. I substituted small gate-rings for the ½" d-rings. My local store didn't carry the brass colored d-rings I needed. I actually found these small gate-rings in the jewelry section of the craft store. You may be surprised at what you can find in the jewelry section to dress up your bags. Besides using small hardware items like the gate-rings, you can also use beads or feathers on your zipper pull to add a unique touch to your bags.
One thing I would change next time…the 1/2″ tab that holds the rings are not very strong. I think Betz intended the purse to be carried as a clutch as well. The small tabs are subtle and make it possible to convert the bag to a clutch without looking like the strap is obviously missing. Unfortunately, one of mine is pulling out and I will have to take apart the bag to sew it back in. I think that I would make the tabs about an inch wide, especially if you intend to carry the bag by the strap. It's a simple modification that will allow the strap to bear more weight.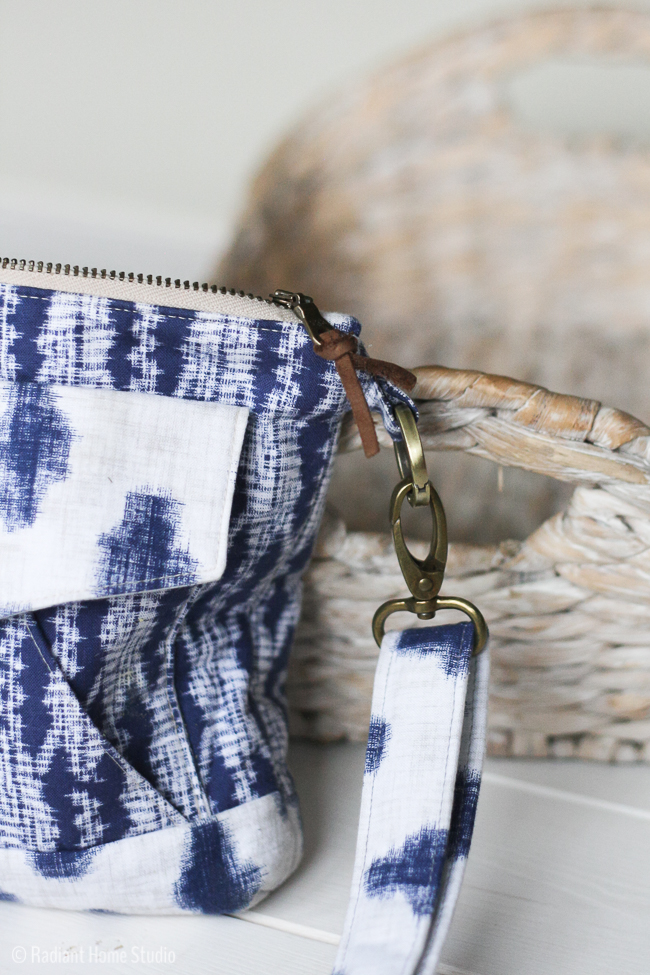 Here's the inside of the bag. It's roomy enough for a medium-sized wallet, a phone, and some make-up items. There's also a small inset zipper pocket. I did construct the pocket differently than the pattern recommends. Betz has a simple method that is great for beginners. I wanted a little bit more stability, so I used my professional zipper pocket method.
I followed the rest of the pattern instructions with no changes. One of my favorite features of the purse is the contrast fabric at the bottom of the bag and on the pocket flap. If you like to mix and match fabric designs from collections, I think it would be fun to experiment with Seneca Creek Bag pattern. Or you could use leather or faux leather on the bottom and flap. Overall, it's a versatile bag pattern that goes together quickly and easily. Sometimes I make bags and never use them, but that is not the case with this purse. (One of the perks of writing a review a few months later is that you can honestly say if something was worth making!) I've used it and will continue to use it.
If you've been looking for something like this, I hope you'll join the sew-along. I've enjoyed working with Betz this year, making several items from her patterns, but this is my favorite!