Today I have a free Leaf Embroidery Pattern for you! Simple running stitches are modern and also easy.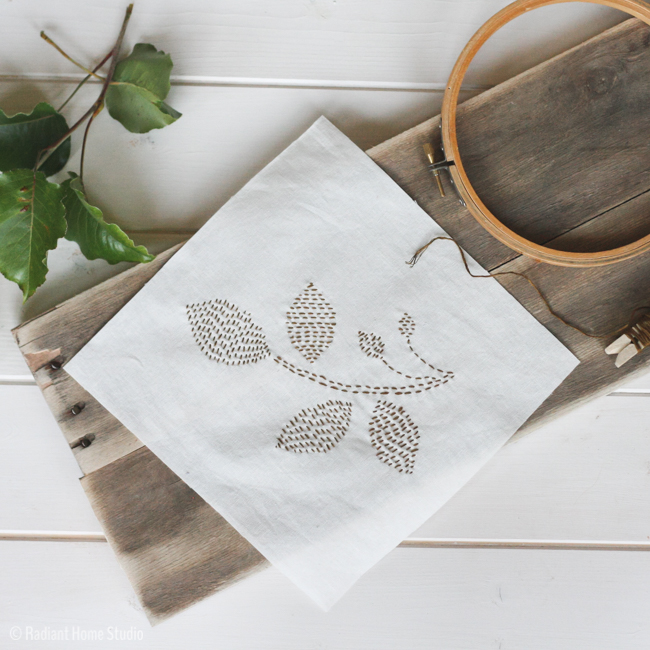 I designed this leafy branch embroidery pattern for another project that I'll be sharing later this week over at the Oliver + S blog. It's a simple design that would look nice as hoop art, as an embellishment on a bag, or as a hand-stitched detail on a skirt or blouse.
(Some of the links in this post are affiliate links, which means I earn a small commission at no cost to you. Thanks!)
The pattern includes the design mirror images. You can transfer by tracing if your fabric is somewhat sheer. If your fabric is opaque or needs stabilizing, try using something like Sulky Sticky Fabri-Solvy. You'll need an 8″ hoop if you use the design at full size, or you can scale it down when printing for a smaller size.
To stitch the design as I have, fill in the leaf shapes with horizontal running stitches. You can make several stitches at once by weaving your needle in and out of the fabric before pulling it all the way through. I used 3 strands of embroidery floss on white linen for this sample.
For a different look, you can experiment with other stitches or stitch around the outlines. My philosophy on embroidery is that the imperfections are what make the design unique. Don't worry too much about getting all of the stitches straight or perfectly spaced. Just enjoy the process and add some love to your handmade projects!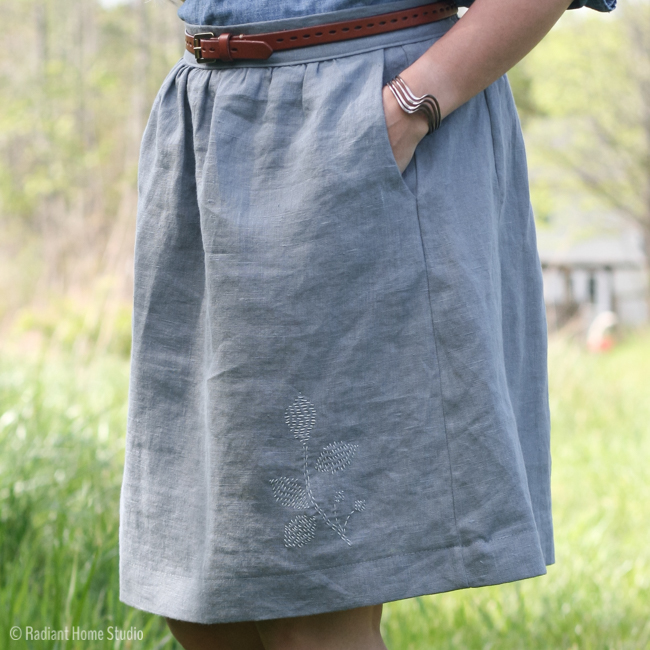 For more help with Sashiko style running stitches, look at this round-up of Sashiko tutorials.
If you like this embroidery project, you might want to browse through more of my embroidery projects & tutorials!
SaveSave