For me, the hardest thing about learning to sew clothes for myself has been figuring out what handmade clothes I actually wear. I see this a lot with other online sewing friends too. It seems like we all gravitate toward the fun prints in the beginning, and at some point, we realize that those items never get worn. Most of us grab jeans, t-shirts, and hoodies by default.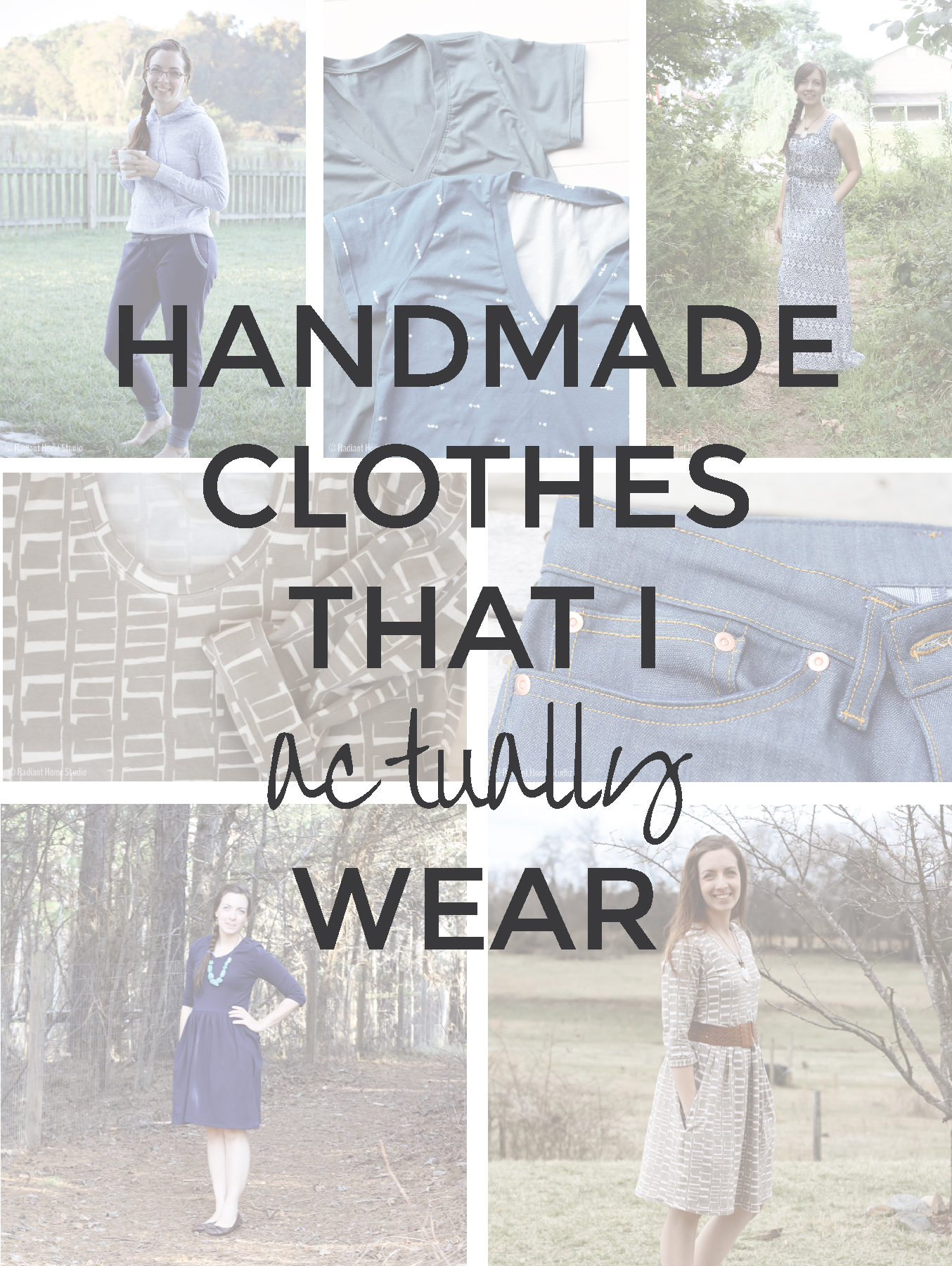 I do enjoy wearing skirts and dresses, but my everyday life includes cooking and cleaning for my husband and 6 kids, jumping on the trampoline, taking walks in the woods, playing with the chickens, and crawling around the sewing room floor. There's a place in my wardrobe for a few nice dresses and skirts, but jeans and t-shirts are the most practical clothes for everyday wear.
I have a couple of tops I made last year that I don't wear much. Both can be saved with simple alterations to make them more practical. But when I started thinking about what I actually wear and what hangs in the closet untouched, I thought it might be helpful to share a list of my most worn items. Here are the handmade clothes that I actually wear…
Hudson Pants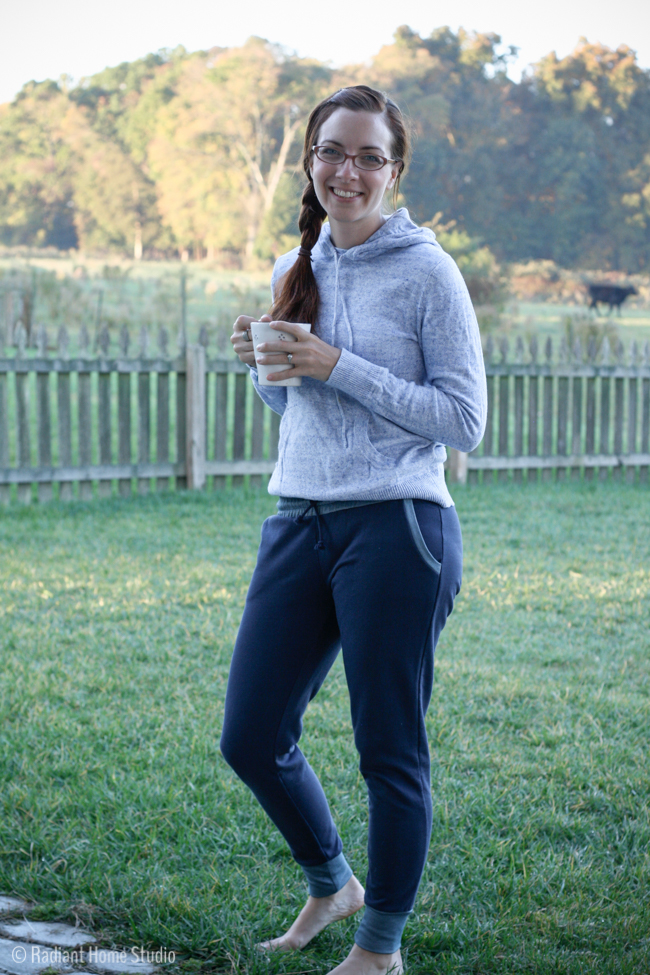 I mostly wear my Hudson Pants to bed, but if they are in the drawer I always reach for them. They are comfortable and don't feel sloppy like some of my other sweatpants. I've been planning to make more of these, and have a gray pair in process.
Union St. Tees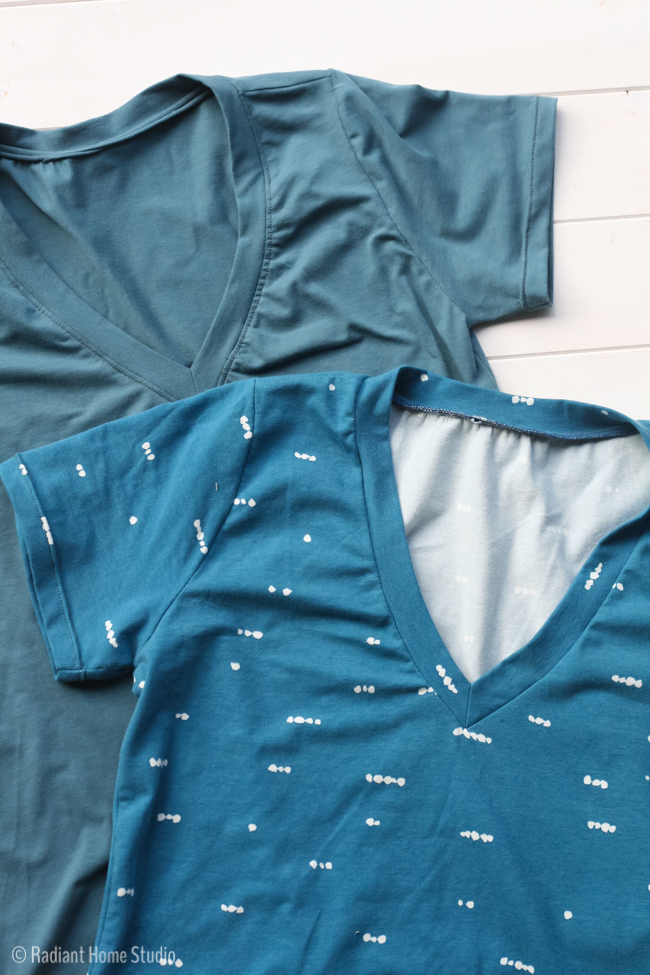 You can't go wrong with basic t-shirts. The printed Union St Tee is my favorite and I wear it at least once a week. I definitely need to make a few more of these. I'd love to try the other options and add a few more solid colors or neutral prints to my wardrobe.
Wiksten Tank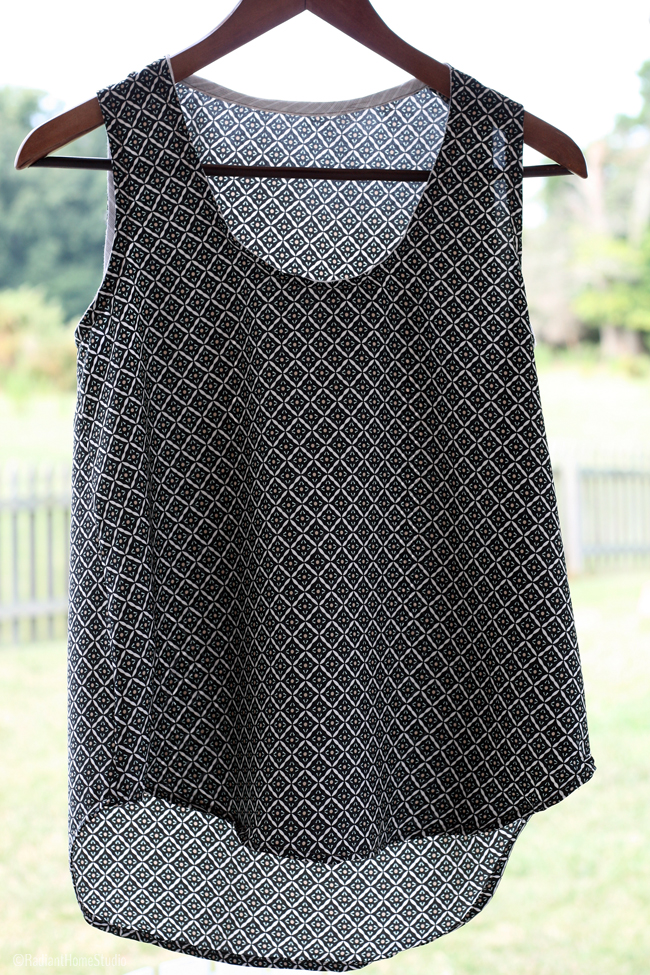 I love the Wiksten Tank pattern, but not all of my versions have been winners. My favorite is this black printed polyester silk version. I bought this fabric on a whim off the clearance rack. I normally avoid synthetic fabrics, but I really love how this drapes. I also wear this almost weekly; usually with jeans and a cardigan. I feel more put together in that than a t-shirt, so it's something I wear out shopping or to church on a more casual day.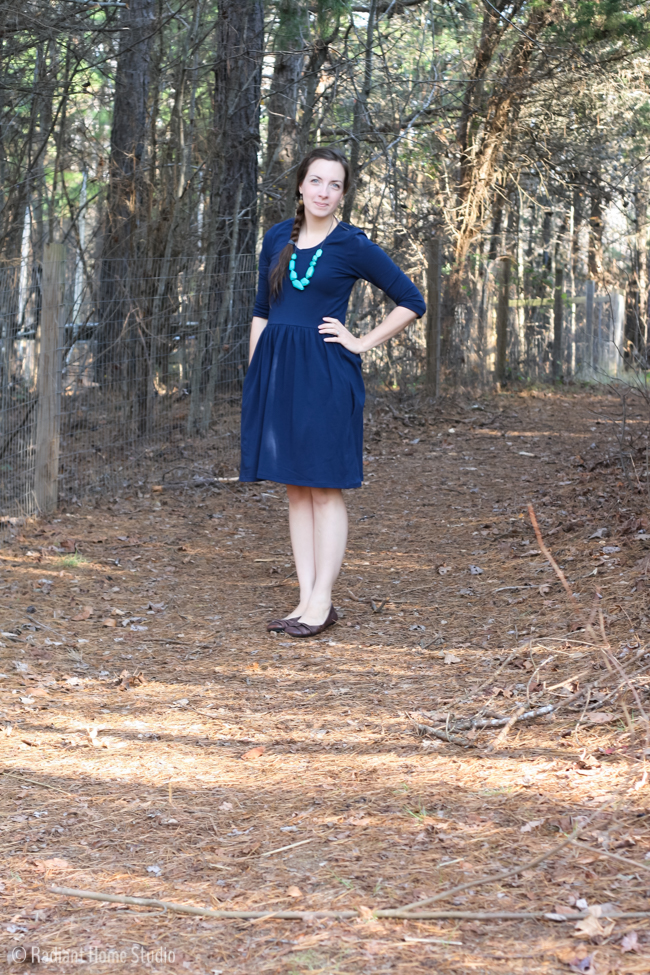 I wear both of these Out & About Dresses regularly. The knits are comfortable and flattering. I also like the length. One of the main issues with some of my other dresses is that they are too short. For example, I love the shape of the Colette Myrtle Dress I made, but the skirt is just a tad short for me. I have found that I like the way a skirt looks a few inches above the knee, but with preschoolers brushing past and pulling at my skirt, I feel like I'm always on alert to keep in down and in place. A knee-length skirt is long enough not to worry about that.
Birkin Flares
I wear these Birkin Flare jeans several times a week. Since this is my first pair, I have a few things I'd like to change for a second pair. I wasn't sure jeans would be worth the effort, but for a great fitting pair of jeans that I wear several times a week, a few hours of sewing is totally worth the effort. I would love a dark pair of flares and a skinny version when the new pattern is released.
Southport Dress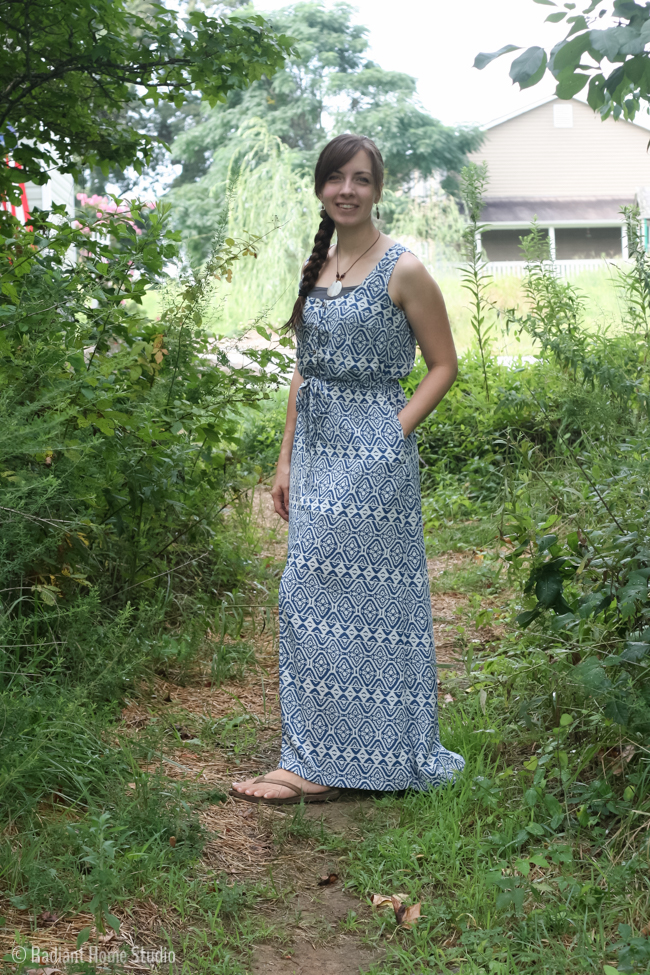 While I don't wear this weekly, it's definitely in the regular rotation. For the reasons mentioned above, I like the long skirt. I need to make some adjustments to the fit in the top, but I think a solid-colored Southport Dress would be a great addition to my summer wardrobe as well.
Halifax Hoodie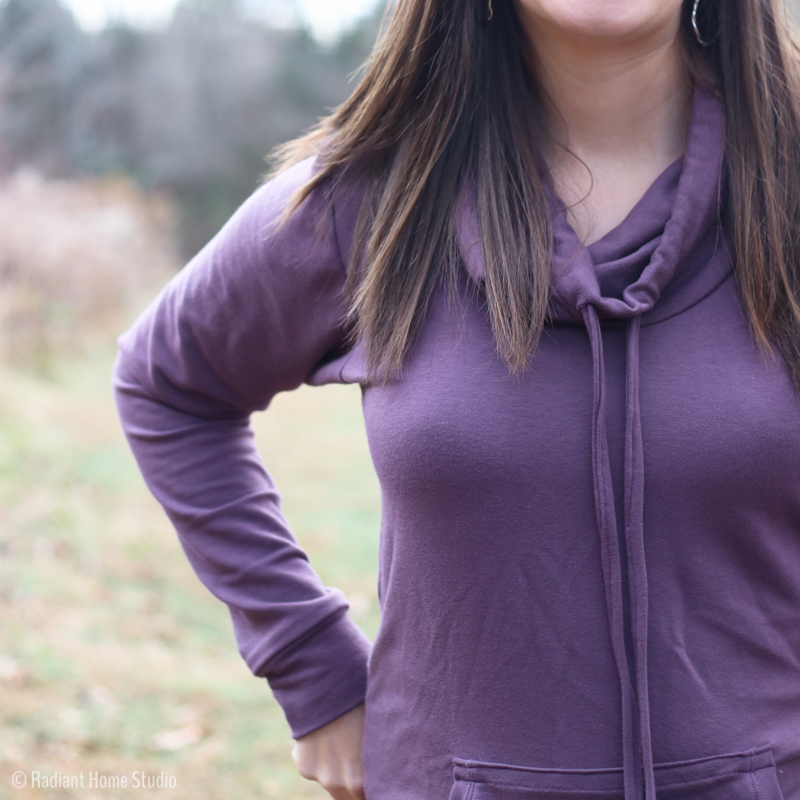 This Halifax Hoodie by Hey June is made with Telio bamboo french terry. It is the most comfortable thing I own! The double-layer funnel neck takes a little extra dry time than a normal cycle, but the drape and quality of the fabric are worth it.
A couple of observations…
• I choose clothes based on practicality and comfort. That means almost all of my knit clothes are worn often.
• All of these are patterns from indie designers. I have made some clothes with big 4 patterns, but I rarely end up wearing them.
• Most of these are made with solid colors or neutral prints. My go-to colors are blues and browns. It isn't as much fun to pick out navy blue sweatshirt fleece, but I know that's what I'll wear.
As I make plans for future clothing items, I should consider cardigans and sweatshirts. I wear these items regularly but haven't made any. I have been eyeing the Grainline Morris Blazer, which is made with knit. (Update: I ended up making the Fulton Sweater Blazer and I wear it a lot too!) It looks pulled together—a slightly more grown-up version of a sweatshirt. I could also use some shorts or cropped pants for summer. I love some of the cropped Hudson Pants in woven fabric that I have seen popping up, so that might be a good option. I might also make some jean shorts with the Birkin pattern.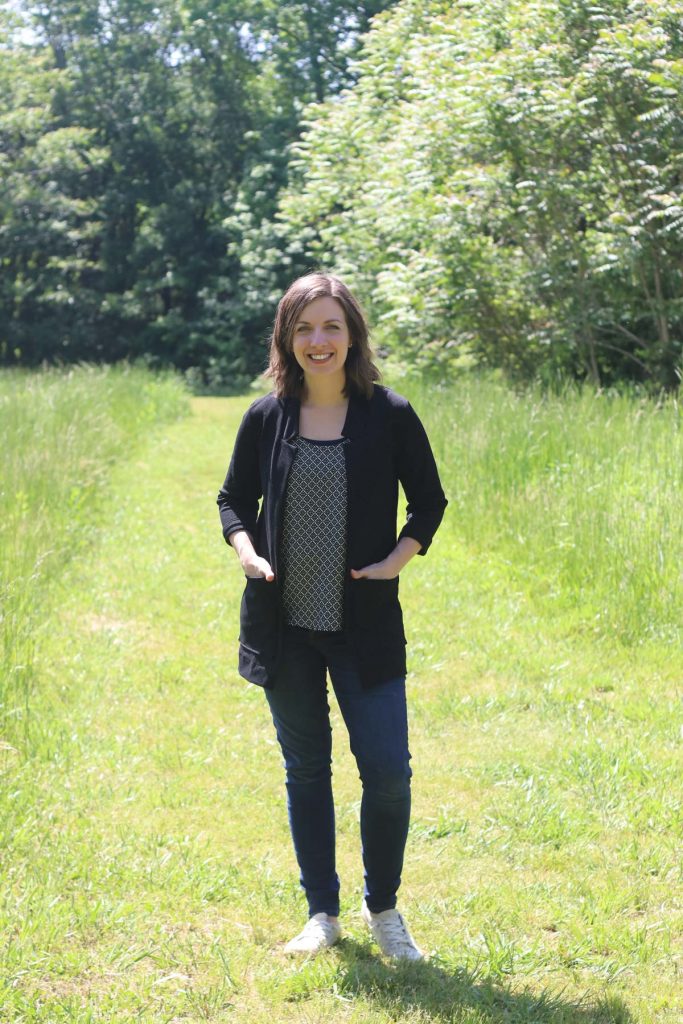 What about you? Ask yourself, "What are the handmade clothes I actually wear?" Making this list has really helped me to narrow down what I actually wear and given me a better idea of what I need to make for myself in the future. I highly recommend taking inventory of your handmade clothes to see what's working for you!