I had hoped to have the Coastal Tote pattern out earlier this summer, but when 80% of the pattern testers recommend adding an exterior zipper pocket…you do it!
NOTE: This pattern has been retired from the shop. Please contact me if you really, really must have the pattern. 🙂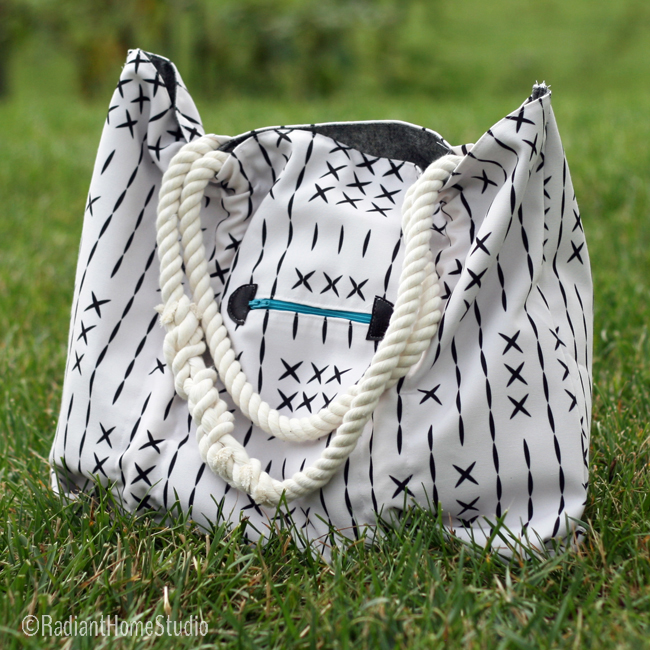 This is a nautical style tote bag with wrapped rope handles. The rope tunnels through the bag providing extra structure and modern style!
Though I have styled this as a summer bag, it would be great for hauling sports gear or library books too. This is a big bag with lots of room for all your gear. The finished size is about 18″ square.
The Coastal Tote is fairly simple to sew and only requires basic sewing skills.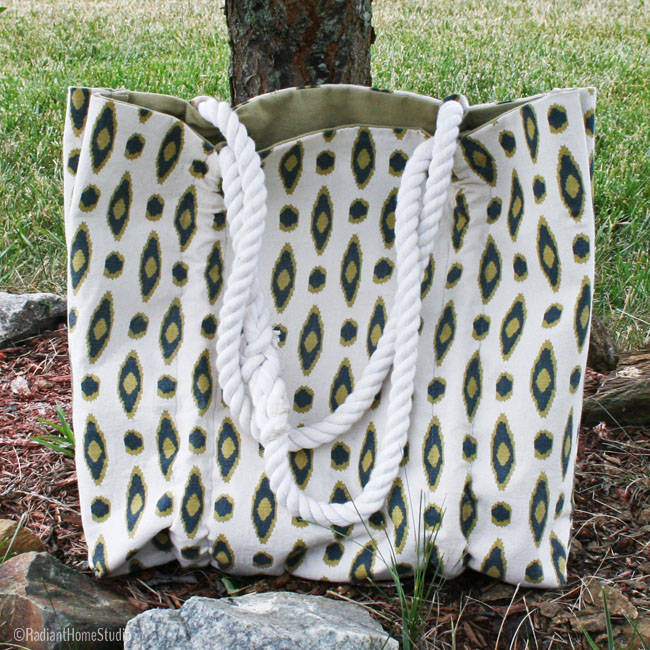 There are 3 pocket options. A simple slip pocket can be added across the entire width of the bag on one or both sides. It is divided into three smaller sections where the rope handles cross the pocket.
You can add a larger zipper pocket, which is stitched into the interior side seam and hangs loose. This is the easier of the two zipper pockets, and provides space for items like sunglasses and wallets.
The exterior zipper pocket is the right size for a phone or small key chain. I recommend this option for those intermediate sewing skills that have experience sewing zippers.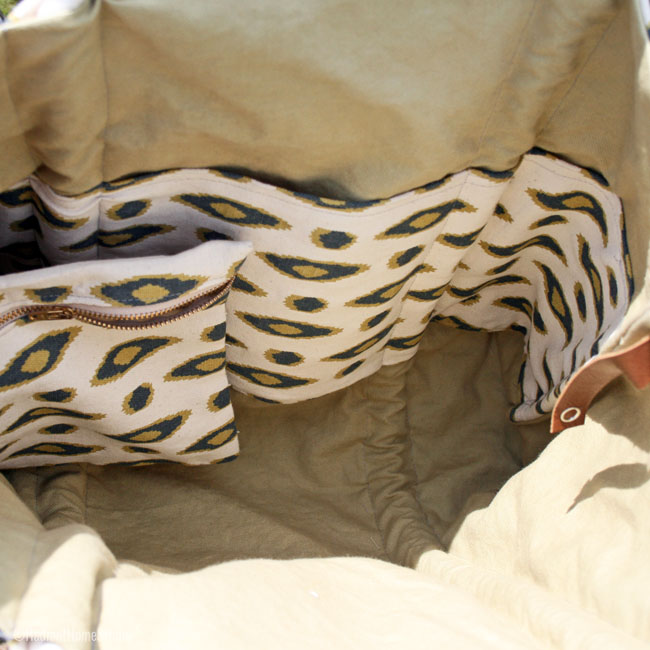 There are also instructions for adding some small leather details, including the side seam straps and the exterior zipper embellishment. The appendices explain how to use metal snaps and rivets to add professional details to your bag.
I've included my recommendations and sources for cotton rope. A couple hours of research and a visit to the manufacturer to find you the best rope for this project at a very reasonable price! The testers that used this rope were really happy with the product and the price. This type of rope is not typically available at the craft store or hardware store, though you are welcome to experiment with what you can find!
Here of some of the bags photos sent to me by the pattern testers! I'm so grateful for their help and feedback!
Katie added a monogram to her bag. Adding a fun appliqué, like an anchor or crab, is also on my list of things to try with this bag pattern.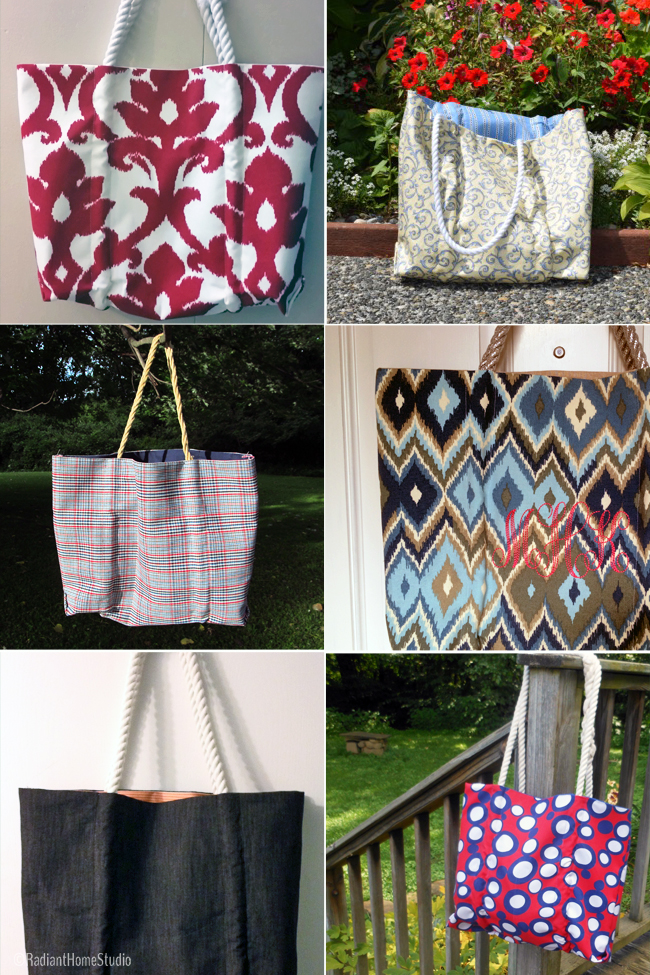 Byanka // Jamie // Anne // Katie // Kimberly // Judy //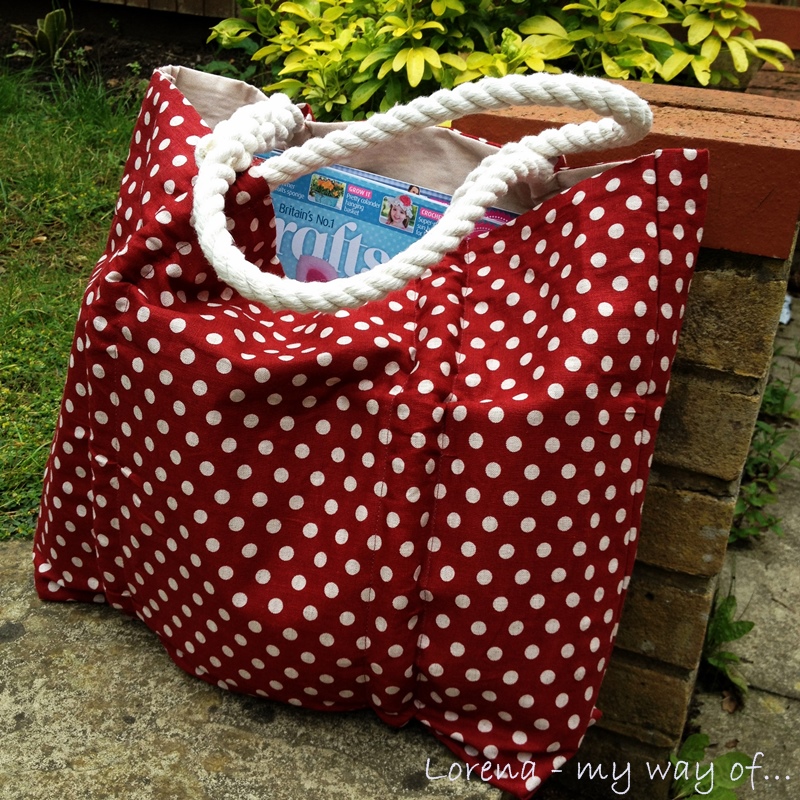 Lorena //