Pattern Parcel #4 is a fabulous collection of sewing patterns for boys!
How fun is this Knight Hoodie? One of my boys celebrated a birthday last week, so this turned out to be the perfect gift.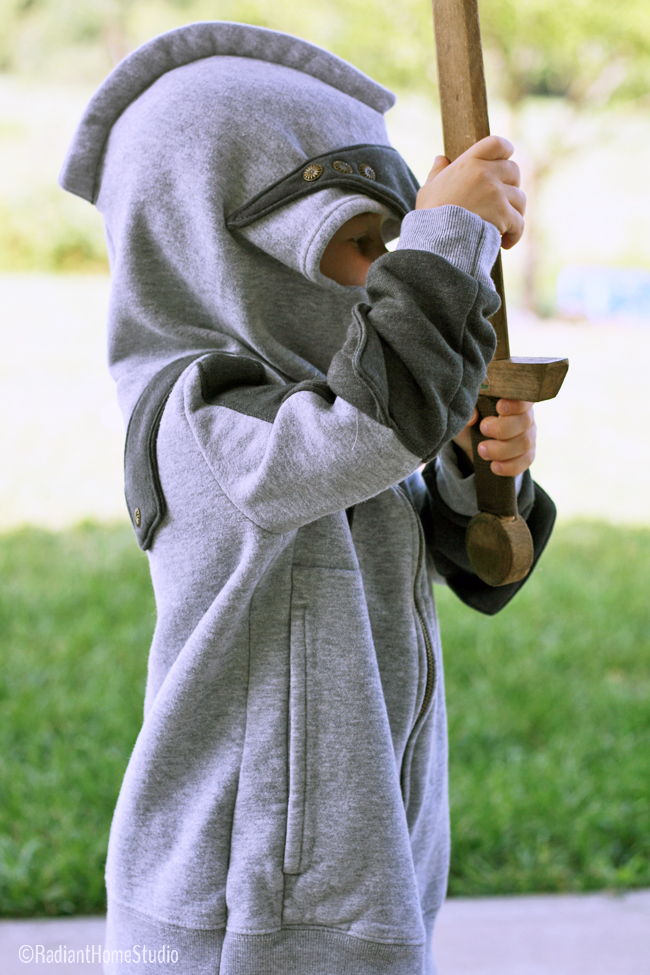 I didn't have time to order fabric before his birthday, so I went "fabric shopping" at Goodwill. I bought two large men's sweatshirts, which I was able to cut up and put back together as a knight hoodie. One of the sweatshirts had a great zipper, which I also reused. The zipper alone was probably worth the price of the sweatshirts.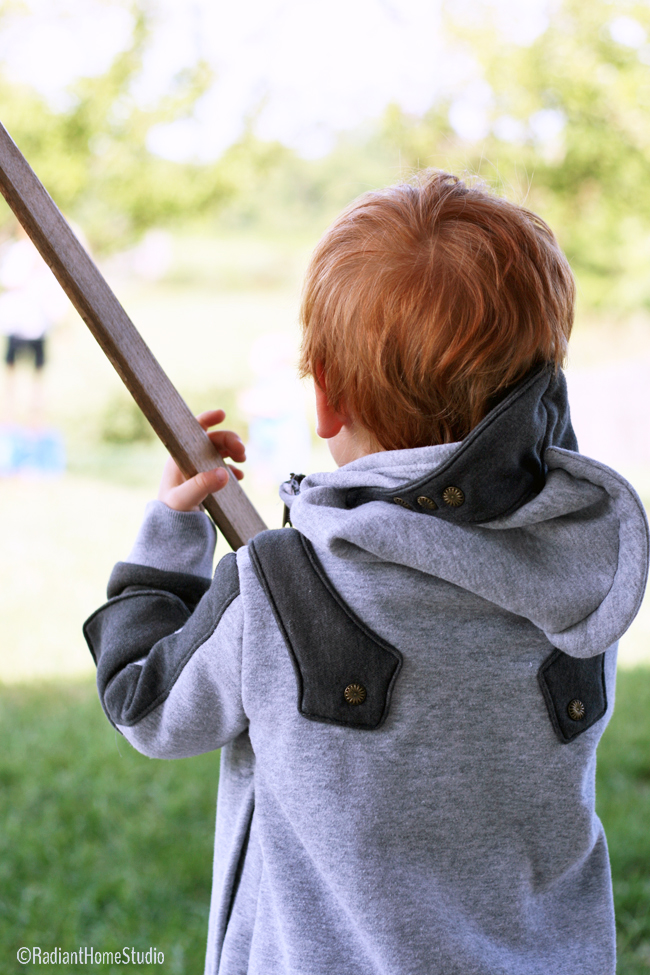 I placed and cut my pattern pieces carefully to keep the original pockets and make use of the ribbing along the bottom edge. I ran a little bit short when I got to the upper arm pieces, so I pieced it together with a stripe.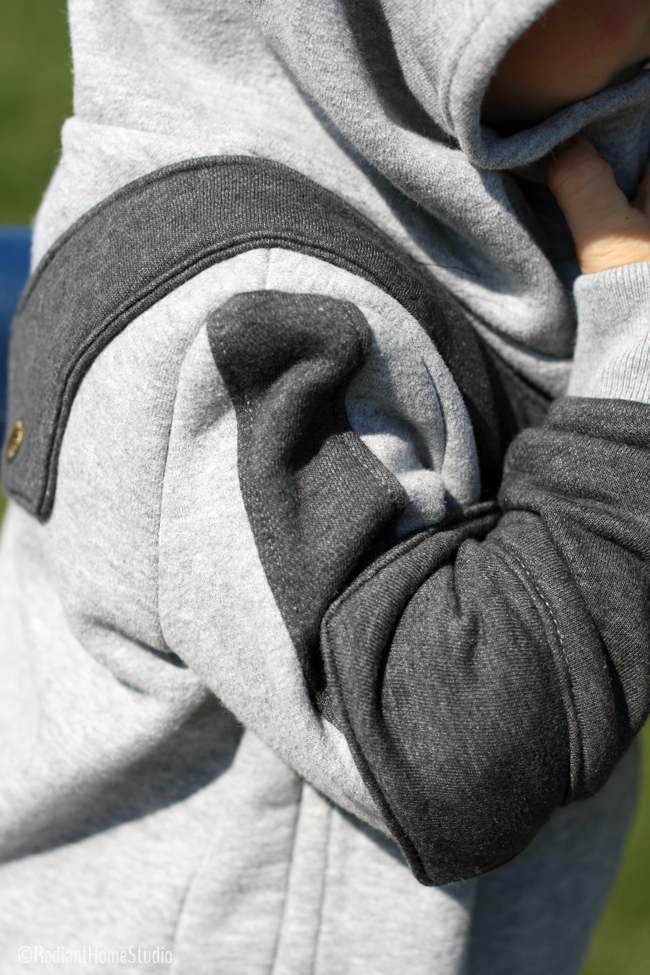 I waited until the last minute to get buttons, and the only store near me didn't have any metal buttons. I found a package of scrapbooking brads that ended up working out really well. I'm not sure if they'll hold up as well over time, but at 10 for $2 they are easily replaced.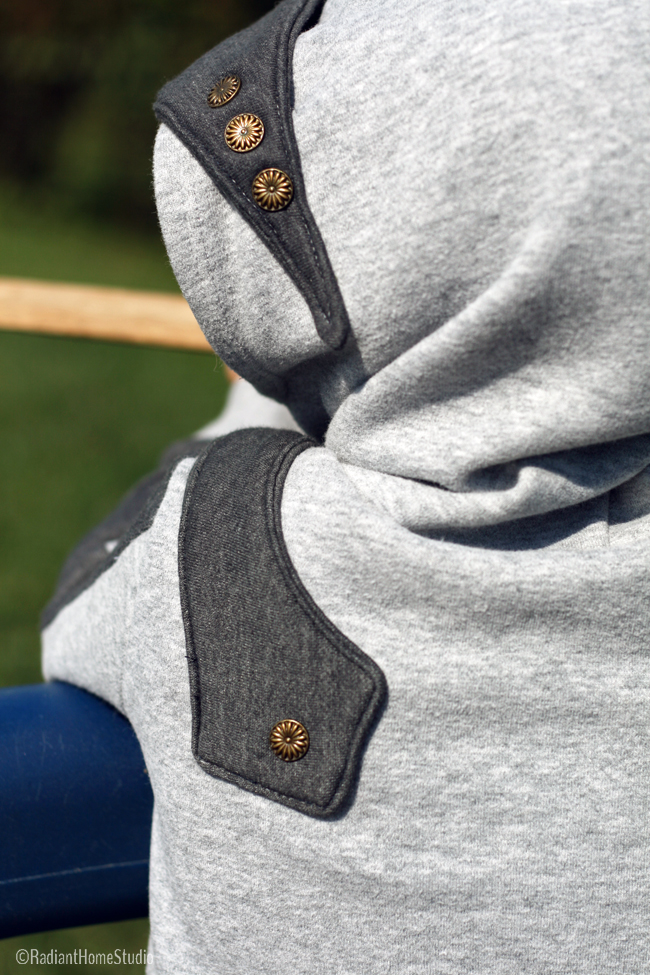 The pattern directions were easy to follow and sweatshirt fleece is surprisingly easy to work with. The directions don't include any information for finishing the seams. On the hood, I used a wide twin needle and made sure I stitched directly over the edge of the fabric. The bobbin thread zig-zag covered the edge perfectly and it looks like a nice cover stitch on the top. I serged most of the other seams, but since the fleece doesn't fray it isn't necessary.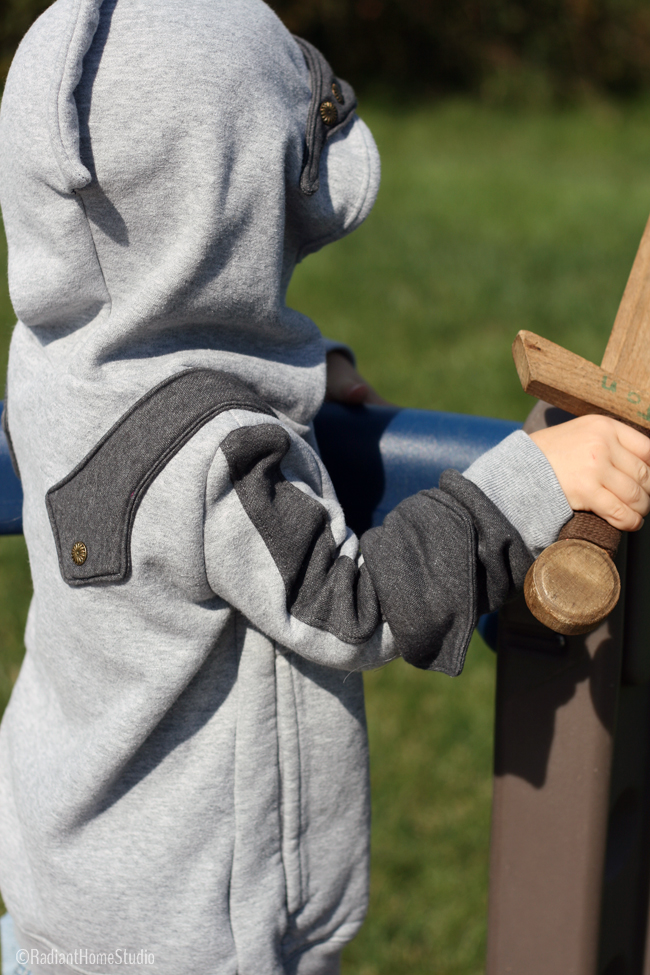 I definitely be making at least a couple more for my other boys. They'll be sword fighting each other anyway…may as well look cool doing it!
The Knight Hoodie (by Charming Doodle) is part of Pattern Parcel #4, which is available until Sept. 5th. This pattern bundle includes 5 patterns for boys including:
Maxwell Top by Shwin Designs
Zippy Jacket by Blank Slate Patterns
Schoolboy Vest by Sew Much Ado
Small Fry Jeans by Titchy Threads
Jet Pack Bag by Betz White
Pattern Parcel lets you name your own price to support indie designers and an educational charity called Donor's Choose. The Knight Hoodie is a bonus pattern when you choose to donate more. Check out the website for more details!
About Pattern Parcel:
Here at Perfect Pattern Parcel, we believe in supporting independent pattern designers. It's our opinion that indie patterns are just, well, better than big box patterns, and we're pretty sure our customers think so too. So, we allow customers to show their support in naming their own price for each Parcel.  We also encourage customers to allocate part of their Parcel price to the charity Donorschoose.org in order to help classrooms in need. Pattern Parcel donates all profits after expenses from Parcel sales to the charity as well. Together we've raised $9,800 towards eliminating educational inequality.
*Pattern Parcel graciously provided these patterns in exchange for helping them spread the word. All opinions about the patterns are my own, and as always, I love to support independent designers and makers.
Parcel #4 Inspiration Tour Schedule:
Friday, August 22
casa crafty || Lulu & Celeste || Keep Calm and Carrion
Saturday, August 23
Max California || Amanda Rose
Sunday, August 24
little betty sews
Monday, August 25
Kadiddlehopper || Radiant Home Studio
Tuesday, August 26
La Pantigana || Boy, Oh Boy, Oh Boy Crafts || Friends Stitched Together
Wednesday, August 27
Make It Perfect || Modern Handmade || GYCT Designs
Thursday, August 28
Needle and Ted || Mae & K || Mimi's Mom
Friday, August 29
Pienkel || Once Upon a Sewing Machine || Friends Stitched Together
Saturday, August 30
FABulous Home Sewn || Gray Skies || The Crazy Tailor
Sunday, August 31
Nine Stitches || Max California || Oliver's Fancy || Friends Stitched Together
Monday, September 1
a happy stitch || lady and the gents ||
Our Family Four || Swoodson Says
Tuesday, September 2
verypurpleperson || Things for Boys || The Crazy Tailor
Wednesday, September 3
Our Family Four || Rebekah Sews || a happy stitch
Thursday, September 4
Sew a Straight Line || la inglesita || Made by Sara || Knot Sew Normal
Friday, September 5
Knot Sew Normal || Gracious Threads || Sofilantjes || Max California