Wondering what a twin needle is and why you would need to use one? Read my first post about sewing with a twin needle here.
In this post, I explain how to thread a double needle and show you some examples of twin needle use on stretch knit fabrics and on woven fabrics.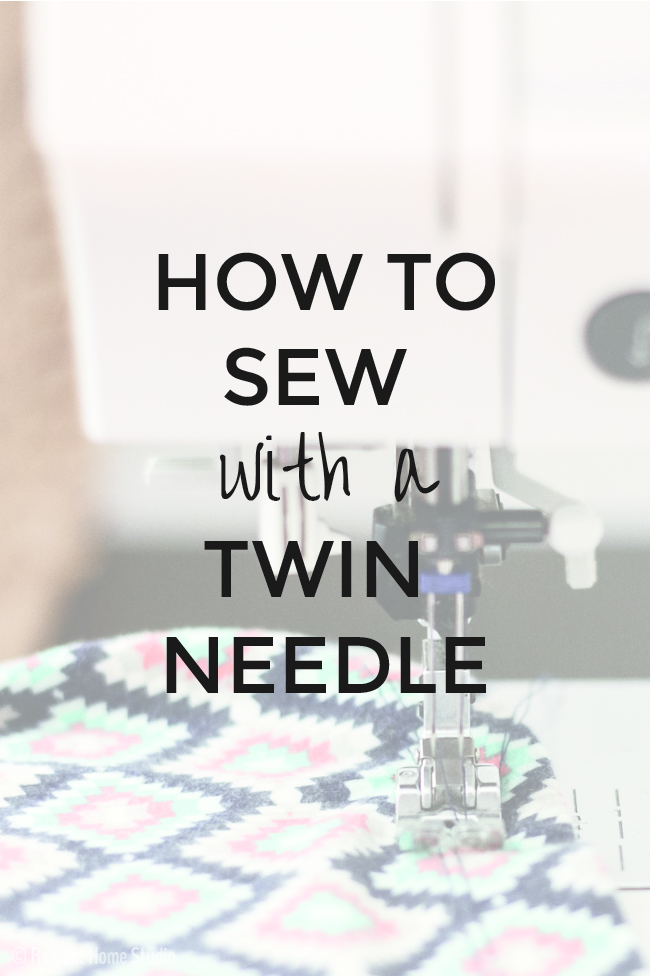 How Do I Use a Twin Needle?
You will need to consult your sewing machine manual for specific directions about twin needle use on your machine, but I will demonstrate on mine (a Pfaff) to give you the general idea.
Loosen the screw that holds your current needle and carefully remove it. Make a mental note about the direction the needle shaft fits in your machine. In all of the machines I have used, the flat part of the shaft faces the back of the machine (but I think there are a couple of exceptions, so double check!). Insert the new needle and tighten the screw.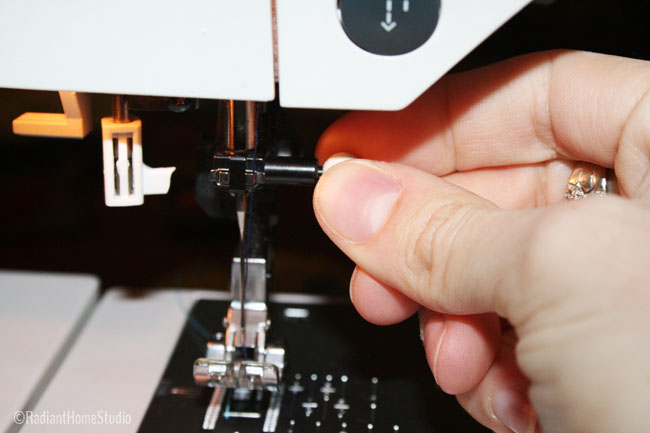 To thread the machine, you will need two spools of thread and one bobbin. (If you don't have two spools of the same color, wind an extra bobbin and use that.) You will also need to locate an extra spool holder in the accessories for your machine. Most of the time, this is just a 3″ plastic rod that fits into a hole on the top of your machine. Sometimes the extra spool can be placed onto the bobbin winding pin instead. If neither of these options works, you can place your spool in a coffee mug next to your machine and wind it from there.
Arrange your spools of thread on the holders so that the thread spins off in opposite directions. This will help prevent tangling.
Thread the machine normally, making sure to separate the threads when you guide them through the tension disk.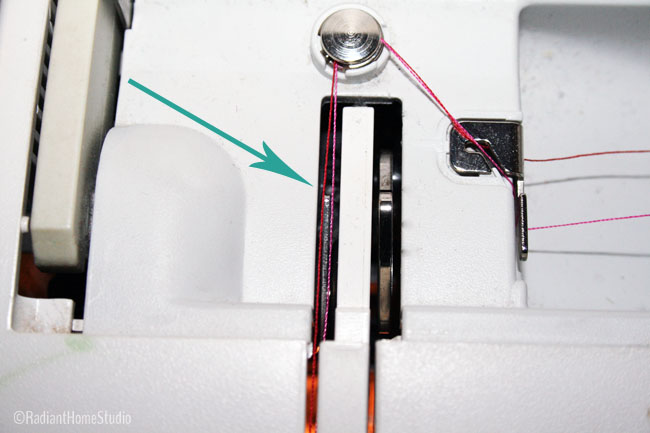 If you have separate guides near the needle shaft, put one thread through each. If not, just slide them in together and put one thread through each needle eye.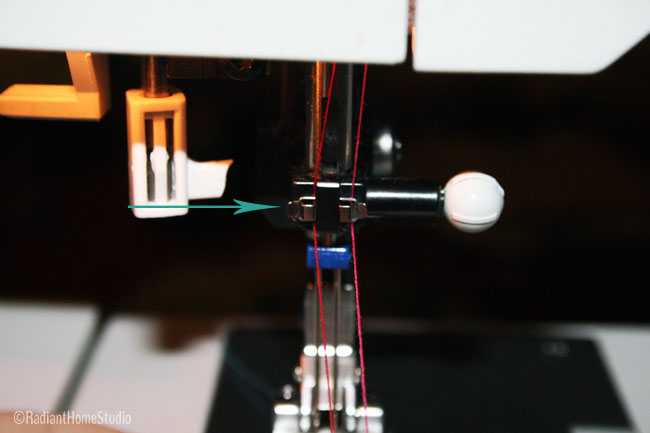 Rotate your hand wheel to guide your bobbin thread up as usual.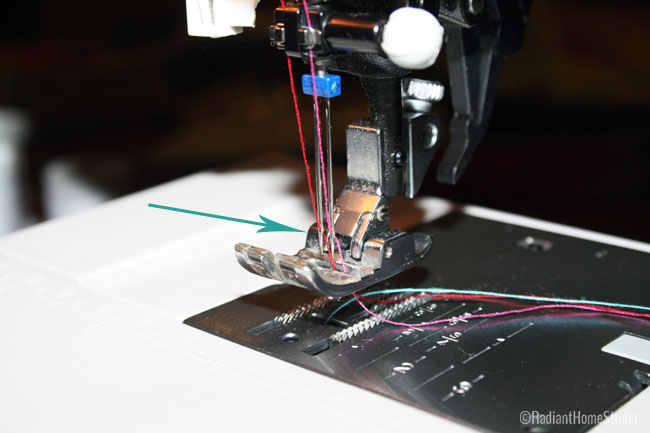 Troubleshooting Twin Needle Problems:
I highly recommend testing your threading and tension on a piece of scrap fabric. I typically don't need to make any major adjustments. I lower the tension just a notch or two for a basic jersey knit fabric.
Below are some examples, so that you can see how changing the tension affects your stitching. Number 1 is the lowest tension setting, and number 4 is the highest. (My machine has settings 1-8, so these are 2 step increments.) You can see that numbers 1 and 2 look best on the front, 3 is starting to pucker, a number 4 is very puckered and pinched up.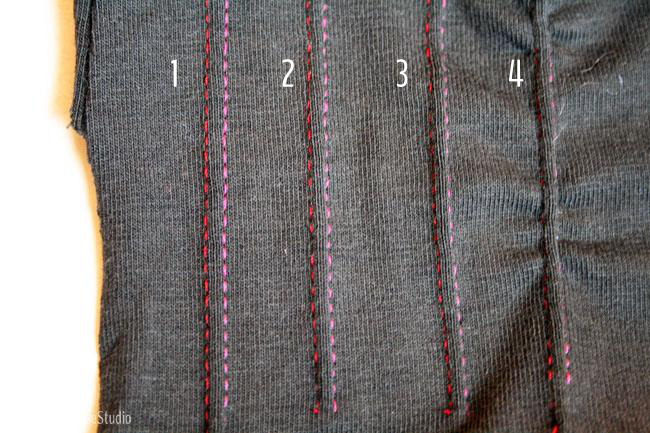 On the back, you can see that number 1 isn't quite right. The top threads are pulling through. For this fabric, I would set my tension to the 2nd setting for the best results.
If your machine is skipping stitches or tangling your threads, remove and reinsert your bobbin and rethread your machine.
If your stitching lines are pinched together and your zigzag is barely visible from the back, lower your tension.
If your zigzag is loose or top threads can be seen from the back, raise your tension.
Examples of Twin Needle Use:
Joining or hemming stretch knits:
You can use a twin needle for regular seams in stretch fabrics. The second row of stitching adds extra strength, while the zigzag provides the stretch needed to keep the threads from breaking. You can also use the twin needle to make clean, even hems that mimic a coverstitch (that nice finish on store-bought t-shirts that can only be made with a very expensive serger).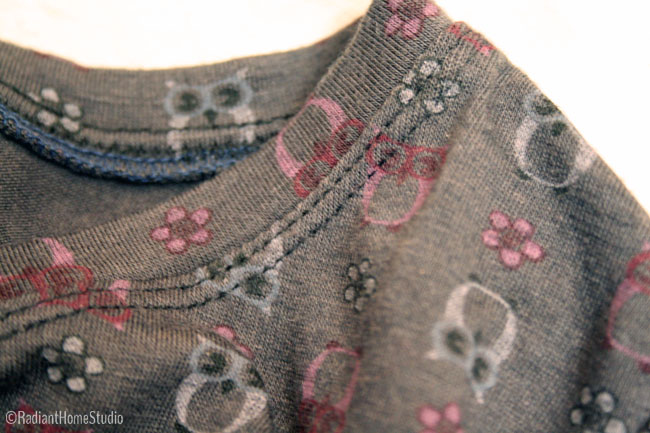 Creating pintucks:
To create pin tucks, choose a double needle with a narrow distance between the points. Raise your tension to a high setting and test to make sure you get the desired result. To make the tucks even tighter, you can gently pull the bobbin thread ends as you do when gathering fabric. Tie a small knot, in the end, to keep the tension tight.
Decorative topstitching:
Generally, you want to use a straight stitch with your double needle. However, some of the narrower decorative machine stitches may produce beautiful and interesting patterns when you use a twin needle. You may want to try some of these with different thread colors as well.
Check your manual to find out which stitches you can use with a twin needle. Wide zigzag stitches may cause your needle to hit the presser foot and break. My machine has a digital display for each stitch which shows whether or not it can be used with a twin needle. Many of the decorative stitches can be used when I reduce the stitch width.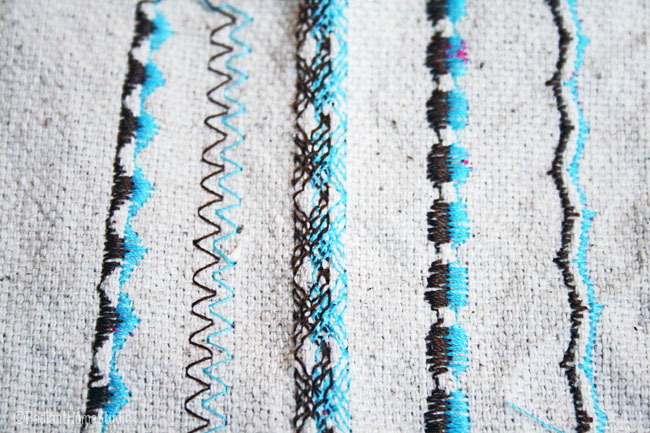 (See the pink bobbin thread? That means I need to lower my tension. It's always a good idea to test your stitches on the fabric you are using for your project to identify these problems. It's much faster than picking out the stitches later!)
Here are a few examples of twin needle use that may give you some more ideas:
Katy explains how to use twin needles for swimsuit fabric.
This post has more helpful tips for threading a double needle and lots of helpful tips in the comments.
And here's a beautiful heirloom baby dress with twin needle pintucks.
Have you tried using twin needles? What is your favorite way to use them?