I love making handmade gifts for my family. Some years I have overestimated my ability to get things done in time (which seems like a common problem for those of us that sew! Hah!). This year I only did a few select gifts for the kids, including these Little Photographer Cameras from Swoodson Says.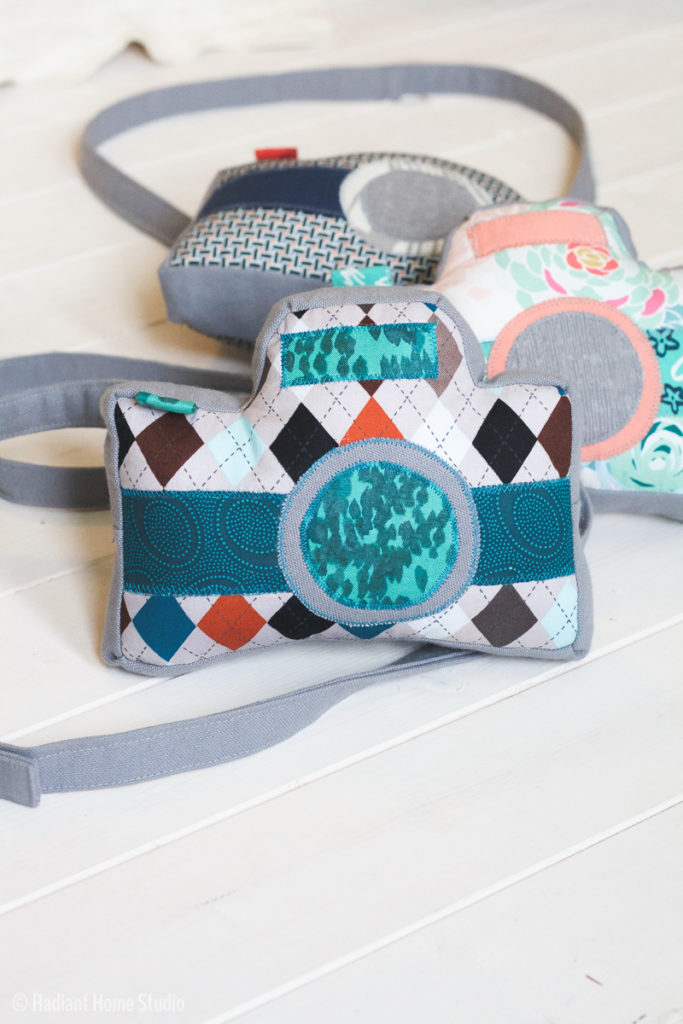 (Some links may be affiliate links, which means I earn a small commission at no cost to you. Thanks!)
Originally, my daughter had planned to help me with these little cameras as gifts for her cousins. Unfortunately, the tiny pieces were too difficult for little hands. She helped pick out the fabrics and I did all of the sewing. I think I underestimated the level of detail that this pattern requires.
While it's not a pattern for beginners, the Little Photographer Camera pattern is really fun to make and to play with! I made one each for my niece and nephew and one for my 3 year old. All of them were excited to have their own and immediately began "taking pictures" with them. I love that this toy is open-ended and encourages imaginative play. It was also a great way to use up some scraps.
The pattern comes with 2 different strap options, a wrist strap and a neck strap. I decided to make the neck strap for all 3 of mine. The neck strap is secured with hook-and-loop tape at the back, so it can easily be pulled apart. This eliminates any safety concerns that you might have with a strap getting tangled around a neck.
The pattern directions use photos. While I prefer illustrations most of the time, the photos were clear and helpful. The pattern directions do not give specifics about how to appliqué, but there is a link to a blog post that explains the appliqué process in more detail if needed. Overall, it is well-organized, with good photos, and clear instructions with a conversational tone.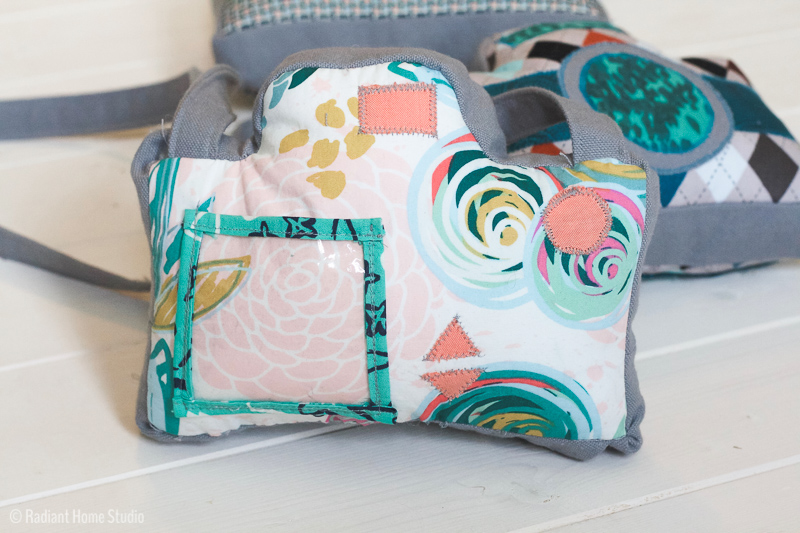 I had a couple of small issues I wanted to mention. Adding the tiny binding around the vinyl squares was picky, so I might consider adding using a different method for that on future cameras. I also expected markings on the pattern to show the placement for the appliqué pieces, but you have to eyeball the placement from the photos. It would be nice to have dotted lines on the main pattern piece to get the exact placement.
I would also highly recommend using interfacing. Maybe this comes from making bags, but interfacing made the camera a lot sturdier and helped it to keep it's shape. It also helps to keep the outside looking smooth, even if the stuffing gets lumpy. I used a piece of fusible fleece, cut 1/4″ smaller, for the back and front of each camera. I also used a 2″ wide strip of Pellon 808/809 down the center of the strap pieces. The canvas for the gusset seemed sturdy enough, but if you use quilting cotton, I would recommend interfacing that piece too.
If you are looking for a cute gift for preschoolers, this is a fun pattern!
Linked with: Raising Homemakers, Sew Can She
Did you make any gifts for your kids this Christmas?
SaveSave