…for Christmas or anytime…
One of my favorite parts of sewing is making gifts for the people I love. Nothing says "I love you" like a handmade gift in just the "perfect" fabric. I love seeing the smile on someone's face when they receive a gift that is personalized to their taste.
If your house is full of little kids, like mine, you know we don't always have a lot of time to make elaborate gifts. But even these small ones will make your friends and family feel loved and appreciated. Sometimes teenagers and men can be difficult to make gifts for, but several of these ideas will work well for your young, modern, and masculine friends and family members too.
Here are 10 quick and easy handmade gift ideas:
(Some links may be affiliate links, which means I earn a small commission at no cost to you. Thanks!)
This tutorial was designed to be quick & easy. Who wants to spend hours making something that is going to get dirty? These potholders are still beautiful and thoughtful, without taking too much time to make. Just make sure to read the safety instructions and use the recommended thermal batting layer! (If you want to make a set with a matching oven mitt, try the full Flower City Potholder Pattern.)
This one takes a little bit more time, but if you like quilting and have scraps to use up, this sketchbook cover makes a beautiful gift for artists and writers. If you don't have time to piece together the triangles, you can skip ahead to the construction and make a solid fabric cover. It fits perfectly on a Moleskine notebook.
If you don't have time to make a whole bag, updating a tote bag is a great way to personalize a gift quickly. This one uses denim scraps and some simple bag hardware to add style to a plain tote bag. I think this one would be great for a teenager!
These little gift pouches are easy to make in bulk and are also the perfect size for gift cards and cash. You can use wax on the whole pouch for a more masculine look.
These little house pillows can be made in designer fabrics for decor in a cozy home or in sweet fabrics for a baby or toddler. For the little ones, you could even add flaps over the doors and windows with peek-a-boo surprises underneath.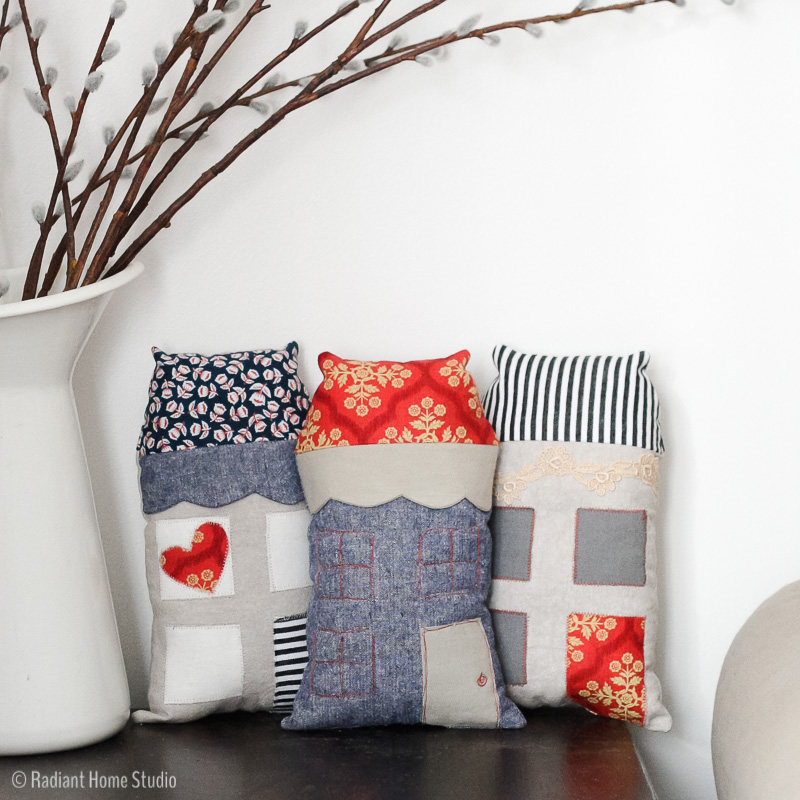 This is another fun idea for updating a plain tote bag. It might even be something your older kids can make for their friends! You just need some simple stamp carving tools to make a stamp. It is really fun and easy to personalize. Any pattern or design will work, so you can create something that's perfect for anyone on your list.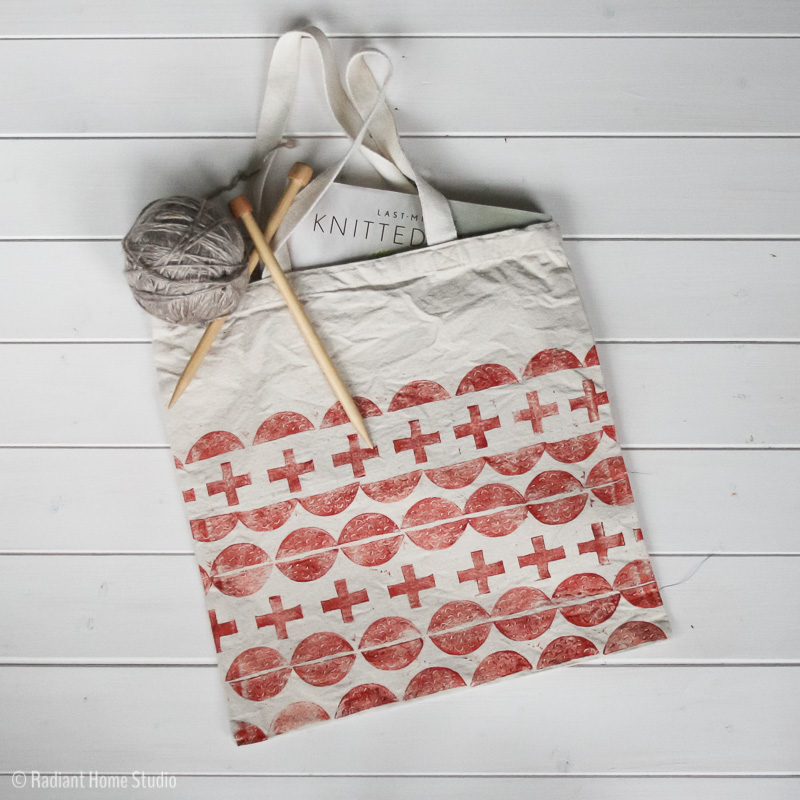 Here's another cute idea for gift cards, cash, or other small gifts. It's like a bonus gift when you use it to wrap other small items. The pattern linked in the post also allows you to make a bigger purse-sized bag.
These are great for hostess gifts. I usually make 8-12 each year for friends and for use in gift swaps. All you need to do is buy a yard of fabric, cut around the rectangles, and hem your tea towels. Each yard comes with 4 towels, making them very affordable. If the painted landscape isn't your style, there are hundreds of other designs to choose from! (Here's a link to several I have designed. Most are calendars that I update each year in the Fall, but you can use any fat quarter of fabric. How fun would it be to have shibori dyed towels?)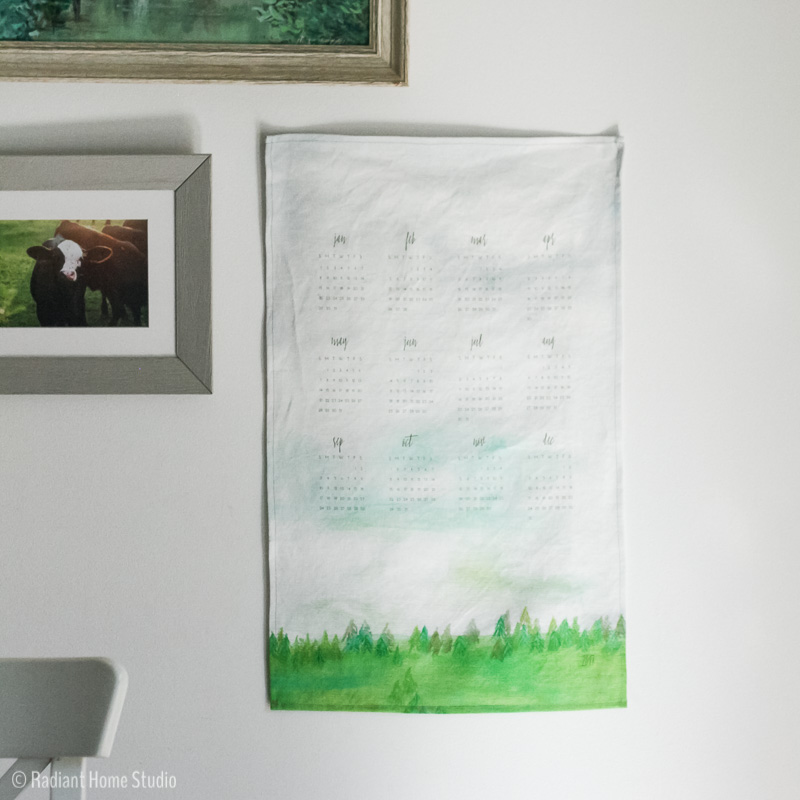 And here's another tote bag idea. Showcase a favorite designer print with the fold-over flap on the tote. The faux leather straps and hardware make it young and modern looking. This one is also great for teens.
This is the only paid pattern I'm including. These notebook covers make great gifts for anyone. The larger size fits on a basic composition notebook, so they are great for kids! The smaller size fits on a Moleskine notebook. Either can be made in masculine fabrics for the guys. I'm planning a waxed canvas version next. (I can't stop waxing all of the things…)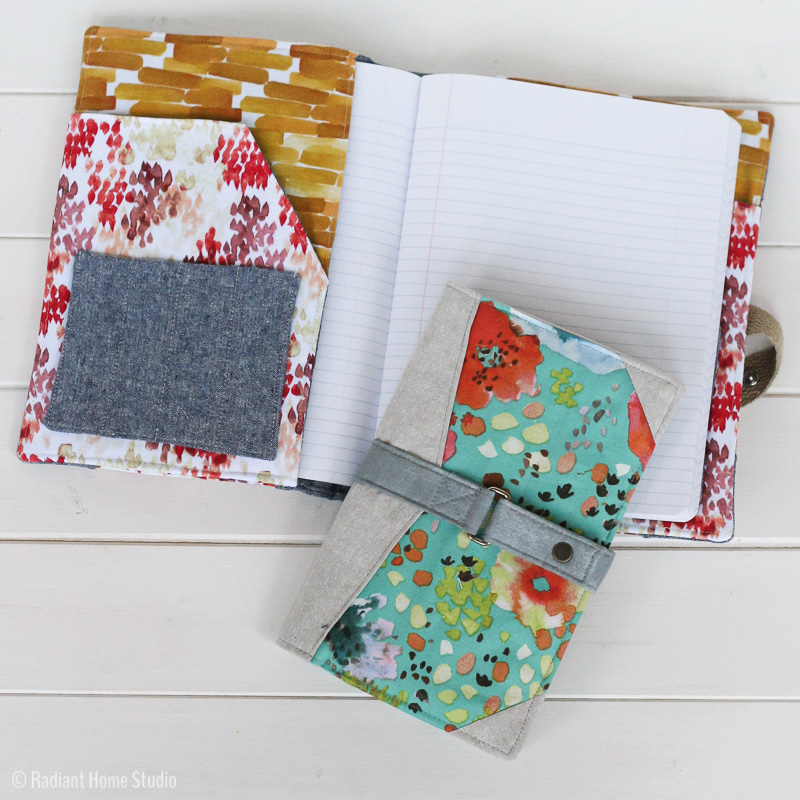 I hope these gift ideas inspire you to give some handmade gifts to your friends and family this year. Happy gift making!
SaveSave