Back in January, I discovered the Marigold Dress pattern by Blank Slate Patterns. I was familiar with Blank Slate before, but it's not one of my go-to pattern companies. I had seen the Marigold before, but it was Abbey's short-sleeved chambray version that grabbed my attention. So, here's my version of the Marigold Dress in chambray.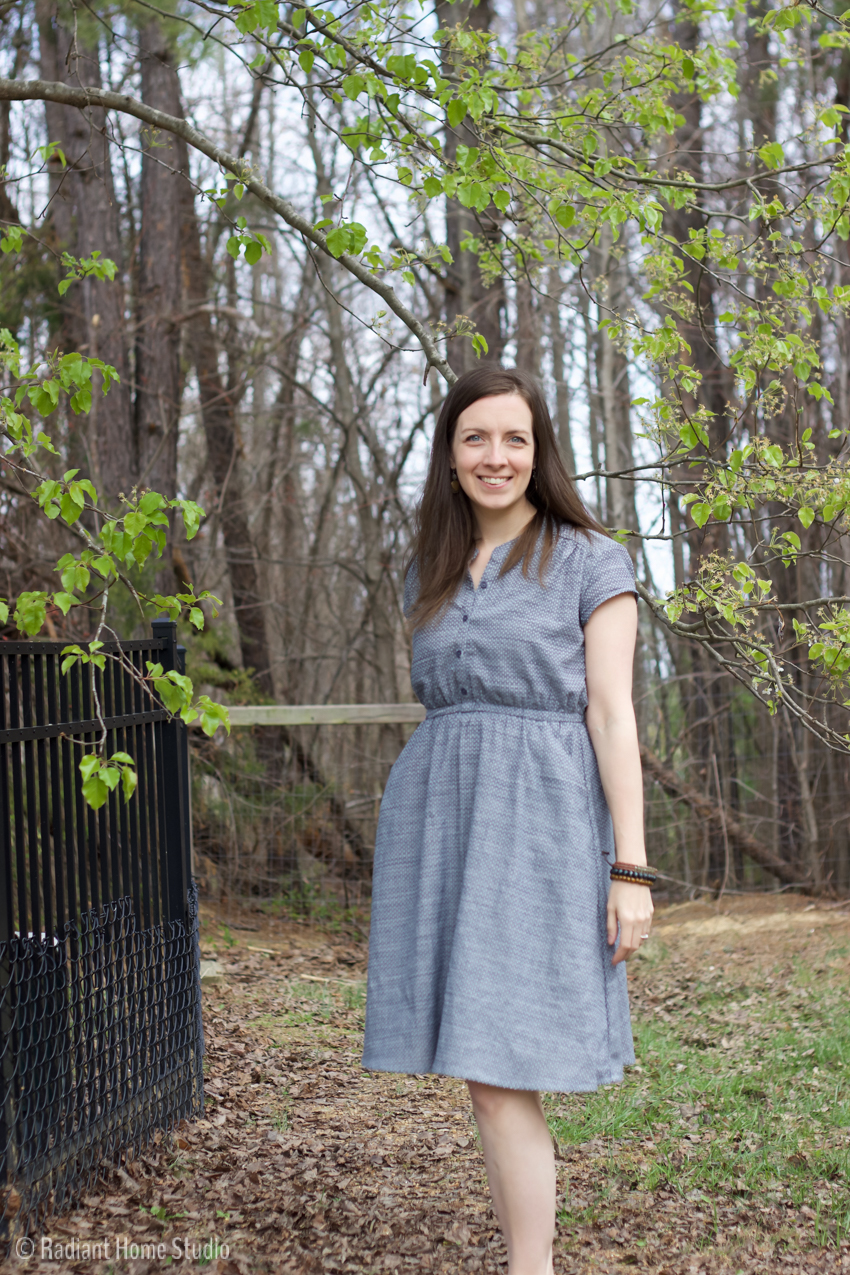 (This post contains affiliate links, which means I make a small commission at no cost to you. Thanks!)
With a nursing baby, I've struggled to find dresses that work for me. I actually spent hours looking for any type of dress that was nursing friendly a few weeks ago. We had a last-minute Christmas party and I didn't have anything in my closet that seemed appropriate and no time to sew. In the end, I settled for a very stretchy knit A-line dress that definitely wasn't appropriate for nursing in public. I had to find a place to hide just to feed the baby.
When I saw the Marigold and realized that it would work for nursing, I remembered how thankful I am for the ability to sew what I need. You would think a shirt dress would be relatively easy to find, but it just seemed to be "out of style" this season and impossible to find.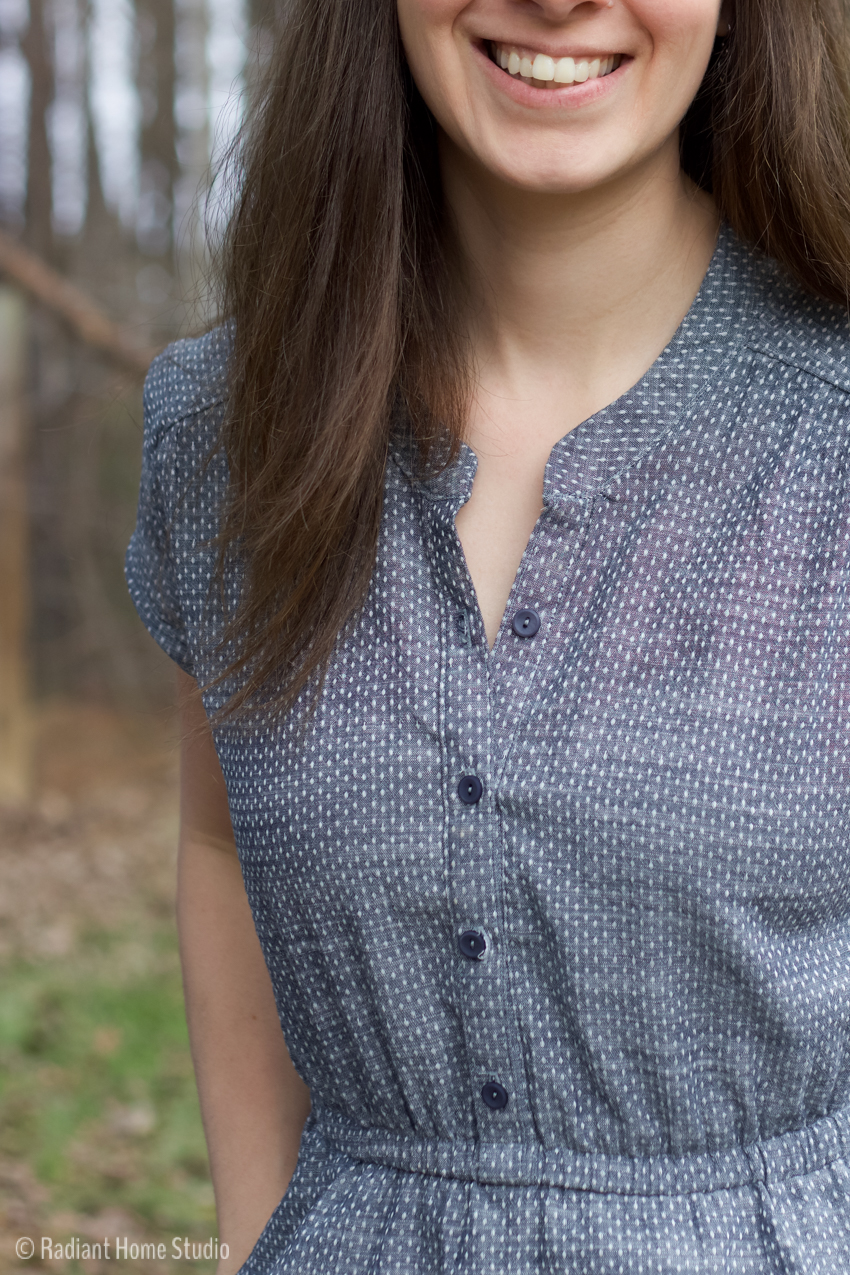 I started sewing in January, and what should have been a 3-hour project took 6 weeks of sewing in 10-15 minute spurts. It was definitely not the most efficient method of sewing since I had to keep finding my place every time I got started again. But with a 6-month old baby, you sew when you can—even if that means it's only 15 minutes here and there.
I chose some Kaufman Chambray for my Marigold Dress. It's lightweight and has a nice drape. The fabric is slightly sheer, but I always layer tank tops and bike shorts or a slip under my dresses so it seemed fine. I wouldn't recommend it for a dress or skirt without an extra layer though.
The Marigold pattern has lots of options. You can make it with longer sleeves, a belt, skirt only, or as a peplum top. I chose to make a short-sleeved version of the dress, with the longest skirt length. I think it will be a great year-round style. I can wear it in the summer as it is and also layer it with a sweater and leggings on a cold day.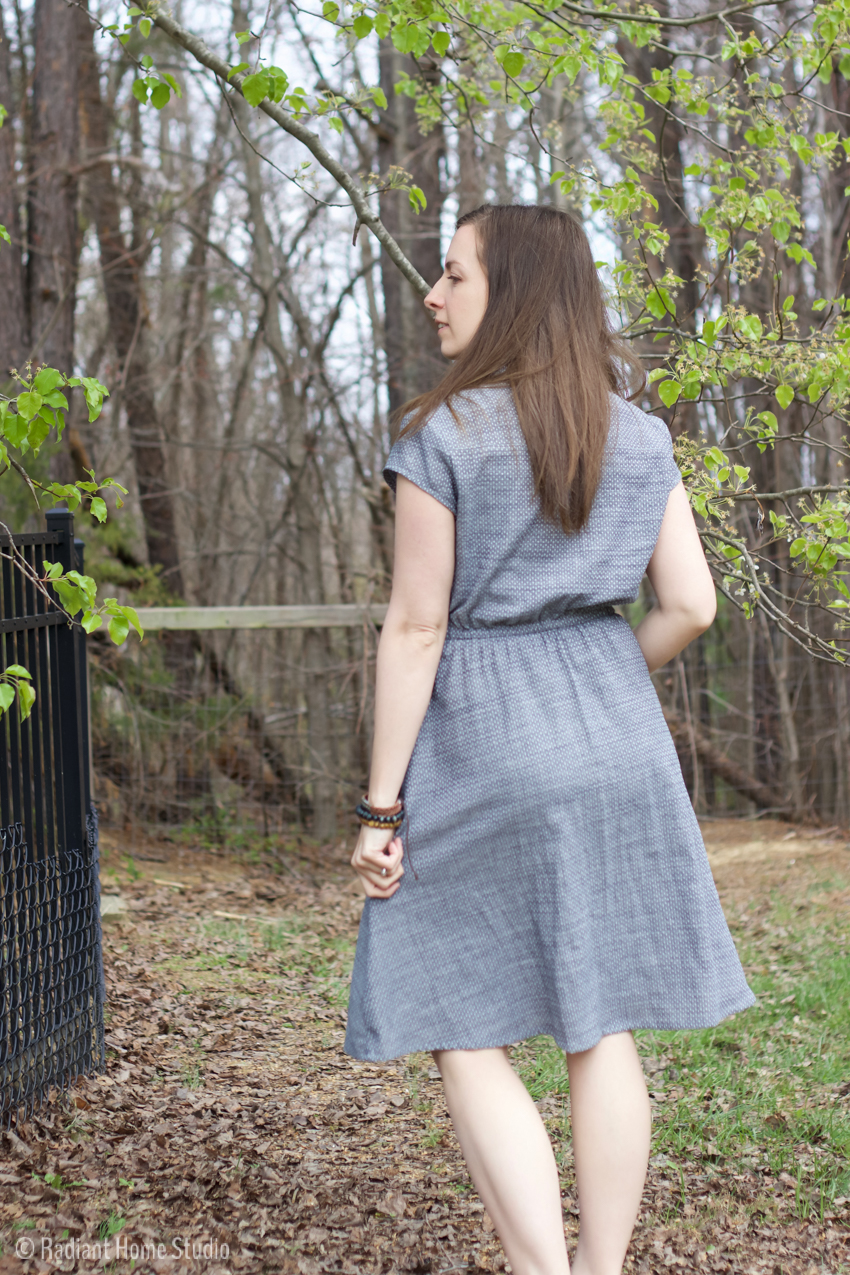 The pattern instructions were well-organized, especially considering all of the options available. I was able to follow the instructions for my style without confusion. Though I prefer illustrations, I found the photos clear and helpful for construction. I should have looked through the pattern for information on seam finishes before cutting. The collar, placket, and shoulder seams are all clean and hidden, but the side seams need to be finished. My serger seized up last month so I ended up sewing french seams on the sides of the bodice and skirt. I would have cut slightly larger seam allowances if I had planned ahead.
I made a size medium with no alterations. My bust and measurements were right in line with the size chart and my waist is a couple of inches larger. Since the elastic in the waist can be adjusted to the right size, I didn't worry about that. The finished fit is great, and I don't think I would make any changes. It's a flexible style and will continue to fit as I lose baby weight or if I gain a few pounds.