A couple of weeks ago, I had the opportunity to try the Mini Southport Dress from True Bias. I've been admiring all of the adult versions of the Southport Dress that have been popping up on my favorite blogs. The mini dress is just a scaled down version, designed to work with sturdier, kid-friendly fabrics.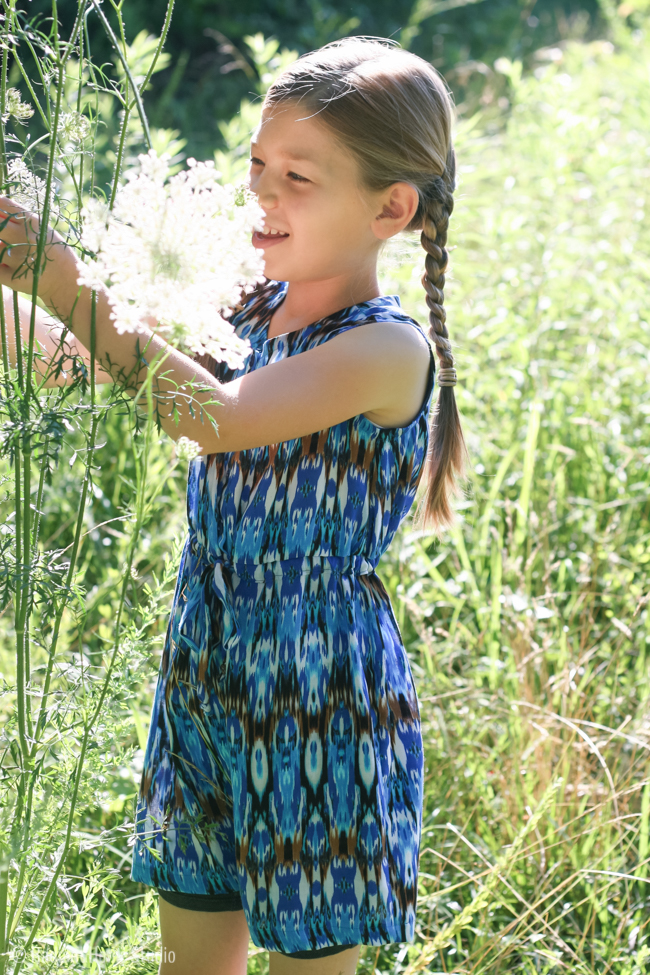 Kelli writes patterns in pairs, first designing an adult sized garment and then a matching children's version. I have made several Hudson Pants and Mini Hudson Pants from her patterns. The Southport Dress has been available for a few weeks, so those of you that follow True Bias have probably been anticipating the release of the mini version. Today is the day!
The Mini Southport Dress is a sleeveless, knee-length, easy-to-wear dress. The details include a button placket on the front bodice, and a combined elastic and drawstring waistband. Elastic cinches up the back waist, and the drawstring in the front adds style. The button placket construction technique is very simple, probably the easiest one I've ever done. After testing, Kelli made a couple of fit adjustments including lengthening the skirt (about 1/2″) and raising the neckline (just a minor amount as well).
The pattern recommends using quilting cotton, cotton voile, or linen. I was sewing from my fabric stash and decided to use some rayon challis. I've seen some of the adult versions sewn in rayon, so I knew it would work. The fabric drapes and gathers nicely, though it was probably harder to work with than the recommended cotton. I had to sew and press very carefully to get straight seams on the bindings and placket. Rayon can be a bit more slippery, so I wouldn't recommend it for a beginner.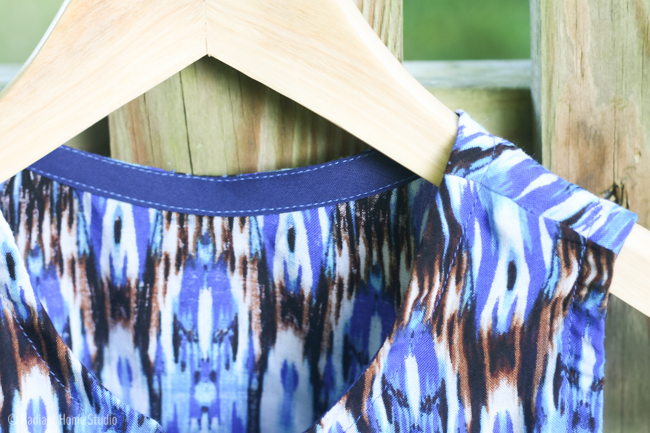 As usual, Kelli's instructions and illustrations are excellent. She includes plenty of information for newer sewists, while keeping the instructions clear and concise. The illustrations are clean and easy to understand.  For beginners, there is a sew-along for the adult version of the dress with step-by-step photos of the construction. There will be a couple more posts, specific to the mini dress, coming soon.
It was a pleasure to test this pattern and I highly recommend it! I'm hoping to make one for myself soon (I might copy Teresa's classic navy version!) Check instagram #minisouthportdress to see more finished versions of the dress. Also through July 3rd, the pattern is $2 off with coupon code LAUNCHWEEK!