This lace Wiksten Tank dress has been cut out and and sitting in my sewing room for weeks. Since we are packing up to move, I have been trying to wrap up some of the unfinished projects that are sitting around my sewing room. It took me a while to get around to buying lining material because I didn't know exactly what I needed. I was looking for something with a little bit of stretch, like the lace. But after a couple of trips to the fabric store with no luck, I just ended up using a high quality muslin because I couldn't find exactly what I was imagining.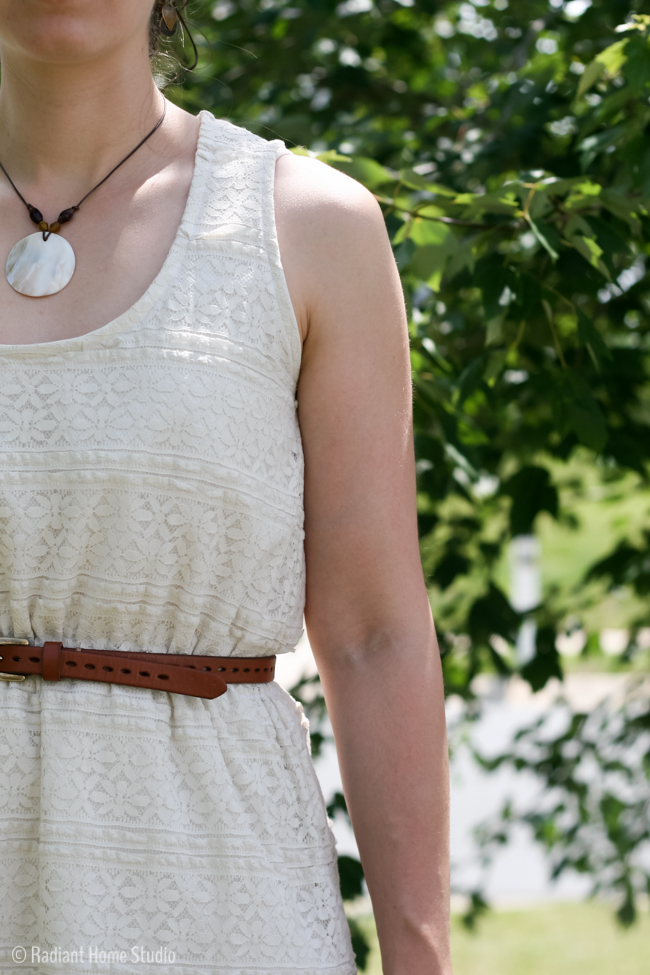 I've made several Wiksten Tank tops (here an here), but this is the first time I have tried the dress length. I've worked out all of the fit issues around the shoulders, so the fit of the dress is great. I usually cut a small, grading down to an x-small in the shoulders. I also take about an inch out of the back neck line for my narrow shoulders. I cut this dress the same way, making two layers and binding them together at the neck and armholes. I kept the dress in two separate layers at the bottom hem. I also added a channel at the waistline and threaded through 1/4″ elastic to add some shape.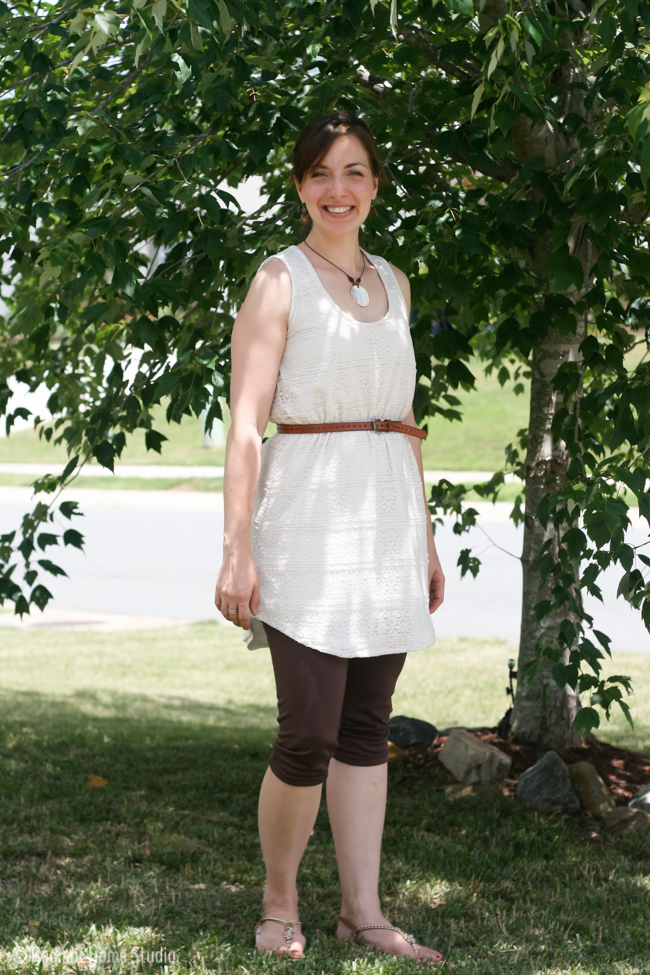 Though the dress fits the way I like at the arms and shoulders, it ended up being just a tiny bit too short for comfort. I'm constantly bending down to take care of kid stuff, so a couple more inches of length would be better for me. I had some brown ponte knit fabric along with a leggings pattern set aside for another day. (Pattern is McCall's 6360.) It seemed like the perfect thing to layer under this dress, so I went ahead and made those too. The fit on the leggings is just okay. Since I only wear them as an under layer, the fit issues at the top will always be covered up.
Overall, I'm happy with the dress and I think it will make a great layering piece. The Wiksten dress pattern is quick and easy, and the instructions are clear. I'm still not sure how I like the leggings (I feel like they make me look shorter…maybe a lighter color would be better?), but they work for now. The pattern was fine (especially since I bought it on a $1 sale…), but I wouldn't use it again without making some changes to the fit.
What do you think? How would you style this dress so that it is practical for a busy mom? Can I wear it with skinny jeans?