It's so exciting to release new patterns! I just love seeing how you all take my patterns and create your own beautiful projects.
This is the Highland Avenue House pattern. I had a lot of fun designing this pattern and I hope you enjoy sewing it!
Let me tell you a little bit about my inspiration for this pattern. I designed this house with the historic homes on Highland Avenue in Rochester, NY in mind. In 6th grade, our art teacher took us on an architectural tour through the city. Rochester is filled with amazing old homes that are bursting with character—everything from turn of the century farmhouses to mid-century Frank Lloyd Wright homes. My parents also love historic homes and often stopped to look at open houses around the city "just for fun". Though I no longer live there, I never lost my appreciation for the beautiful homes and architecture in the city.
I think the Highland Avenue House pillow is sophisticated enough for your living room and fun enough for your kids' rooms. The scalloped roof tiles add depth and texture, while also providing a place for you allow to experiment with different fabric combinations. Solid fabrics allow the beautiful lines of the pattern to shine, but it also looks great with coordinating fabric prints. It's perfect for using up smaller pieces of fabric from your stash.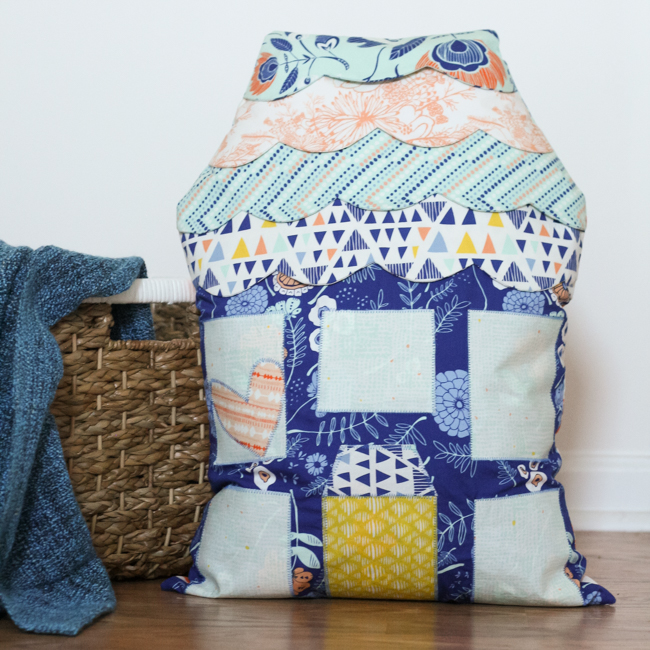 The pillow is fairly easy, so I have labeled it as "advanced beginner". Sometimes these skill labels are confusing, so I have also given a list of a few basic skills that you should be ready to try. You'll need to be comfortable sewing curves, willing to try installing a zipper, and ready to learn basic appliqué. If you have made a few items from patterns before, I think you'll be ready to sew the Highland Avenue House.
For size reference, here's my 2 yr. old with the pillow!
Here are a few of the tester versions of the Highland Avenue House pattern for inspiration:
1. Courtney mixed hand-dyed fabric with some modern fabric for fun look. 2. Ula's pillow will look beautiful in a girl's room. 3. Heather made a solid colored version. 4. Susi added some sweet extra embroidery. 5. Becki made this sweet cottage style version.