I love making pretty clothes with interesting details, but daily uniform (or "momiform" as Lauren Dahl has been calling it) consists of jeans and t-shirts. I really want to make more things I will wear regularly. I know I can't go wrong with a basic t-shirt pattern. (And maybe I'll try some jeans soon!)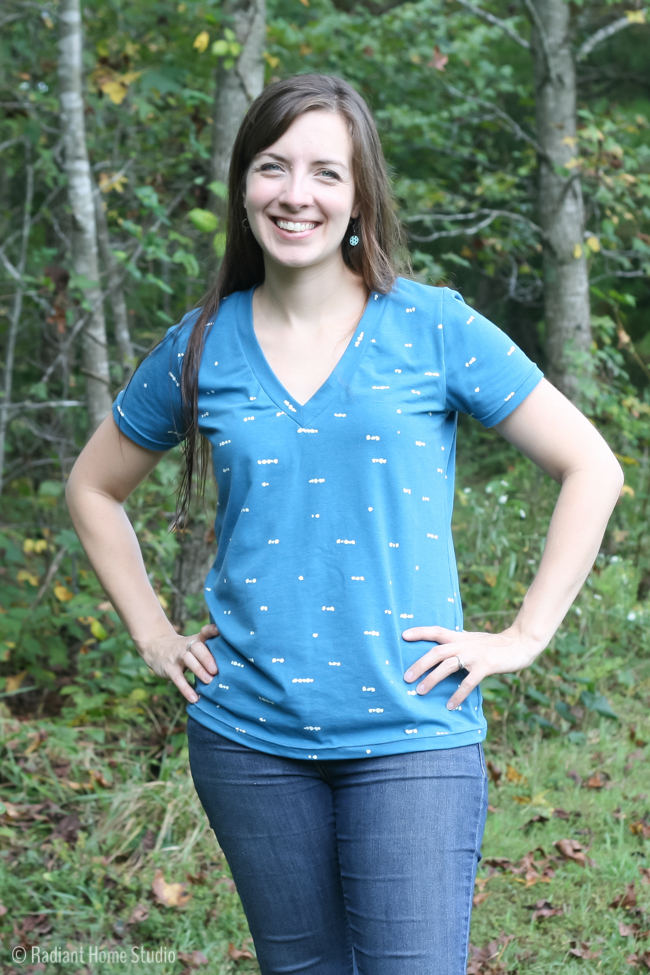 The Union St Tee by Hey June is a basic t-shirt pattern with a couple of neckline options and a couple of sleeve options. It looks like a lot of the t-shirts I buy from Target or Old Navy, and since it's quick and easy to make, I can see replacing several of my basic t-shirts with handmade versions.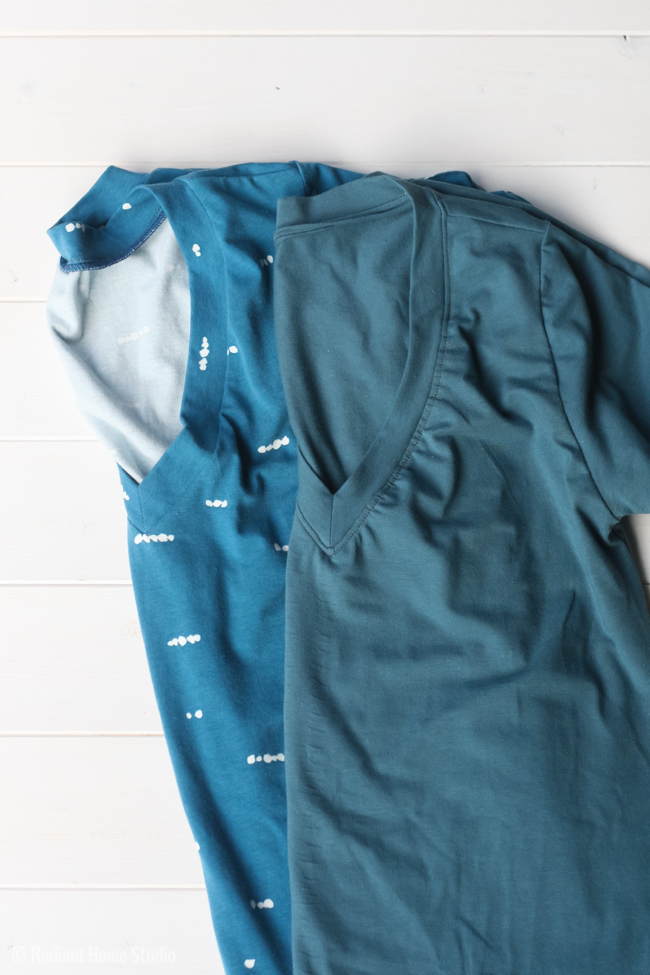 I actually managed to make two of these yesterday! In the morning, while the kids were busy playing "Robin Hood" in the next room, I cut out and sewed a muslin from some inexpensive fabric. It went together pretty easily once I figured out the v-neck directions, and the fit ended up being great. It's very similar to my ready-to-wear shirts.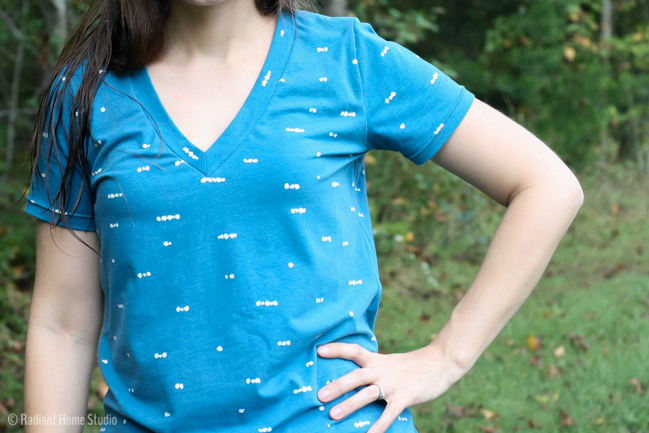 After the kids went to bed, my husband had a business call. I went back to the sewing room to cut out another t-shirt and ended up sewing the whole thing. I didn't even need the directions the second time around. If it hadn't been for the serger giving me fits, I think I could have made it in an hour. And smaller sizes can be made with only a yard of fabric. It would have taken me longer to drive to Target and buy a t-shirt in the time I made this one!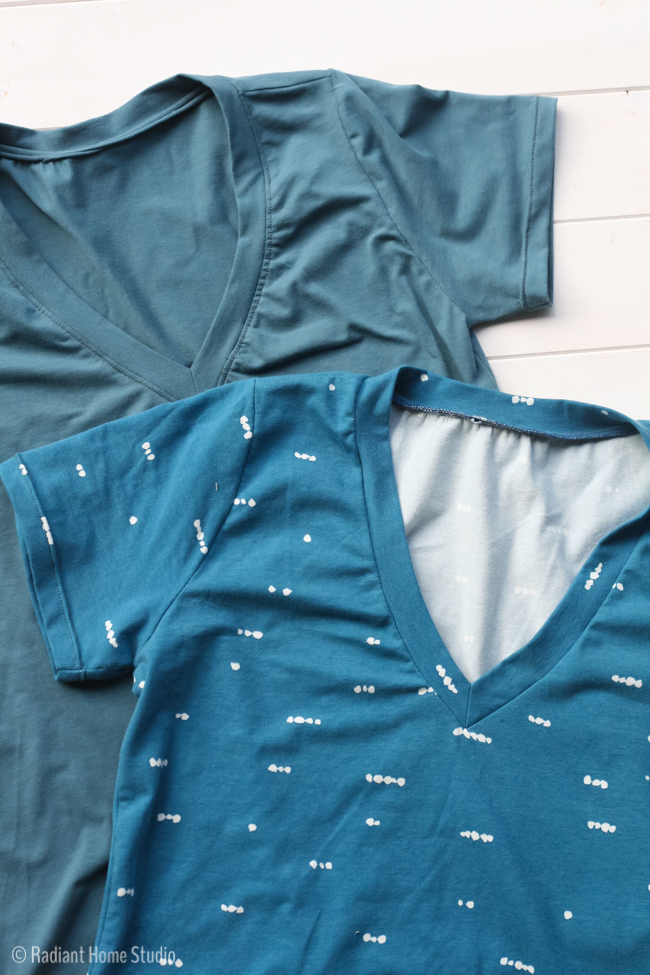 I made a straight size small the first time. (My measurements are 33-30-36 if you want to compare for your own sizing.) I thought I could use just a little bit more room, so on the second version, I graded out the hips to a medium. I tend to do that a lot with patterns. My shoulders are narrow and my bust is proportionally smaller than my hips. I think I could wear both the small and the medium depending on how I want the shirt to fit. For a loose-fitting casual tee, the medium would be fine as well. The pattern includes finished measurements so that you can compare the finished size to what you already have in your drawer.
I've included a few detail shots of the v-neck and sleeve hem of this Union St Tee. I serged the second version, but the first one looks just as nice with a regular machine and twin needle hemming.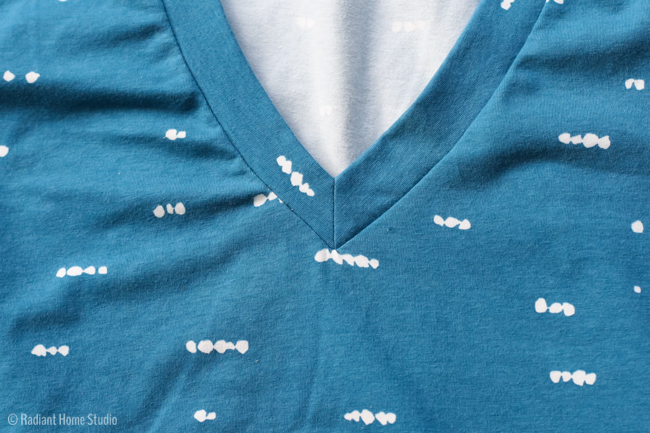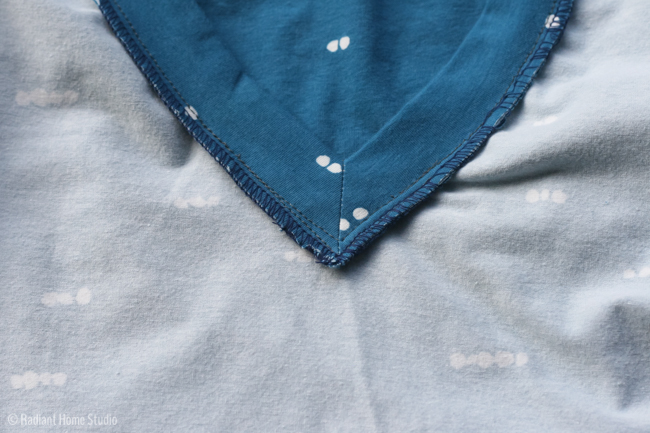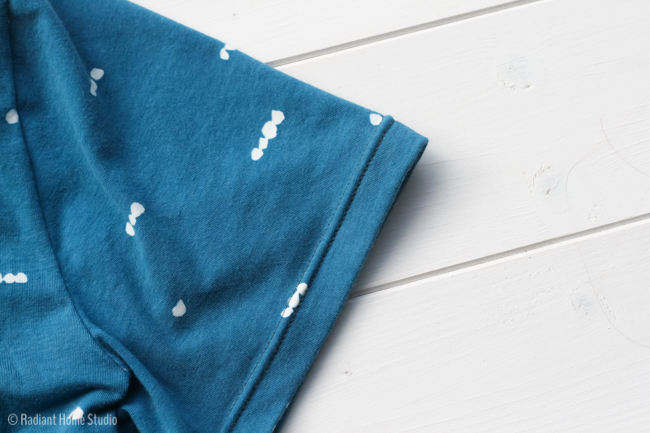 The solid blue fabric is something I bought at a giant craft closeout warehouse for something like $2/yd. It has a nice weight and stretch for t-shirts and feels like better quality fabric than the price I paid for it. It was perfect for practice and it's totally wearable since the first try ended up being the right size. The second shirt is Morse Dot Blu by Katarina Roccella for Art Gallery. I've used Art Gallery knit for some other projects and the quality is excellent.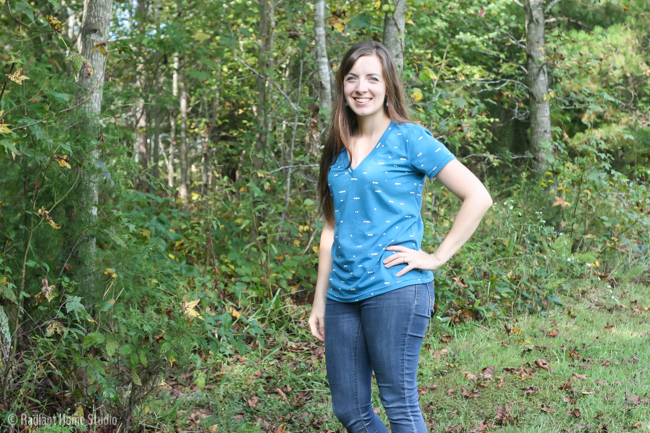 Want to see some of my favorite versions of the Union St Tee by other sewing bloggers? Check out Anna's navy and white striped crew neck tee, Teresa's polka dot and floral versions, Kimberly's basic white tee, Meg's print mixed version, and Caroline's maternity friendly version.
It's also Selfish Sewing Week, hosted by ImagineGnats on Kollabora. If you sew something for yourself this week, come and share it!