I'm excited to share that the North Pond Notebook Cover is now available! I've had such a great response to the pattern pictures I've been posting on Instagram, so I know many of you have been waiting for this release.
For those that haven't seen the details yet, the North Pond Notebook Cover is a useful cover to protect your notebooks. It has modern, but classic details, and lots of little pockets to help you stay organized.
You can use the North Pond Notebook Cover to make gifts for your friends or make some for yourself to get organized around your own home. Many of my testers were so excited about this pattern that they made several versions as gifts for their children and friends.
The cover pattern is drafted for two standard sizes, large for composition notebooks and small for journal-sized notebooks, so that you can refill your cover with new paper over and over.
The practical pockets on the interior flaps provide spaces for pens, pencils, and loose papers. The snap closure adds stylish detail, while keeping your papers secure. I also tried to keep the style gender, so this a great choice for men & boys too. Try it in waxed canvas or with leather accents for a more masculine look. I did this in one of my test versions, which ended up being a little off in size, but I'm planning to make another to show how this works for guys too.
The covers were designed specifically to cover composition notebooks and large Moleskine® notebooks, though the covers can be modified to fit notebooks of similar sizes. Both of these types of notebooks are easily accessible (in the US), so you can refill your notebook cover over and over. I have specific measurements included for making A5 size notebook covers (for my international friends), plus basic instructions for making other size adjustments.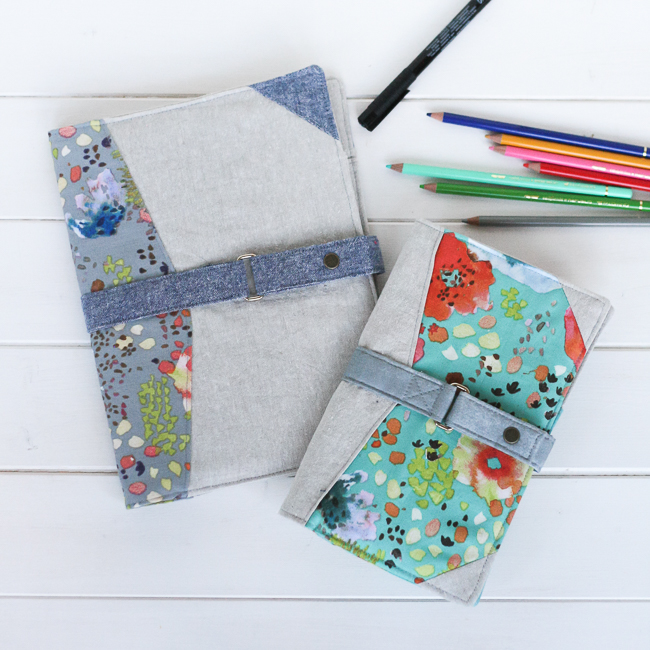 The North Pond Notebook Cover pattern is suitable for confident beginners. You'll need to be comfortable with topstitching and working with several layers of fabric. My experienced testers also loved this as a quick and easy project to jumpstart creativity and use up scraps.
For more details about the size and pattern, check out the pattern listing in my shop. Friends in the EU, please use my Etsy shop for checkout.
I'll be sharing more inspiration & tester versions soon!