This week, I'm celebrating 2 years since I sold my first pattern. I never would have imagined that it would lead to one of my patterns would be published in a book just 2 years later. It's is a pleasure to join the On the Go Bags—15 Handmade Purses, Totes & Organizers blog tour with some of the best bag designers in the business. These ladies have put together a beautiful book with modern sewing projects that will keep your home organized with style.
I'm also giving away a copy of the book! (This giveaway has ended! Congrats to Lunebeam!) Details are at the end of the post…but first I thought I would share a little about my inspiration for the pattern I designed.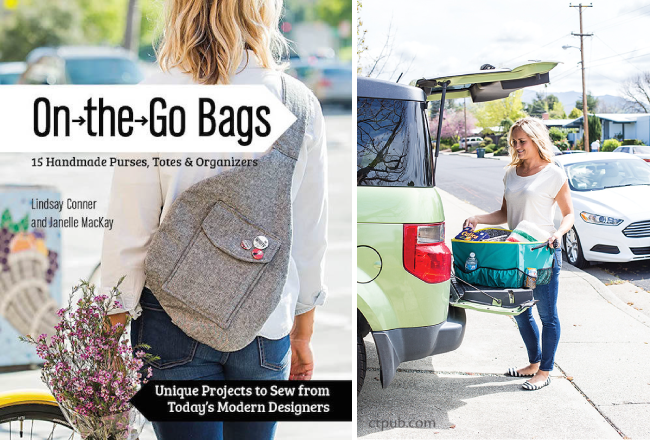 (This post contains affiliate links, which means I earn a small commission at no cost to you. Thanks!)
I enjoy designing bags and home accessories, but I especially love creating practical items to help you simplify your life. When Lindsay shared the premise for the book—bags and organizers for specific purposes—I knew it would be a fun project to work on. I spent a couple of days thinking about what would be helpful to organize around my house. Anyone with kids knows the van can get crazy messy, so I designed this van organizer to contain some of the mess! It won't magically clean your van for you, but at least it will keep it all from rolling around the floor and out the sliding doors…
This version was made by Lindsay Connor for Art Gallery Fabrics. The new canvas is perfect for this project!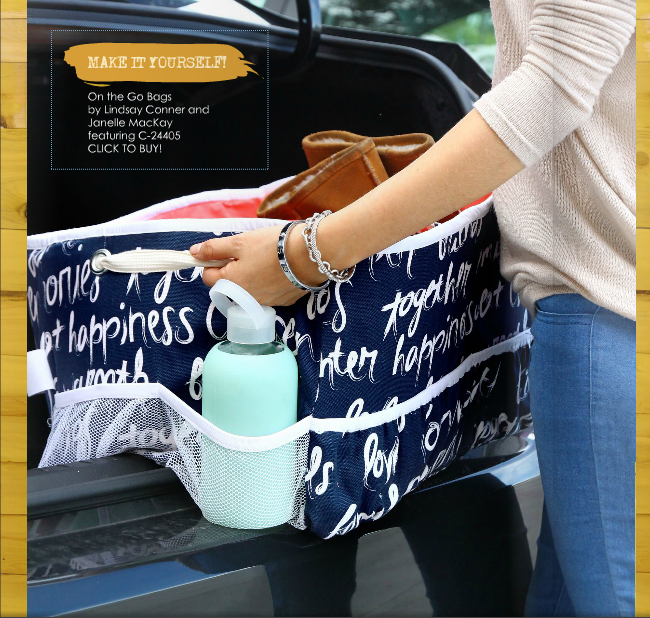 The pattern has a variety of elasticated pockets on each side, plus a removable divider. I wanted the inside to be big enough to carry a casserole to a potluck. A 9 x 13 dish will easily fit without the divider. Then you can pop the divider back in (it attaches with hook-and-loop tape) when you want to fill the organizer with smaller things. It's great for the trunk, but I also thought it would be perfect to have in the front, between the seats, for road trip supplies. When we take long trips, there's always a pile of stuff between the seats…and tons of trash. How great would be to throw a grocery bag in one end for trash, while the other side is filled up with snacks?
Now I'm wondering why I haven't made another one for myself after I sent this one off to be photographed…my van is still a mess!
Here's a sneak peek at a few of my favorite projects from the book. And thank you to Lindsay & Janelle for including me and for all of your hard work on this book!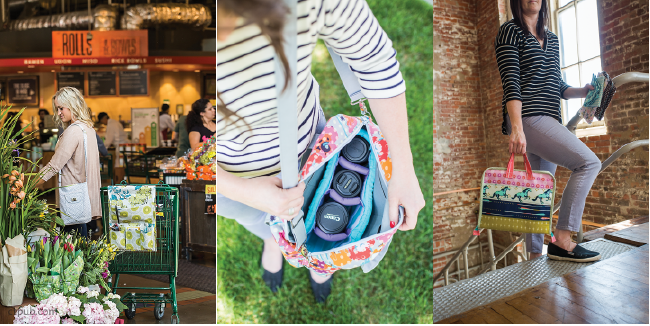 Would you like to win a copy of On the Go Bags—15 Handmade Purses, Totes & Organizers by Lindsay Conner and Janelle MacKay (Stash Books)? The book is available this month at CTPub.com and January 7th on Amazon! Add it to your holiday wishlist now, and comment below for your chance to win a copy!
To win a copy of On the Go Bags, leave a comment on this post telling us what style of bag is most useful in your everyday life and why. Giveaway ends 12/15 at midnight EST, and I'll choose one random winner. U.S. winner will receive a hard copy, and winner outside the U.S. will receive an e-Book.
Find out more about the book, the designers, and the projects by following the posts at these blogs!
Tuesday, Dec 1: Shannon Fabrics / Sew Sweetness
Wednesday, Dec 2: Clover & Violet / Ann Kelle
Thursday, Dec 3: Radiant Home Studio / Melly Sews
Friday, Dec 4: Sew Caroline / Mia's Creations
Saturday, Dec 5: ikat bag / imagine gnats
Monday, Dec 7: sewVery / The Girl Inspired 
Tuesday, Dec 8: Stash Books / Fabric Mutt
Wednesday, Dec 9: Pellon
Thursday, Dec 10: Simple Simon and Co / Mrs. H
Friday, Dec 11: Emmaline Bags / Lindsay Sews
Monday, Dec 13: Sew, Mama, Sew
SaveSave