I squeezed in one more finished garment for myself this week— an Out and About Dress by Sew Caroline! I was looking for a basic knit dress. Something comfortable and casual. I debated between this one and the Colette Moneta, which is similar. But after my trouble with the Colette Myrtle dress, I was hesitant to use the digital version. Erin's heathered blue version of the Out and About Dress convinced me that this pattern was the right choice.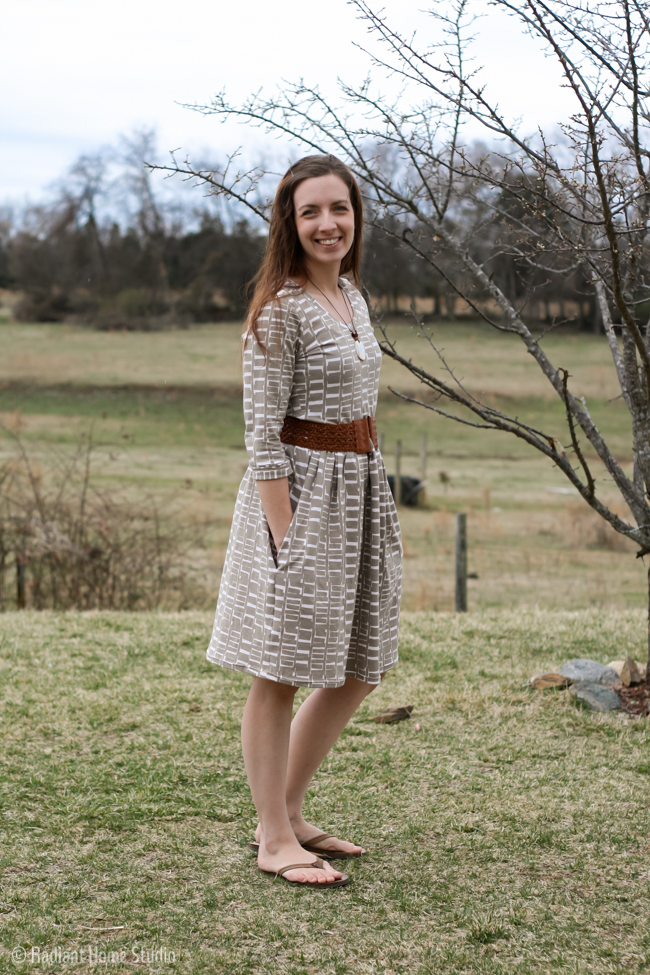 After the I used some Art Gallery knit for a girls dress and loved it, I decided to order some for myself. This is from the Grammercy collection by Leah Duncan (ordered from Imagine Gnats). The weight and drape of the fabric is perfect for this type of dress.
Overall, I really liked Caroline's pattern. The printing and taping wasn't too complicated. I printed row by row so that I could skip printing the pieces for the longer part of the skirt. It would have been nice to see a diagram of the fully assembled pattern so that I could have decided which pages to print (On the current version, you don't need pages 35-36 or 40-41 for the shorter dress.)
The Out and About Dress is pretty simple and the directions are straightforward. I cut a size small and didn't make any changes to the fit. I was a little bit worried that the fullness at the hips would be unflattering, but it looks great. I especially love the pockets. The elbow length sleeves make it a great all weather dress. I think it will look great layered or just as it is with a pair of flip flops. I can definitely see myself wearing this often!
I added a couple of small details—things I would expect experienced sewists to do without being told, but that a beginner might not know. First, I understitched the pockets to the skirt seam allowance. This just helps keep the pocket tucked in.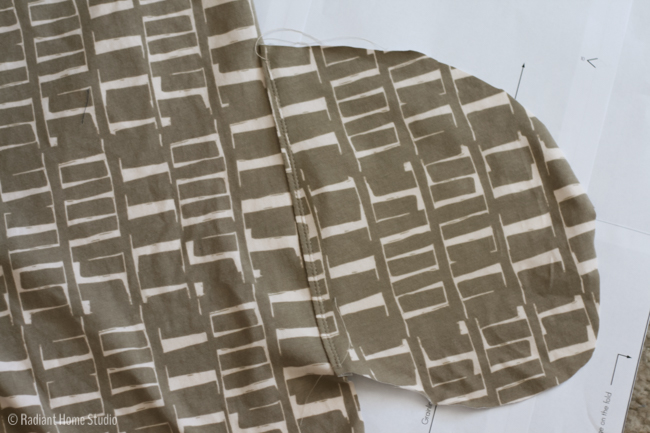 Second, I added some knit stabilizer to the seams. On the waist of each bodice piece, I ironed on 1/2″ of fusible knit stabilizer before sewing them. This just helps to prevent stretching at the seams where there is pulling (in this case, the weight of the gathered skirt). I also did the same on one side of each shoulder seam.
I attempted to stabilize the neckband as well (which I did for the Hopscotch dress), but it just wouldn't stretch far enough to fit. After picking it out once, I decided to do without the stabilizer. I think the fabric is still sturdy enough to hold the shape on it's own. On a kids top (you know how they pull at their shirts…), I would have cut a longer piece and stabilized it though.
If you'd like to see what other people are making for Selfish Sewing Week, you can check out Imagine Gnats or on instagram with #selfishsewingweek.