I always have lots of plans to make clothes for the kids. Most of the time I end up making the fun things, and skipping the quick and easy projects like pajama shorts. Kids Clothes Week usually motivates me sew up the things that have been in my "to-do" pile for months.
These shorts are made from Simplicity 5222, which is just a basic kids pajama pattern. It's very simple and I've used the pants pattern several times. Kids shorts are perfect for using up oddly shaped pieces fabric. I made a size 4, which will actually fit two of my boys. They are so close in size right now that they share about half their clothes, depending on whose laundry managed to get through the washing.
I appliquéd the front of the shorts with some jersey knit scraps. I cut out the fabric freehand. Any number would be pretty easy to add. The bear paw came from a simple motif in the fabric that I also cut out freehand. You could probably find some free stencils or clip art to add similar appliqués to your pajama shorts.
The kids tend to get confused about which way around to wear the shorts, even when I add a little homemade tag. I'm hoping a more obvious front will help them to get the shorts on the right way around more often.
Knit doesn't fray when it's cut, so I just left the raw edges and stitched them on. I didn't really even try to stay in the lines since the shapes are meant to be fun. I also used a little bit of fusible hem tape to keep the pieces in place while I stitched.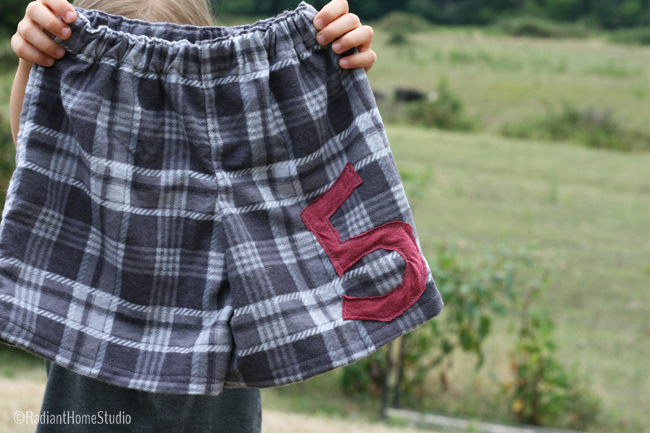 To keep the elastic from twisting and folding over on itself, I used Liesl's elastic waistband trick.
That's it! Quick and easy boys pajama shorts for kids clothes week…day 1!
What are you making this week?