More Retro Rucksack inspiration coming your way today…
Sara stays home with her children and shares her life and sewing at Made By Sara. Sara writes in English and also in Portuguese. She has made some really lovely clothes for her children, and features many patterns from independent designers. She also makes lovely modern, casual clothes for herself. Don't miss her list of all of the current sew-alongs going on around the online sewing community!
Sara made a beautiful feminine rucksack with corduroy contrast pieces. You can see all the details and and read her thoughts about the sewing process in her post.
Kelley writes about her life in the country and shares her sewing projects at Casa Crafty. Kelley cranks out new projects at lightning speed, so check back often to see what she's making! She also has great advice about sewing with laminate fabrics and sells a few laminate items in her etsy shop.
And after I wrote this little intro, Kelley sent me the picture of her finished bag made with…laminate cotton! See all the fun details in her post.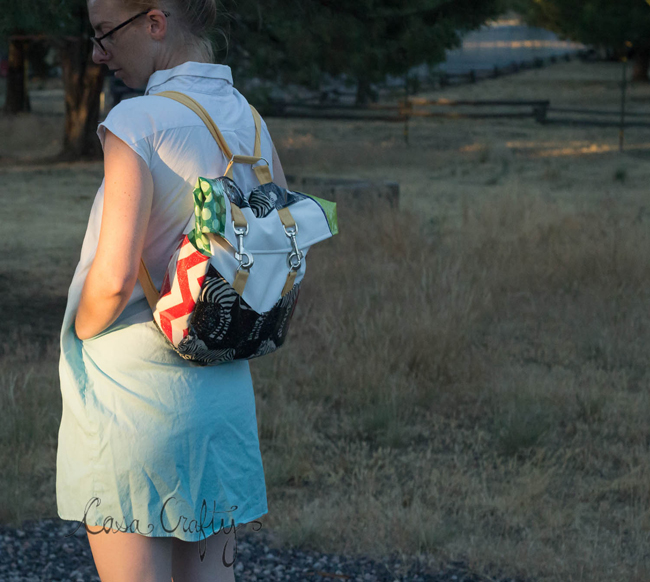 Retro Rucksack Inspiration Tour:
Monday, July 14th
Radiant Home Studio || Sweeter Than Cupcakes
Tuesday, July 15th
Quarter Incher || Dandelion Drift
Wednesday, July 16th
Glitter + Wit || EmmylouBeeDoo
Thursday, July 17th
Casa Crafty || Made By Sara
Friday, July 18th
SewVery || Raspberry Sunshine
Saturday, July 19th
Mia's Creations || Behind the Hedgerow
Would you like to buy a Retro Rucksack pattern?