Recently, a friend and I were talking about the difficulties of sewing with stretch knits. When I mentioned that sewing with a twin needle had made my stretch knit sewing easier and more fun, she told me that she had never used one. She wasn't even sure why you would need to sew with a twin needle, or where to purchase one.
It occurred to me that I have mentioned twin needles in a few blog posts, assuming that anyone with a sewing machine would understand what I meant. Even though my friend has been sewing for many years, she has never come across a pattern directing her to use a twin needle.
Commercial patterns do not tell you everything! They assume basic knowledge of your sewing machine, the appropriate fabrics, and tools. The problem is that most home sewists are self-taught, learning to sew from patterns (or blog posts!), and miss many of the great tools and tricks to make sewing easier and more fun. (Independent pattern designers have recognized the knowledge gap here and written more educational patterns to help fill in some of these details…)
No more assumptions for me though! I'm going to tell you what a twin needle is, when to sew with a twin needle, how to attach it to your machine and thread it, and show you some examples of fabrics sewn with a twin needle and without one.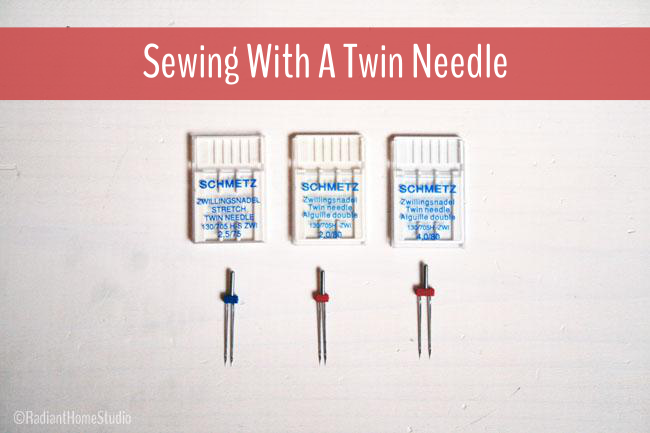 What is Twin Needle?
A twin needle looks like this: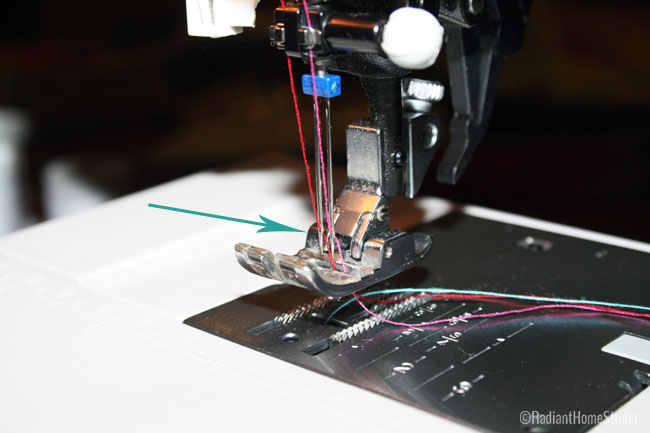 It has the same single shank as your regular machine needle, but branches out from there with two parallel needle points. The two needles can be spaced at different widths, but range from 1.6mm to 8.0mm. (You can also find triple pointed needles, but that's another discussion!)
Sewing needles also come with different points and thicknesses for different types of fabrics. These numbers are usually something like 90/14. You can find a great chart for sewing needle basics here. Twin needles are available in many of the basic sizes and point shapes as well.
Twin needles should be available in any sewing shop and even in the craft aisle of large chain stores.
Why and When Do I Need a Twin Needle?
A twin needle produces two parallel lines of stitching along the top as the bobbin thread zigzags between them.
For stretch fabrics, the zigzag stitch allows the threads to stretch so that they will not break when you pull your fabric over your head or push your arms through the sleeves.
If you want to sew on knits without a serger, a double needle is the most helpful tool you can have.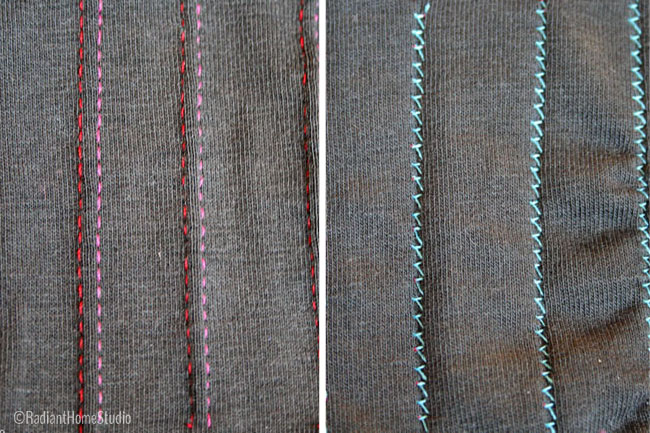 For woven fabrics, twin needles are generally used as decorative detail. You can use twin needles to make pintucks, professional looking hems, or decorative topstitching.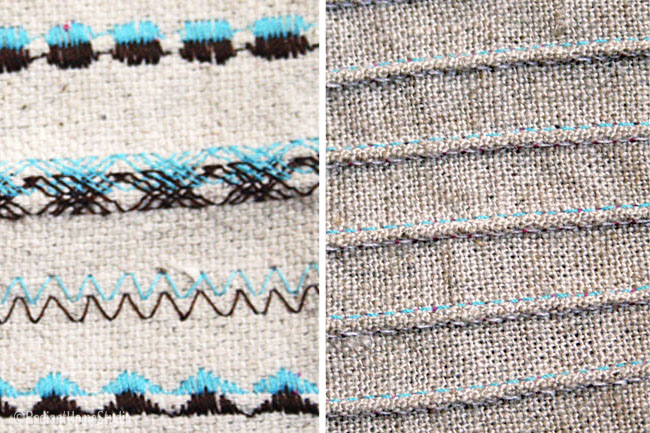 Which Needle Should I Choose?
For stretch knits, choose a ball-point/stretch twin needle. Ball point needles are designed to poke through existing space between fabric fibers without piercing or breaking them. This is true whether you use a twin needle or a single needle.
For non-stretch fabrics, choose an all-purpose twin needle. The size will depend on the thickness of your fabric. Generally, you need stronger, fatter needles for thicker fabric.
There are also specific needles designed for denim and embroidery.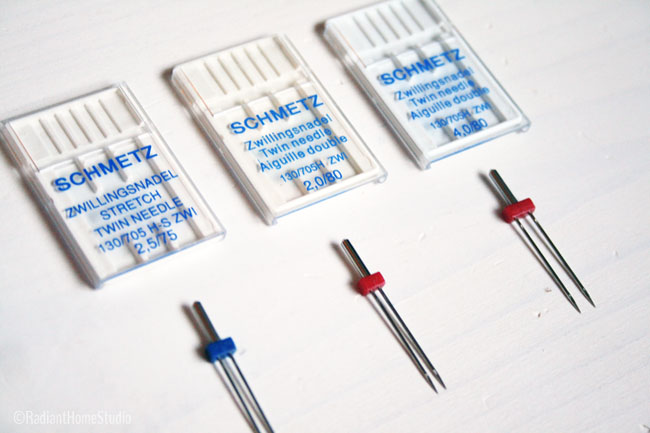 My next post will cover how to thread a double needle and various ways you can use a twin needle to make sewing easier and more fun!
If you don't want to miss a post: