Exciting news! My Water Bottle Tote pattern is part of Perfect Pattern Parcel #3! For the next 2 weeks, you can purchase my pattern as part of the bundle. You'll be supporting indie pattern designers and an educational charity called Donors Choose.
This is a fun summer pattern bundle, including 3 warm weather dresses/tops, a great vintage style swimsuit, and my Water Bottle Tote for your summer excursions. Since Pattern Parcel allows you to name your own price, you'll receive the Prefontaine Shorts pattern as a bonus when you choose to donate more. The sale only lasts for 2 weeks (Until June 13th), so if you have been eyeing any of these patterns…now is the time to get them!
When the sale is finished, you can find the patterns at the links below.
Pattern Parcel #3 includes:
Poppy Tunic by Make it Perfect
Water Bottle Tote by Radiant Home Studio
Jorna Tank Dress by Jenna Brand
Staple Dress by April Rhodes
Bombshell Swimsuit by Closet Case Files
UPDATE 2020: This is completely redesigned with more pockets and easier construction. Check out the listing for more details.
I've made several Water Bottle Totes for friends and family this year. These two are totes I haven't shown you yet…
You may recognize this as the fabric I used for my embroidered leather zipper pouch. I love this fabric, and I have more…so you'll probably being seeing it again!
JoAnn fabrics ran out of my favorite 1 1/2 in. webbing and didn't restock if for several weeks. So, I made my own straps from canvas using this method.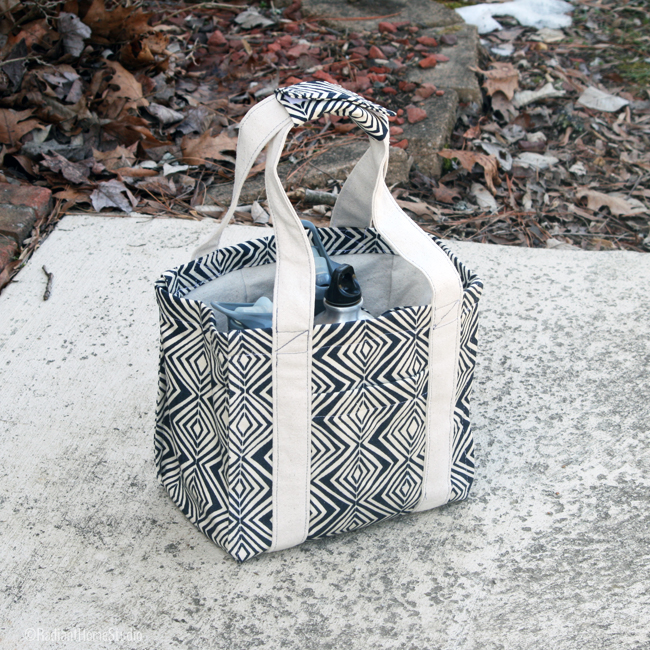 This bag is made from a gray ikat fabric from the home decor section of JoAnn fabrics. I actually made two of these in gray, and one in the cobalt blue colorway of this fabric. I used a less stable webbing because that's what was available. It's definitely strong enough to hold the weight of the bag, but I prefer the stiffer webbing or interfaced fabric so that the handles will stand up.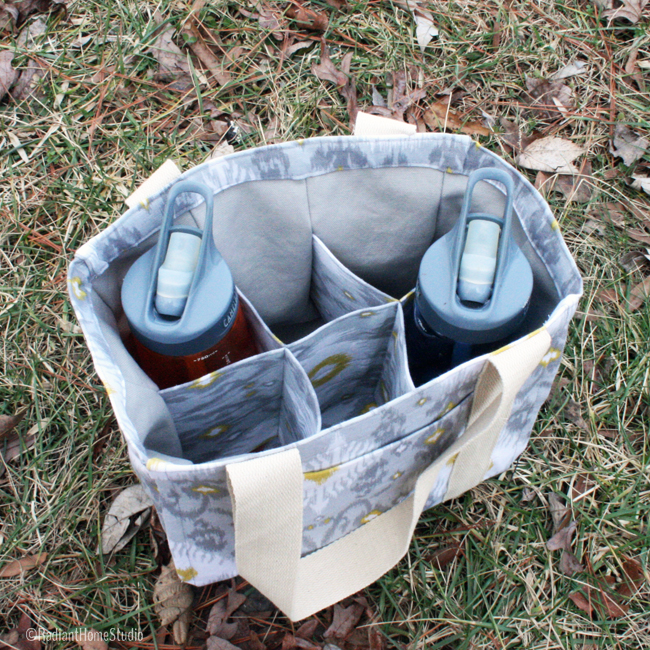 We truly take our water bottle bag everywhere! It is so much easier to keep the kids hydrated with water on-hand. We used to bring the water bottles everywhere, but they would end up rolling around the van or inevitably, someone would forget to grab their bottle. The bag keeps the van organized (maybe that's being too generous…it keeps the bottles organized in the van, but the rest of the floor is as messy as your van 🙂 and the water bottles accounted for.
Not only that, but we also save a ton of money by not buying bottled water when we are out. We'd be spending $10 every time we needed to stop and get drinks for everyone!
Many people have suggested that this would also make a great bag to transport baby bottles to daycare.
And even if you don't have kids, it's perfectly sized for wine bottles or other glass bottle goods from the market. So make one and take it along with your other reusable shopping bags to protect and organize your glass items!
If you want to see what others are making from Pattern Parcel #3, check out these lovely blogs!
Friday, May 30
Sew Busy Lizzy || Pienkel || SeamstressErin
Saturday, May 31
Design By Lindsay || Cookin' and Craftin'
Sunday, June 1
Diary of a Chainstitcher || a happy stitch || sew Amy sew
Monday, June 2
Idle Fancy || Casa Crafty || Kadiddlehopper || Dandelion Drift
Tuesday, June 3
Our Family Four || Casa Crafty || Cookin' and Craftin' || a happy stitch
Wednesday, June 4
Lexi Made || The Quirky Peach || Stitched || a happy stitch || Casa Crafty
Thursday, June 5
verypurpleperson || Casa Crafty || sew a straight line || Sewbon
Friday, June 6
Shawnta Sews || Mama says sew || a happy stitch || Cookin' and Craftin'
Saturday, June 7
Casa Crafty || sewninestitches || 'So, Zo… What do you know?'
Sunday, June 8
oonaballoona || A Stitching Odyssey || Sew Charleston
Monday, June 9
Sew Sweetness || True Bias || Ozzy Blackbeard
Tuesday, June 10
Welcome to the Mouse House || Sew Caroline || Adventures in Dressmaking
Wednesday, June 11
Peneloping || YoSaMi || sewVery
Thursday, June 12
la inglesita || La Pantigana || Sanae Ishida
Friday, June 13
Seamster Sewing Patterns || Paunnet