It's the final day of my 2nd Birthday Celebration & Blog Tour! My patterns are still on sale—all 20% off—through next week. Today I have 2 new friends sharing the bags they made from my patterns. Both bags are quick and easy—perfect for gift giving!

Courtney blogs at The Wholesome Mama. Courtney and I are part of the same creative blogging group. She sews clothes for her children and for herself, among other things. Her recent outfit posts are my favorite! She perfectly combines practicality and style, putting together outfits that are great for moms of littles.
Courtney sewed a Fairport Pouch with a zipper closure to use as a make-up bag. It's just the right size to toss into a bigger tote bag to keep the small things organized. Check out her post and her lovely photos!
Melissa, from Rebel & Malice, has an eclectic modern style. She's a mom to 5, full of creative ideas, and a regular participant in blog tours. She has a great collection of kids clothing ideas and pattern reviews in her archives. You'll find some neat kid project ideas on her tutorials page.
Melissa made a fun Fold Over Tote Bag from one of my Tote Bag upgrade tutorials. She used an old promotional tote bag to make this cute bag that she can actually use. Check out her post for more details and her review of the tutorial!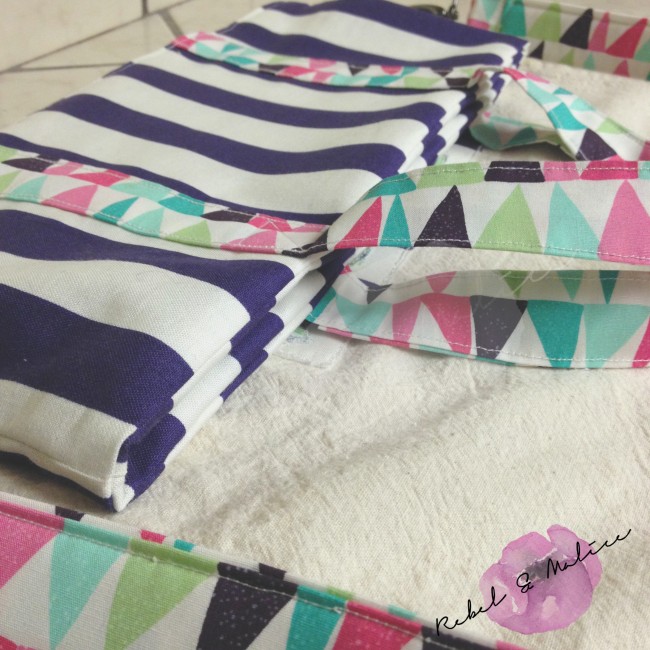 Thank you to all of my blogging friends that joined in my celebration! And to my readers for supporting and encouraging the creative work I share here. I do appreciate all of you!
Radiant Home Studio 2nd Birthday Celebration:
Monday, Nov. 30th Radiant Home Studio || Skirt Fixation || Felt With Love Designs
Tuesday, Dec. 1st A Happy Stitch || Sew Happily Ever After
Wednesday, Dec. 2nd Sew Very || Swoodson Says || Vicky Myers Creations || Call Ajaire
Thursday, Dec. 3rd Happy Okapi || House of Estrela || Molly and Mama
Friday, Dec. 4th Hugs Are Fun || Sew DIY || Made By Sara
Saturday, Dec. 5th Rebel and Malice || The Wholesome Mama
P.S. Don't forget to enter the giveaway for On the Go Bags (through 12/15) and watch for another giveaway beginning next Wed! Patterns are still on sale through Friday 12/11.