I've been sewing a lot of projects with scalloped edges recently, and my new Highland Avenue House pattern features a scalloped roof. The pattern contains sewing tips to help you create clean and professional scallops. But there's no reason not to share my tips with everyone. Would you like to learn how to sew perfect scallops? (Okay. We all know our sewing won't be perfect, but that's what people are searching for, right?)

(Some links may be affiliate links, which means I earn a small commission at no cost to you. Thanks!)
I'll be using the top scallop from the Highland Avenue House to demonstrate, but the technique works for any scallops. You can even make your own scalloped edge using a cup or other round item. I won't cover that in detail, but it's pretty easy if you can measure precisely. (Or, check out this awesome quilting ruler that helps you to create perfect scalloped edges!)
You'll need your fabric, a hem gauge or ruler, a marking tool, and blunt pointed object to push out the edges.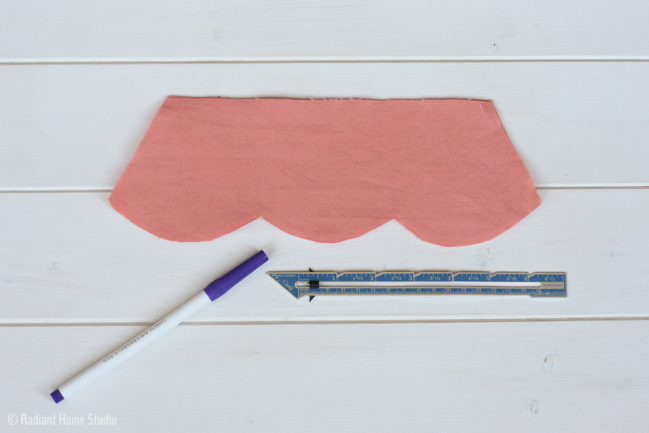 At the peak of each scallop, make a mark directly above the point. My seam allowance is 1/4″ so my mark is 1/4″ from the point. This will be your pivot point. If you are comfortable sewing an even curved line, that should be all of the marking you need.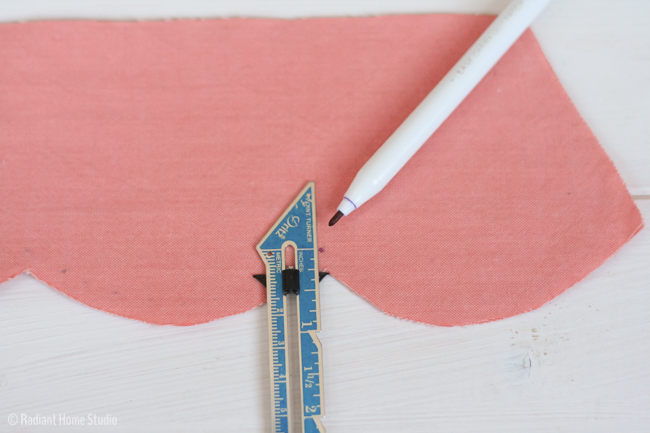 If you need a better guideline to get an even curve, go ahead and make a dotted line by measuring in 1/4″ and making dots along the edges.
Using a short straight stitch, begin sewing along the first curve using the dotted line as a guide. At the peak, where you marked the pivot point, leave your needle down in the fabric, raise the presser foot and turn the fabric to sew the next curve. Continue to the end.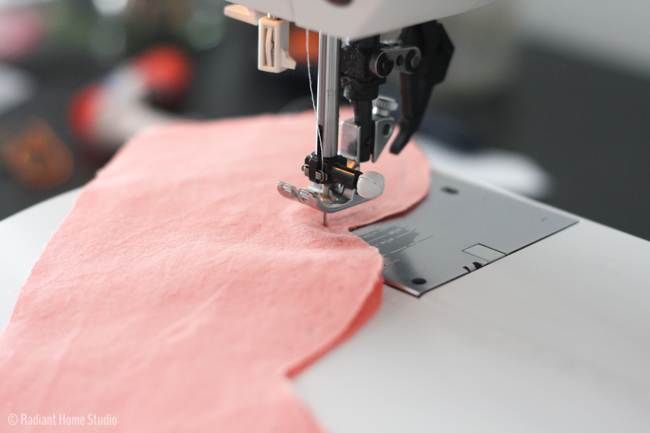 When you finish sewing, clip the curves. If the seam allowance is more than 1/4″, trim that as well. Clip into the peaks, as close to the stitches as you can, and cut the excess fabric out around each peak.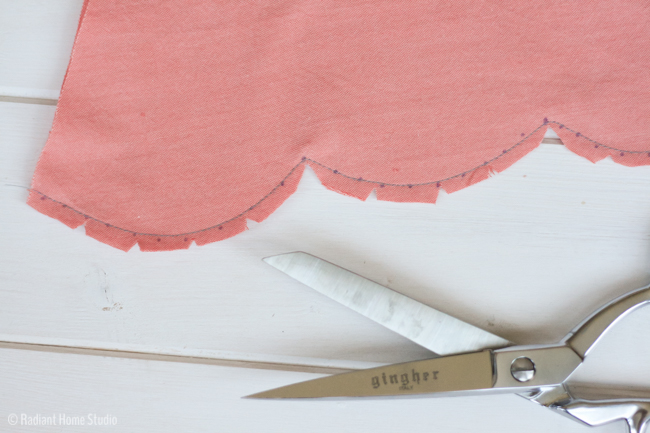 Turn the scallops right side out. The scallops will not look even yet. If you haphazardly press them at this point, you'll have a very uneven scalloped edge. Don't just plop the iron down on top of it!
To even out the curved seams, use a thin blunt object such as a paintbrush end or knitting needle.
Push the curves out using your pointed tool. It's best if you can stretch each curve a little bit to get the seams lined up properly. I work in small sections, pushing out the curve, holding it in place, and pressing as I go. Working slowly and methodically while pressing is the key to getting (nearly) perfect scalloped edges.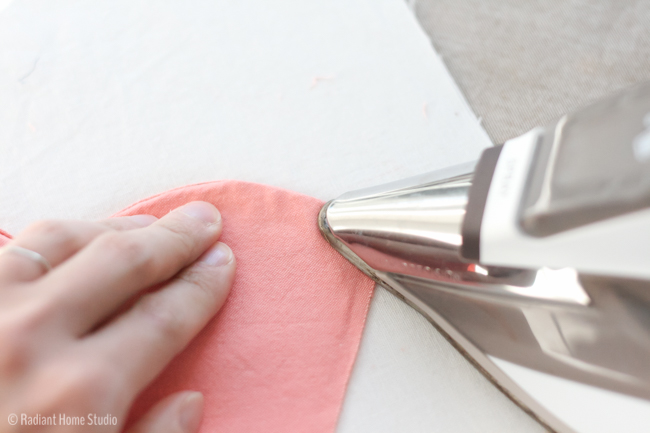 Continue along the curved edge until you reach the end, working to get the curves as smooth as possible.
If you like, you can also topstitch along the scalloped edge. Then add your scalloped detail to your sewing project!
You can use my Mini Highland House pattern to practice sewing scalloped edges. It's a free gift when you subscribe to my newsletter!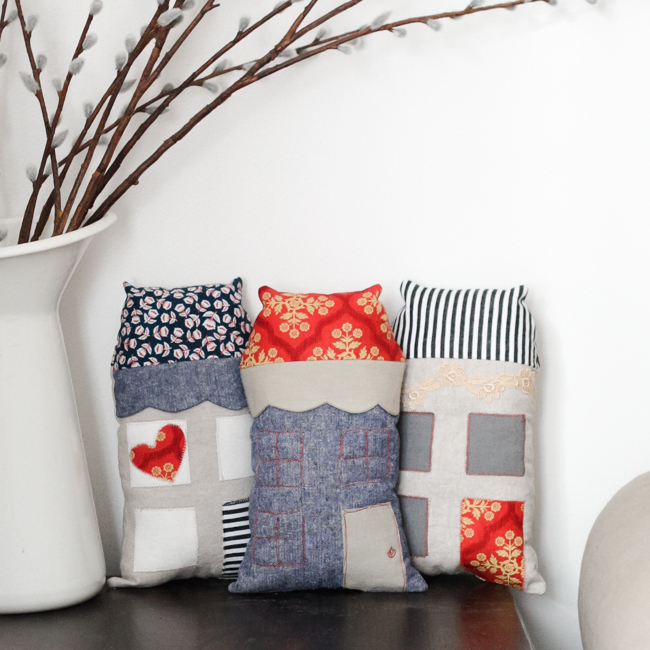 Or try the Highland Avenue House Pattern…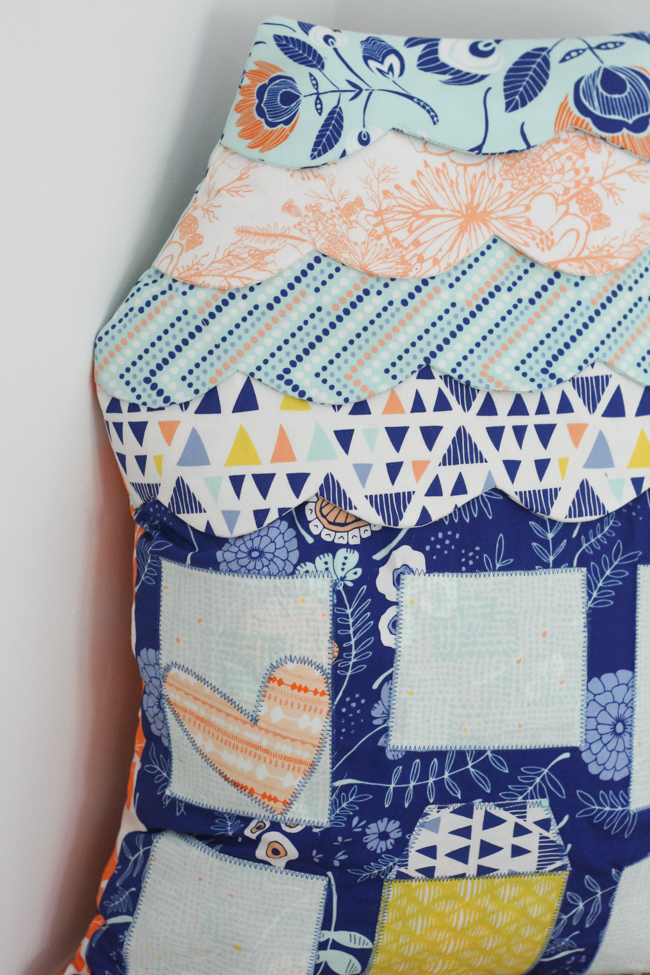 P. S. If you can't stop sewing scallops and want some more sewing ideas, you'll love 18 Beautiful Scalloped Craft Projects!
SaveSave