The beginning of January is one of my favorite times of the year for blog reading. I love the end of the year reflections and I always look forward to reading "best books I read this year" blog posts. I read over 40 books this year, not including sewing project books that I regularly borrow from the library and browse. I love reading theology, books that challenge me to be a better wife & mother, and books about education. But I also enjoy reading books about art, design, and creativity, along with more visually oriented sewing & craft project books. Many of these are new this year, and all are published within the last couple of years. Without any further explanation, these are the 5 best sewing and design books I read last year: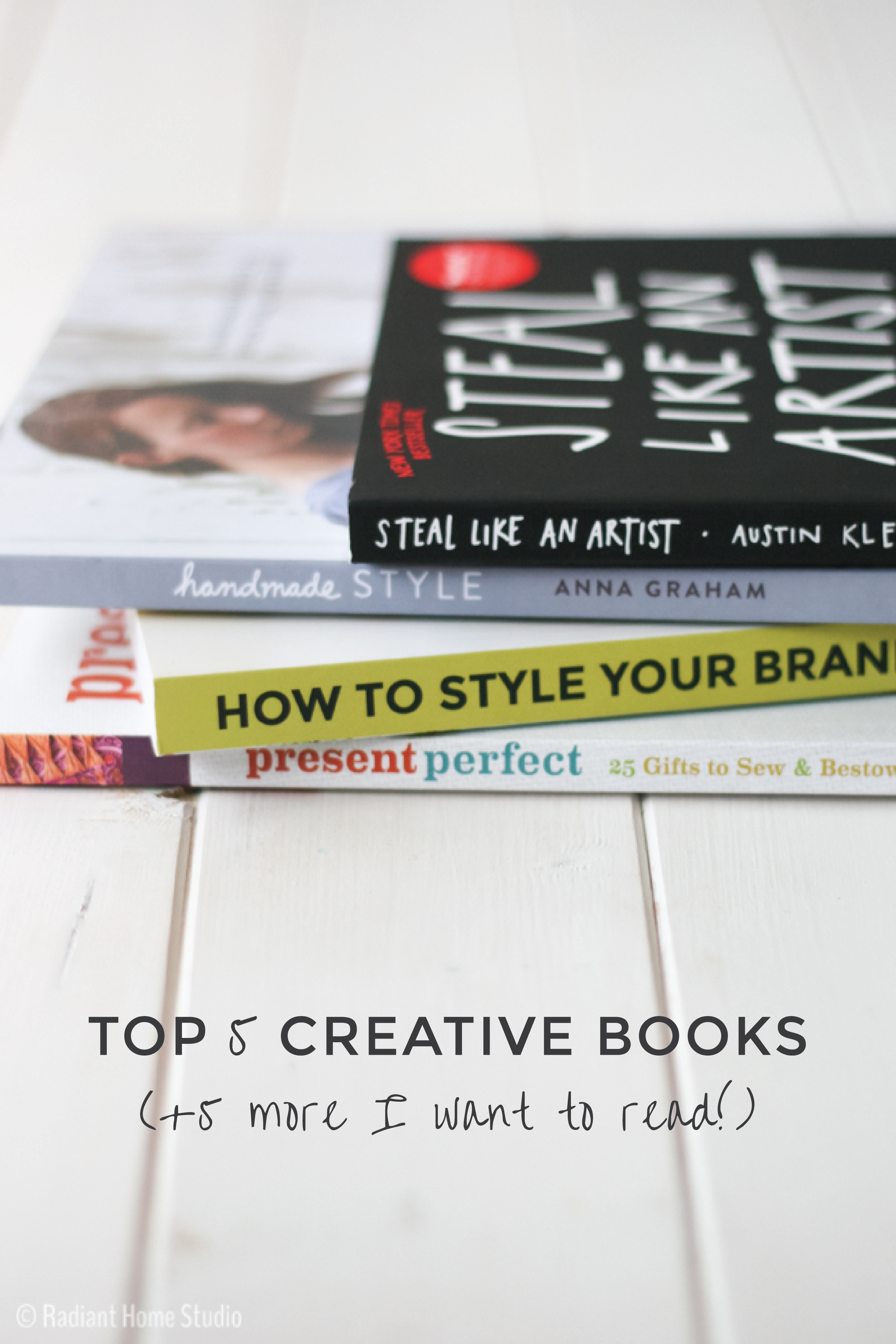 (This post contains affiliate links, which means I make a small commission at no cost to you. Thanks!)
1. How to Style Your Brand by Fiona Humberstone – This year, I discovered that I love branding and marketing for creatives. This is a topic I have been reading about for a couple of years, since starting my pattern business. I'm still learning, but I enjoy the challenge of doing my own design work and this book is the perfect guide for creative entrepreneurs like me. I have been working through How to Style Your Brand by Fiona Humberstone for a couple of months and have thoroughly enjoyed learning about color psychology using her seasonal branding system. I'm still deciding if I'm an Autumn side of Summer or a Summer side of Autumn. But I'm getting closer to nailing down my brand style as I make mood boards and sort photos.
2. Steal Like an Artist by Austin Kleon – This book has been recommended by many creative business owners and bloggers. This is a short and fun little book, subtitled "10 Things Nobody Told You About Being Creative." I love the hand-drawn lettering and casual design style throughout the book. It feels as though a good friend is writing you an inspiring letter. There is so much good advice packed into this little book! I've read through it a couple of times now and I plan to work through it again, putting the suggestions into practice as I go. I'm looking forward to reading his 2nd book Show Your Work.
3. Handmade Style by Anna Graham – If you are following my blog, I can't imagine how you wouldn't already know about Anna at Noodlehead. Her bag patterns are amazing, her photos are beautiful, and her sewing style is just the right blend of modern and classic. I don't buy sewing project books very often, (like I said before, I tend to borrow them from the library…) but I love everything about Handmade Style. I've made several of the projects from the book including, pencil pouches, a makeup travel case, and an organizer basket. My favorite part…all of the patterns are included on an insert at full-size!
4. A Million Little Ways by Emily Freeman – In this book, Emily shares reflections on living an artful life by reflecting the glory of God in the creative work we do. God is beautiful and as image bearers of God, we were created to reflect his beauty. There are so many helpful and inspiring parts of this book. She talks about how God's grace holds us together when you feel like you are falling apart and how to handle criticism and self-doubt by finding your hope in Jesus. She shares how understanding the love of God keeps you from making mediocre art and how criticism can be a gift. This book is for anyone that desires to live a life sharing beauty in the world as a response to the beauty of God.
5. Present Perfect: 25 Gifts to Sew & Bestow by Betz White – I have to include a little disclaimer with this one…I was a contributor to Betz White's blog this year, so I received a free copy of this book. Our collaborations aside, this is such a great sewing book! With 25 projects, arranged in categories for special occasions, kids, and home decor, there is truly an idea for almost everyone. I love that the projects are designed to be given as gifts and include extra notes about how to make your gifts personalized for the recipient. Not only does Betz share ideas for personalization, she also gives lots of good ideas for upcycling and repurposing old clothes. This book also contains full-sized pattern pieces and a variety of projects that even beginners can make. I've made several projects from Present Perfect and highly recommend it if you enjoy sewing gifts and useful home items.
There are so many amazing and beautiful sewing and design books out there I'd love to use for projects this year, plus some more books with thought-provoking advice and reflections on art and creativity. Here are 5 I have on my 2016 wishlist:
6. Beyond Cotton by Krista Fleckenstein – I love experimenting with other materials for embellishment to my sewing projects. Stamping, printing, and working with leather are some of my favorite ways to add more handmade elements to my sewn projects. Beyond Cotton looks like it is filled with ideas for projects that I would enjoy making, so I am looking forward to Krista's advice and inspiration in this book.
7. Lotta Jansdotter Everyday Style – Lotta's minimalist style clothing is appealing. This book looks like it includes patterns for lots of basic casual wardrobe items, plus a couple of bag patterns too. I've enjoyed Lotta's other books, and I expect this one is just as good.
8. Making an Impression by Gennine Zlatkis – This book is all about designing and creating stamps. Gennine's artwork and photographs are gorgeous and inspiring. Her Instagram feed is one of my favorites. I'd love to use this book to experiment with and grow my stamp carving skills.
9. Show Your Work by Austin Kleon – As I mentioned above, Steal Like An Artist was an inspiring and practical book. I hope for more of the same with Kleon's second book!
10. Refractions by Makoto Fujimura – Fujimura is a Christian fine artist living in NYC. His collection of essays on faith and art looks intriguing. Beautiful art points back to a creative God. I love making connections between creative work and the Creator. I'm hoping for some thought-provoking writing…
What were your favorite creative books? What are you planning to read this year?
SaveSave