Last week I received an e-mail with a really good question about bag linings. So today I'm sharing 5 tips to help you fix a bag lining that is too big!
I just wondered if you've found (and/or have a way to deal with) linings can sometimes turn out too big, even with measuring?  I've found that to be the case for me, especially with tote bags!  So now I'm tweaking how to "fit" the lining…If you have any tips, I'd be happy for the advice!
I remembered that I struggled with bag linings a few years ago, but since then I have learned a few tricks to fix bag linings that turn out too big. I'm guessing it's a common problem, and one worth addressing. I have a few helpful tips, but my best advice is to keep practicing!

5 Tips to Help When Your Bag Lining is Too Big:
Double check the measurements.
Did you use fusible interfacing on any of your pieces? Sometimes the iron can stretch out the fabric. It's a good idea double check the size and trim off any excess after you add interfacing. One way to help avoid this problem is to make sure that you press the iron down and pick it up to move it. Sliding it around can distort the fabric shape.
Don't cut on the fold.
I recommend tracing the full-sized pattern piece, instead of cutting on the fold. I find that I end up with as much as an extra 1/2″ of fabric when I cut on the fold. If you can cut with the fabric flat your pieces will be more accurate. One example…I make a lot of organizers using the Noodlehead Divided Basket pattern, but in order to get the top edges to line up perfectly, the pieces have to be cut accurately. I always cut this pattern flat to ensure that my top edges will fit together properly.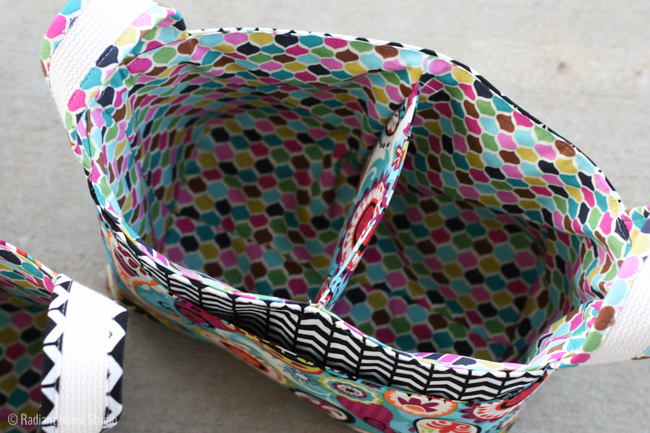 Taper the seam allowances.
To cut down the extra bagginess in the bottom of the bag, you can try using larger seam allowances. This will make the lining slightly smaller than the exterior. Just taper back to the correct seam allowance when you get to any spot that needs to match up with the exterior (usually the top of the bag). I've done this on a couple of bags recently and it seems to make the lining fit better.
Try some hand stitching.
If the lining is loose and moves around, you can try hand-stitching the corners of the lining to seam allowances inside the bag exterior to keep them in place. Just a couple of small stitches in each corner will keep the bag lining smooth and tight.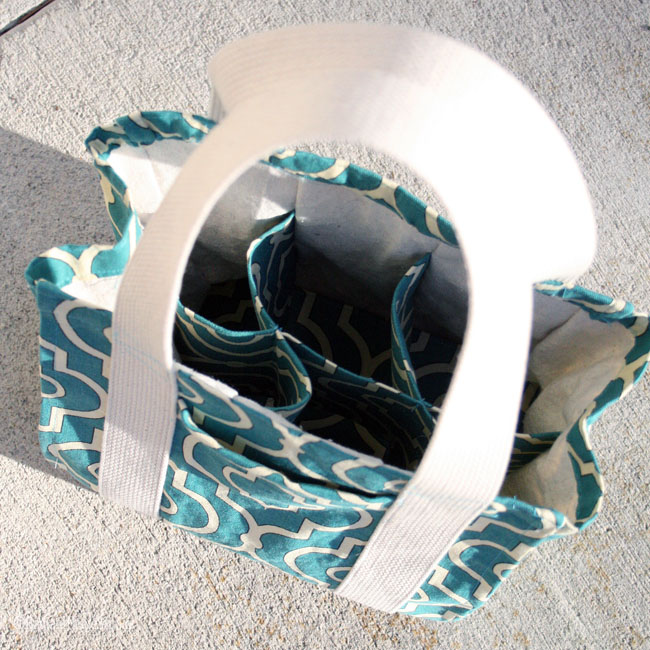 Don't worry about it!
Sometimes extra bagginess might just be the way the designer designed it. For example, in my Fairport Purse & Pouch pattern, I debated about adding the pleat to the inside of the bag in the lining. Leaving it out would have made a smoother lining, but it also would have made the usable space smaller. I chose more space.
Keep sewing! The more you practice, the easier it will be to sew straight, line up seams, and keep the seam allowances accurate. Start with some easier projects like adding a lining to canvas tote bag, and then move on to more complicated patterns. Professional looking bags take time and attention to detail. Go slow and take breaks. Pretty soon you'll have expert looking bags with beautiful linings!