Last week I sewed a men's messenger bag with waxed canvas fabric. Waxed canvas has the look of aged leather, but is much easier to sew. It's also water repellent and stain-resistant, which is great for items that will be used outside often.
(Some links may be affiliate links, which means I earn a small commission at no cost to you. Thanks!)
Though there are a few sources of waxed canvas in the US (you can find a short list recommended by Colette Patterns), I couldn't find exactly what I was looking for at a reasonable price. I remembered seeing a post over on the Thread Theory blog recommending Otter Wax to make your own waxed canvas fabric.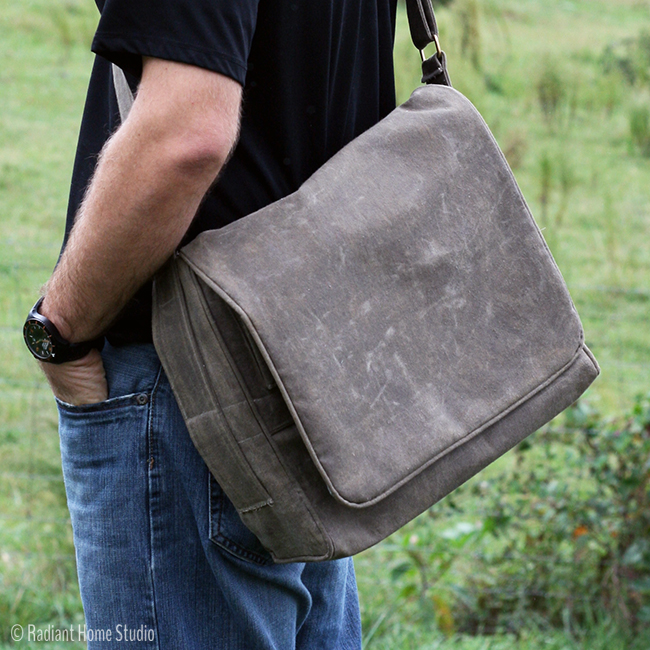 After weighing the options, I decided to try the Otter Wax. It worked exactly as I had hoped! (I feel like I need to say this, but this is not a sponsored post. I'm just a happy customer, sharing my experience!)
First, let me share a few tips about working with the wax:
Use the suggestions on the website to figure out how much you need. I most likely ignored the estimates, hoping to stretch the limits. I ordered the small size bar and ran out. Thankfully, their shipping is super fast and received the 2nd order in 3 days! I ordered the bigger bar the second time, and have plenty left for another bag or a couple of smaller projects.
Applying the wax is easy, but a bit time consuming for larger projects. I worked in small sections (6″ squares) and took breaks. I decided to apply wax as I was putting the bag together. I wanted to avoid stitching on the waxed fabric as much as possible. The presser foot makes extra marks and if you need to pick out stitches there will be visible marks as well. But I also wanted to wax some of the parts that would have been difficult to reach after the bag was finished, like the insides of the outer pockets. I sewed the outer pocket pieces together, then waxed the entire pocket. I waxed the main outer section of the bag before attaching the pocket, but I did the sides of the bag at the end.
How to Wax Canvas Fabric:
Rub the bar of wax vigorously on the canvas. You need to create a bit of heat from friction to warm up the wax. As you can see, it won't cover every part of the fabric.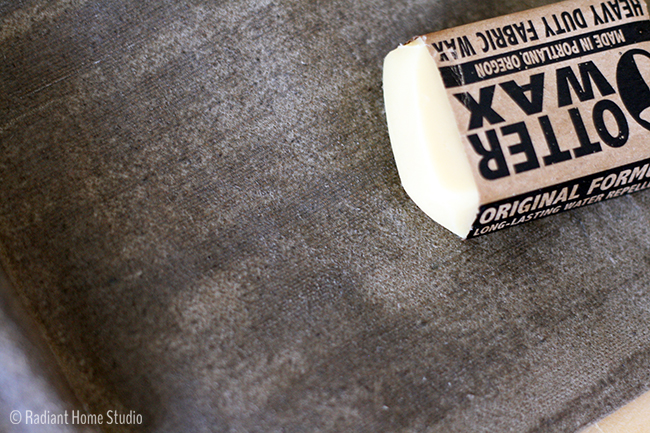 Next, use your fingers to rub the wax and spread it evenly across the fabric.
I tried rubbing in all directions, but I created a smooth finish by rubbing perpendicular to the direction of the wax bar strokes. If body heat and friction aren't enough to smooth out the wax, you can use a hairdryer to warm it up. I didn't find that a hairdryer was necessary though.
(Update: Wax tends to dry out when stored for months, even when wrapped in plastic. You can soften your wax by microwaving it for about 10 seconds. The surface also forms a sort of crust as it dries out. You can just scrape off that layer to expose the softer wax underneath.)
Just work in small sections, using the corner of the bar to get into the cracks and seams. The wax will stay sticky (and have a distinct smell) for a couple of days while it dries. I recommend letting the wax dry overnight before sewing with your fabric.
You can reapply wax as needed. Just like paint, a second coat will go on smoothly, quickly, and require less wax than the first coat. I expect that a bag would need a fresh coat of wax about a once a year.
Update: Since writing this tutorial, I have continued to use and love the wax! My husband has been carrying his bag for four years now, and it still looks great. The wax keeps the fabric looking new and resists staining. I haven't applied any more coats of wax and it doesn't seem to need any.
I recently updated my Retro Rucksack pattern sample with this waxed canvas version. Check out the post for a few more tips!
I also posted a free gift pouch tutorial with a waxed canvas flap.
What do you think? Will you try waxing your own canvas fabric?