My oldest boy turned 12 this month! Twelve is a big year around here. The boys count down the years until they are invited to attend the church men's retreat and be counted among the men. To celebrate, we bought him a few special manly gifts, but I also wanted to make him something. I waited until the last minute, but I was still able to make this in an afternoon.
(Some of the links in this post are affiliate links, which means I earn a small commission at no cost to you. Thanks!)
All men need a bag for their toiletries, right? I looked at a few free box pouch patterns but didn't really find what I was looking for. Then I remembered the Gentlemen's Travel Case pattern in Betz White's Present Perfect and went to work making it. It's very roomy, probably bigger than a 12-year-old needs, but it will grow with him. I love the extra pocket details and zipper tabs. Both make it a very practical and useable bag.
I love sewing with waxed canvas, especially for men. It looks rugged and stays nice for many years. Since this will be stored in the bathroom and most likely get wet, the wax will protect the canvas and keep it clean. I had plenty of canvas in my fabric stash, along with some denim scraps and a masculine cotton print for the lining.
I made my husband a waxed canvas messenger bag about 3 years ago. He carries it to work daily. Though the inside is showing signs of wear, the waxed canvas still looks as good as new! I make my own waxed canvas using Otter Wax. Here's a tutorial I posted, showing how you can make your own waxed canvas.
I waxed this bag after it was completed (and after the gift was opened….told you it was last minute!), but in hindsight, I would have added the wax as I sewed.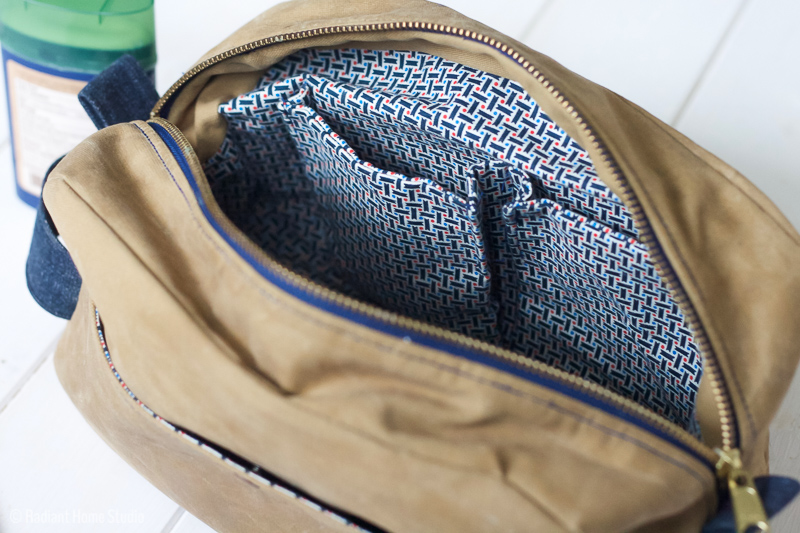 I followed the directions in the book but omitted one of the outside pockets. I also added a metal snap instead of the hook-and-loop tape suggested in the pattern. The exterior and lining are constructed completely and then the lining is dropped in and finished with hand sewing. I was a little bit worried about hand stitching all the way around the zipper, but it didn't take long and it looks great. Overall, I'm really happy that I used this pattern. It makes a great gift for both the young and older men in your life.
SaveSave
SaveSave